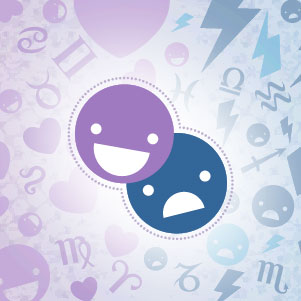 Conservative Saturn gets sandwiched between a need-for-change Solar Eclipse and freewheeling Jupiter on Tuesday. Instead of settling for the same-old, same-old, maybe it's time to dream of a better world and figure out how to make it happen while problem-solving Mercury conjuncts quixotic Neptune on Friday.
Here is a general overview of this week's energy, valid for all. Then keep reading for the Hearts and Hates for YOUR sign this week!
♥ Chill out and calm down
After a rather emotionally intense week, the Grand Lunar Trine in Earth signs this Saturday will bring a bit of breathing room, allowing us to put things in perspective. If you have any tensions to sort out, meet for a beer and stop making mountains out of molehills.
☹ Say no to the status quo
Eclipse times are always intense, and the Solar Eclipse on Tuesday is no different, as it will be forming a T-square with powerhouse planets Jupiter retrograde and Saturn. It's time to shake up the powers that be.
Your sign's Hearts & Hates Weekly Horoscope:
Aries Horoscope (March 21 - April 19)
♥ Free to be you and me
Be yourself! You have no time this week for conservative people who expect you to suppress your identity into traditional roles. Tuesday's Solar Eclipse will help you break free from convention.
☹ Nervous system
Psychologically, you are ready to turn over a new leaf. Your body, however, could be overrun with anxiety, as you have opening-night jitters about debuting the bold new you.
Taurus Horoscope (April 20 - May 20)
♥ Cement mixer
Your relationship may go a bit haywire early in the week, but at the Lunar Grand Trine on Saturday, you can solidify your bond with your romantic partner. Block out the world and give them your complete attention.
☹ Friend or foe?
Social companions may line up against your lover, putting you awkwardly in the middle. By Friday, you may be confused as to who your true friends are. Are their intentions valid, or do they just prefer you to be their follower, instead of forging your own life?
Gemini Horoscope (May 21 - June 20)
♥ Opportunity knocks
Sudden changes in the workplace could cause confusion, but also open a new doorway for professional advancement. Keep a clear head and use logic to take advantage of this hectic energy.
☹ Make room for Daddy
The Solar Eclipse in your success zone on Tuesday will force you to channel your entire focus on your career, causing family members and romantic partners to kick up their heels or guilt you for ignoring them.
Cancer Horoscope (June 21 - July 22)
♥ It takes a village
You have so many chores and errands to do this weekend, but if you take along your BFFs to chat with, the time will fly.
☹ Think before you type
You may be overwhelmed with emails at the office, but with a Solar Eclipse on Tuesday, if you do not answer them diligently and thoughtfully, you could cause confusion, mistakes, and consternation from bosses and colleagues. Thoroughly edit your communications before hitting send.
Leo Horoscope (July 23 - Aug. 22)
♥ Money from unexpected places
If you're looking for investors, loans, or grants to help get a project off the ground, Tuesday would be a good day to make a pitch. Just make sure to read the fine print.
☹ Hack job
Your recent focus on money may have drained you of your creative spirit and flair. It's time to shift the focus back on craftsmanship and doing work you are proud of.
Virgo Horoscope (Aug. 23 - Sept. 22)
♥ Weekend escape
Steal away to somewhere off the beaten path with your sweetie on Saturday. If single, you could meet someone if you explore new horizons and let new people in.
☹ Romeo and Juliet
Epic love could come your way this week, throwing you off your better judgment, and bringing the disapproval of relatives. Don't allow your affair to be doomed because of overbearing and critical family members.
Libra Horoscope (Sept. 23 - Oct. 22)
♥ Home rule
While you may be feeling a bit isolated and cut-off from the rest of the world, you can regain a feeling of personal power and control by hanging out at home with those you care about most on Saturday.
☹ Locked in your own mind and body
Carrying around all your frustrations without sharing your problems could manifest in unexpected health problems or psychosomatic illness. If you learn to ask for help, your burden -- and your spirits -- could lift considerably.
Scorpio Horoscope (Oct. 23 - Nov. 21)
♥ All for one
Make an effort so your lover feels included into your circle of friends this week. It could calm them down and bring everyone closer together.
☹ Undemocratic socialism
Your lover may kick up their heels at how much of your meager budget you're spending on socializing, instead of on them.
Sagittarius Horoscope (Nov. 22 - Dec. 21)
♥ Weekend wages
Even if you are stretched thin, at least your bank account is holding strong. Putting in extra hours on Saturday can boost your already formidable earnings.
☹ Cat's in the cradle
You may feel depressed because work pressures are keeping you from spending time with family. If a home emergency pops on Tuesday, make an effort to be there for your loved ones.
Capricorn Horoscope (Dec. 22 - Jan. 19)
♥ Sweet escape
A romantic weekend getaway can do much to rekindle feelings of affection with your partner. It doesn't need to be far or costly, just something spontaneous, joyous, and off the beaten path.
☹ Time to vent
You have been holding in a lot of your feelings, but at the Solar Eclipse in your communications zone on Tuesday, you may finally lose control and let it all out -- especially with people at a geographical distance, so think twice before sending that email.
Aquarius Horoscope (Jan. 20 - Feb. 18)
♥ Pamper yourself
When indulgent Venus enters your zone of material wellness on Saturday, it will be time to use your money to spoil someone who truly deserves it -- yourself!
☹ Time (and money) wasters
Why are you spending so much of your disposable income trying to impress people who have no true feelings for you? No sum will ever buy genuine kindness and warmth.
Pisces Horoscope (Feb. 19 - March 20)
♥ You charmer, you
Saturday is a 5-star for flirtation, fun, and friendship. Make sure to get out and mingle. If single, you will have many chances to meet someone who could be permanent.
☹ To thine own self be true
Workplace demands may be strenuous, but they are also paving the way to lasting success. Your lover, however, has other plans for you -- mainly abandoning your path so they can follow their own dreams. On Tuesday, it's time to stand up for yourself and what you really want from life.