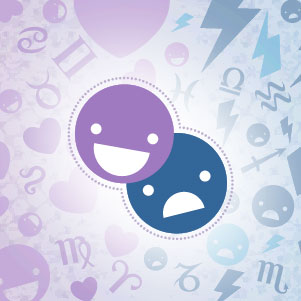 This week is bookended by two slightly disharmonious lunar aspects in the Cardinal signs -- a Grand Cross on Monday, then a T-Square in which the Moon pulls in Pluto, Jupiter, Mercury, and Uranus on Sunday. Stress-induced frustration could stir up rebellion against the status quo.
On a more positive note, Mercury turns direct on Wednesday, ending a season of retrogrades that stretches back to early March. If you feel you have been dealing with setbacks, delays, and false starts for months, you will once again be able to move forward in life.
Also on the plus side are two resplendent lunar Grand Trines this week. On Thursday the party is in the Fire signs and includes the Moon, Uranus, Mercury, and Saturn, while Friday sees the productive meeting between the Moon, Sun, and Pluto in the hard-working Earth signs.
Here is a general overview of this week's energy, valid for all. Hearts and Hates for your sign follow below!
♥ Forward focus
The sunny weather has finally arrived after a hot-and-cold springtime when nothing could really get off the ground. Set goals and get to work on building a better future now.
☹ Cross currents
No one seems to be on the same page, and clashes between authority figures and rebel factions will rile things up.
Your sign's Hearts & Hates Weekly Horoscope:
Aries Horoscope (March 21 - April 19)
♥ Feeling at one with the world again
After feeling out of sorts and introspective for the past few months, you will be able to shine in love and at work again.
☹ Everyone wants a piece of you
Popularity comes at a price. You are in demand from family, lovers, bosses, and colleagues, leaving you super-stressed.
Taurus Horoscope (April 20 - May 20)
♥ Stop thinking and believe in yourself
After a period of insecurity and self-reflection, you will finally stop brooding and regain your charm and confidence starting Wednesday.
☹ Moody blues
You may be humming a more endlessly melancholic tune than Knights in White Satin on Monday. Try not to let the bullies in the world get you down.
Gemini Horoscope (May 21 - June 20)
♥ Social upswing
If you have had misunderstandings with friends over the past few weeks, you will be able to clear up squabbles and get back to fun and frivolity now. Thursday is an excellent evening to hang out.
☹ Money go 'round
You may have a hard time coming up with the cash to spread out between social events, children, lovers, and paying off debts. Resist the urge to cover yourself by whipping out the credit card.
Cancer Horoscope (June 21 - July 22)
♥ Work / life balance
If your career has been stagnating for several weeks, you will be on fire starting Wednesday. Mark Thursday to spend time with friends and romantic partners, and concentrate on work engagements on Friday.
☹ Hard to set priorities
You want it all in terms of love, family, and career; you must figure out what is most important to you, or you may burn out.
Leo Horoscope (July 23 - Aug. 22)
♥ No longer lost in the woods
After wandering through a forest of doubt and displacement, you will see a clearing to wider horizons now that will inspire you and make you feel at one with the world.
☹ Workaholics Anonymous
You may have been compulsively escaping into work in order to seek order and control. You may need to seek counseling to deal with these underlying emotional conditions.
Virgo Horoscope (Aug. 23 - Sept. 22)
♥ Regaining financial composure
You may have been worried about investments over the past several weeks. Starting Wednesday, your faith in your own business acumen will see you making the right choices for your monetary future.
☹ Unfriendly fire
Friends may grow tired of being caught in the crosshairs of you and your sweetie's bickering over money and resources. Make sure to budget time and $$$ for socializing -- and keep your pals out of your personal drama.
Libra Horoscope (Sept. 23 - Oct. 22)
♥ Reunited and it feels so good
You and your lover may have not been seeing eye-to-eye recently, and you may have even taken a time out. Reach out starting Wednesday to rekindle the fire. Thursday is a particularly auspicious day to talk things out.
☹ No energy for work
Personal stress regarding love and family could leave you wiped out and incapable of dealing with professional demands on Monday.
Scorpio Horoscope (Oct. 23 - Nov. 21)
♥ Finally working it out
You may have felt overwhelmed with chores over the past few weeks. Starting Wednesday, you will be able to implement an effective plan to tackle all your duties.
☹ Shaky ground, loose tongue
A pile-up of chores may leave you feeling worried and anxious; make sure you do not take out your angst on those around you through verbal abuse.
Sagittarius Horoscope (Nov. 22 - Dec. 21)
♥ Romantic reconnection
Your thoughts may have been on past loves recently; you have until Wednesday to reach out to someone for a second chance. After that, it's all about the here and now, with abundant opportunities for pairing up. Thursday is a 5-star date night.
☹ Depletion of resources
Splashing out a lot of money on lovers, children, and social events could leave you feeling anxious over long-term finances this week.
Capricorn Horoscope (Dec. 22 - Jan. 19)
♥ Focus back on flirtation
Your thoughts may have been on home and family for several months, but now it is time to focus on romance and devotion. If single, Friday is an excellent time to seek out a soulmate, so schedule a date or search online.
☹ Jigsaw puzzle
If you expect your lover to fit miraculously into dreams of family and career, think again. They are their own person and deserve to be part of the conversation of a shared future.
Aquarius Horoscope (Jan. 20 - Feb. 18)
♥ From friend to lover
You will finally stop feeling so tongue-tied and be able to express your true feelings -- especially in love -- starting Wednesday. If you have been crushing on someone in your social circle, let them know on Thursday.
☹ Low energy
You will be the Jeb Bush on the debate stage of life on Monday. Existential issues will leave you exhausted and unable to communicate effectively.
Pisces Horoscope (Feb. 19 - March 20)
♥ Adding inspiration to grudge work
You have been working very hard, but payments may have been delayed; things should clear up starting on Wednesday. Spend time with people who motivate you to boost your productivity.
☹ Driving away from romance
Love may be taking the backseat now, since nothing is going on there but the flow of your sweetie's tears. This is your time to prove yourself in career, so try to find someone that can support you on your life's journey.