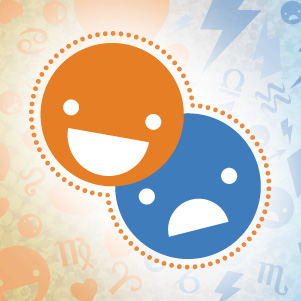 This week's astrological energy is bright and breezy, free and easy! Mercury moves into Taurus on Tuesday, making ideas and communications flow at the workplace. Then a Grand Trine on Wednesday between the Moon, Jupiter, and Mars in the Air signs is an excellent day for socializing and trying new things.
Saturn sends extremely positive vibes to Jupiter on Friday; this is a life-altering aspect, pushing us to get rid of whatever is holding us back and to go after our craziest dreams.
When the Sun moves into Gemini on Saturday, everyone will be up for a cheery, chatty, and slightly outrageous weekend. The only disharmonious aspect this week is Venus' opposition to Jupiter on Friday, when idleness and sloth could take over, preventing the best use of all the beneficial forces surging through the universe these days.
Here is a general overview of this week's energy, valid for all. Hearts and Hates for your sign follow below!
♥ Time to break free
A rare trine between Saturn and Uranus on Friday favors rebellion against stodgy establishment forces and worn-out routines. If you dare to try new things, they could take root.
☹ Too much of a good thing
This week's energies are so harmonious that laziness could result, squandering all the remarkably beneficial vibes.
Your sign's Hearts & Hates Weekly Horoscope:
Aries Horoscope (March 21 - April 19)
♥ Shine your light
The force of your personality is more potent than the conservative stuffed-shirt society we live in; you can move the status quo to a place of joy and freedom, so get out there and sparkle.
☹ Feeling lazy
You feel like doing nothing more than idly lounging in your lover's arms; just make sure you don't flake on your other commitments.
Taurus Horoscope (April 20 - May 20)
♥ Fund your innovative visions
If you have deep-seated visions about how to change the world, seek out financial assistance that can bring your humanitarian goals to life.
☹ All you can eat
Emotional insecurity could lead you to binge at the buffet. Try to stick to low calorie items and salads with dressing on the side.
Gemini Horoscope (May 21 - June 20)
♥ Breath of fresh air
It is imperative that you get out and make new and interesting friends; they will breathe excitement back into your life, which has been sucked dry from a suffocating love partner.
☹ Drama alert
Your friends and lover see themselves as enemies instead of part of the same team; it is better not to mix them, but see each separately.
Cancer Horoscope (June 21 - July 22)
♥ Genius on demand
If there is a problem that needs to be solved in your professional life, you will be able to come up with an ingenious idea to make things work.
☹ Workplace slacker
While your neurons are on fire at the office, all you feel like doing is lounging around home, instead of working overtime. Hold off until Friday evening.
Leo Horoscope (July 23 - Aug. 22)
♥ Breaking your dry spell
Your romantic life has been dreary and uninspired recently, but if you get out and explore new horizons, you could meet someone who is fascinating and up for adventure. Long-distance love is especially auspicious.
☹ All talk
When it comes to knowledge or travel, you could get lost in chatting and daydreaming and end up doing nothing.
Virgo Horoscope (Aug. 23 - Sept. 22)
♥ Feather your nest
Financial windfalls could fly your way; use this money to pay down your mortgage, decorate your home, or make needed renovations.
☹ Over indulgence
You could splash out in hedonistic spending sprees if you are not careful on Friday. Think before you squander your savings.
Libra Horoscope (Sept. 23 - Oct. 22)
♥ Taming the savage beast
Your wild-child romantic partner is exciting but unpredictable. It is up to you to set the rules and boundaries of your relationship, and this week offers the perfect energy to do so.
☹ Snowflake sweetie
Your romantic partner will be extremely touchy and emotionally needy; your confidence could trigger their feelings of insecurity.
Scorpio Horoscope (Oct. 23 - Nov. 21)
♥ Innovation leads to security
This is not the week to go through the motions at the workplace. Taking an out-of-the-box approach could lead to boosted earnings.
☹ Emotional eating
You could feel overwhelmed with emotional stress that may lead you to seek out highly caloric comfort food. A little treat is fine, just make sure you don't overdo it.
Sagittarius Horoscope (Nov. 22 - Dec. 21)
♥ Crazy, yet secure
Friends may look down on your livewire romantic partner, but your sweetie's kooky approach to life somehow makes you feel grounded and assured.
☹ Bit on the side
Your lover may feel they come in second place next to your friends and social life; make sure you make them feel cherished and adored.
Capricorn Horoscope (Dec. 22 - Jan. 19)
♥ Family matters
Focusing on taking care of your family's needs will also provide you with a sense of purpose and self-assuredness.
☹ Phone home
Relatives may get sulky over the amount of time you spend at work; taking time out to text or call will help them feel remembered.
Aquarius Horoscope (Jan. 20 - Feb. 18)
♥ Bringing friends over to your side
You have been cowed into living by the rules of the normies. It is time for you to embrace your eccentricities; only then will society stop looking down on you as an oddball, but up to you as a freedom fighter.
☹ Ticketed by the thought police
It may seem like anything you say is politically incorrect by the self-righteous morality warriors. Don't allow them to make you second-guess your words.
Pisces Horoscope (Feb. 19 - March 20)
♥ Bingo!
You have been working quietly filling up your rows and columns, allowing you to finally take home the big cash jackpot.
☹ Salary squanderer
While you may be raking in money, you could also be blowing it away just as quickly. Try to stick to a budget.