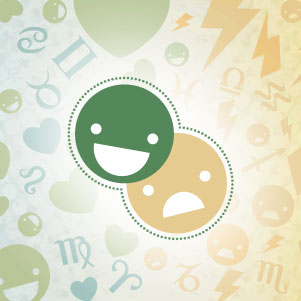 Wake up, Sleeping Beauty! After being mesmerized into focusing on the practicalities of life and work for the past month, it is time to turn the collective attention to socializing and fun once the Sun moves from pragmatic Taurus into effervescent Gemini on Friday and Mercury turns direct on Sunday.
♥ Worked hard, play harder
Enjoy the fruits of your labor. Many sparkling occasions for socializing will pop up once the Sun enters Gemini on Friday.
☹ Get out of that rut
In order to get out of a rut, you must first realize you are in one. Resentment may abound on Saturday and Sunday about the amount of effort spent going nowhere, but at least this awareness paves the way for substantial change.
Here is a general overview of this week's energy, valid for all. Then keep reading for the Hearts and Hates for YOUR sign this week!
Your sign's Hearts & Hates Weekly Horoscope:
Aries Horoscope (March 21 - April 19)
♥ Signs of life
If your bank account has been in the ICU since the end of April, it will be fully resuscitated once Mercury turns direct in your income zone on Sunday. You can once more successfully plot and negotiate yourself to boosted income.
☹ Firing line
You may face angry verbal clashes due to intellectual differences with those around you this weekend. The word "polemics" comes from the Greek word for "war," after all.
Taurus Horoscope (April 20 - May 20)
♥ Back to Earth
You may have been bogged down by cloudy thinking over the past several weeks; once Mercury turns direct on Sunday, your razor-sharp pragmatism makes a comeback.
☹ Pound foolish
You may earn some extra pennies when the Sun enters your income sector on Friday. If you are not careful, you could end up charging more than what you made during the weekend.
Gemini Horoscope (May 21 - June 20)
♥ Back on the block
You may have been confined to solitary over the past few weeks, but with the Sun exiting your isolation sector on Friday and Mercury turning direct on Sunday, you will be released back into the general population.
☹ Sparring partner
You could get into verbal boxing matches with your significant other over the weekend, as you refuse to throw the fight, and instead stand up for your rights and needs.
Cancer Horoscope (June 21 - July 22)
♥ Finding friendship
You may have been at crossed-wires with your social group since the end of April, but once Mercury turns direct on Sunday, you will be able to get along and play nice once more.
☹ Safe house
You may want to lay low over the weekend to escape angry rants from colleagues who are frustrated with work.
Leo Horoscope (July 23 - Aug. 22)
♥ Social butterfly
You will escape from your workplace cocoon to a welcome flutter of social invitations this weekend.
☹ No plus one
Your heavy workload may have kept your mind off your unfulfilling romantic life, but on Saturday, you may grow resentful at the lack of passion in your life. Make a change!
Virgo Horoscope (Aug. 23 - Sept. 22)
♥ Career horizons
With the Sun moving into your sector of professional success on Friday, you can use the upcoming weeks to plot your way to the top.
☹ If these walls could talk
The confines of your home could be filled with screams and yelling as a fierce Mars in your domesticity zone conjuncts a Full Moon and opposes the Sun this weekend. Perhaps you can escape to the office for some peace.
Libra Horoscope (Sept. 23 - Oct. 22)
♥ Widening vistas
Your worries about finance and credit alleviate greatly once the Sun exits your zone of indebtedness on Friday and a confused Mercury turns direct on Sunday. You can now turn your attention to travel and culture.
☹ Bully for you
Gloating friends could bring out your inner bully at the weekend. Instead of resentment and spiteful talk, try to improve your own lot in life.
Scorpio Horoscope (Oct. 23 - Nov. 21)
♥ All together now
When an ambivalent Mercury turns direct in your commitment zone, you can rest assured that you and your partner are once again fully on the same page. Cement that closeness by spending lots of time together in the same bed while the Sun transits your intimacy sector starting Friday.
☹ Me money
What word starts with an M and in with a Y? You will have no troubles yelling "mine!" when people hit you up for a piece of your pie at the weekend.
Sagittarius Horoscope (Nov. 22 - Dec. 21)
♥ Problem solved
You may have been tinkering with a difficult work project since late April; it can finally be grasped and completed once Mercury turns direct on Sunday.
☹ How dare you be happy
You may harbor resentment of your sweetie's happy-go-lucky, carefree attitude while you are drowning in stress, resulting in arguments at the weekend.
Capricorn Horoscope (Dec. 22 - Jan. 19)
♥ What's going on?
You and your sweetie can finally confront lingering relationship issues and find a way to bring some loving here today when Mercury turns direct in your romance sector on Sunday.
☹ Scratch the surface
The sunny mask you are wearing to the world may be hiding a whole lot of anger, leading to physical aggression at the weekend. Work off your excess energy at the gym.
Aquarius Horoscope (Jan. 20 - Feb. 18)
♥ Homeland security
Once Mercury turns direct on Sunday, all the hidden psychological landmines that have been dotting your homestead will be diffused, allowing trust and understanding to flourish.
☹ They're just not that into you
Judgy friends have been tsk-tsking you for several months now. This weekend, they will not be pleased by your success in romance. Why do you care about them when you have a sweetie who cares about you?
Pisces Horoscope (Feb. 19 - March 20)
♥ AAA rating
You may have had to deal with an inordinate amount of communication breakdowns since April, but once Mercury turns direct on Sunday, you will be back to cruising down the open cyber highway.
☹ Duty dilemma
If you decide to spend the weekend at home with family instead of holding your own around the office, your boss and colleagues may grow angry at you for slacking on the job.