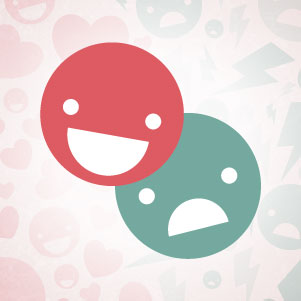 An otherwise incredibly positive week is bookended by two disharmonious lunar configurations in the Mutable signs. A T-square on Monday and Grand Cross on Sunday can cause much unnecessary worry and suspicion. Learn to trust -- sometimes good things are true!
Here is a general overview of this week's energy, valid for all. Then keep reading for the Hearts and Hates for YOUR sign this week!
♥ If you can believe it, you can achieve it
The drop-dead gorgeous New Moon in Taurus on Friday is creating an extremely rare Grand Trine with power-players Jupiter and Pluto. These game-changing planets are all supporting each other in hardworking Earth signs, making this one of the most auspicious New Moons of the year. Go for your goals and start new projects.
☹ Much ado about nothing
Nervous anxiety caused by the Lunar T-Square and Grand Cross on Monday and Sunday could keep you from achievement. Be confident and throw off your inhibitions.
Your sign's Hearts & Hates Weekly Horoscope:
Aries Horoscope (March 21 - April 19)
♥ The end of the rainbow
You can finally find your pot of gold when the New Moon in your income zone trines Pluto and Jupiter in your sectors of work and success. Friday is an excellent day to schedule negotiations or send out your résumé.
☹ It's all in your head
You may feel overwhelmed and exhausted on Monday and Sunday, but it's not your body that's worn out, but your mind. Stop worrying and being so suspicious of everyone.
Taurus Horoscope (April 20 - May 20)
♥ Swept away by a tsunami of love
Opportunities for romance abound on Friday. Advice for singles: If you break out of your comfort zone, you could meet a soul mate.
☹ Motives and money
Paranoia abounds over money matters. You may feel that everyone is making a grab for your pocketbook, putting a strain on relationships with friends, lovers, and children on Monday and Sunday.
Gemini Horoscope (May 21 - June 20)
♥ Spring cleaning
Take a time-out from the world on Friday. Psychological renewal is possible if you spend the evening at home cleaning out your closets with your closest family and loved ones.
☹ You against the world
Stress is piling on from family, lovers, and a shaky career direction, causing you to feel momentarily overwhelmed on Sunday.
Cancer Horoscope (June 21 - July 22)
♥ Lady Gaga
If you are totally smitten and besotted with a friend, the New Moon on Friday is the perfect time to sing out the depths of your affection.
☹ Running on all cylinders
Work demands, combined with your need to be Communications Central over every little thing that transpires, will cause you to become physically and emotionally exhausted on Monday and Sunday. Get some rest.
Leo Horoscope (July 23 - Aug. 22)
♥ You're in the money
Your ambition and work ethic have been on overdrive for the better part of a decade -- now your income can finally catch up. New opportunities for a major earnings boost abound on Friday.
☹ CEOS before bros
Your focus on work has made your social life dry up, which could lead to melancholy on Monday and Sunday.
Virgo Horoscope (Aug. 23 - Sept. 22)
♥ Meeting of the minds
The most powerful romantic connection for sensible Virgo is one based on intellectual connection. You can meet a soulmate on Friday; seek out love in a class or cultural outing.
☹ Hey, you, get back on my cloud
You like order and having everything in its place, but your partner is off living on their own cloud, which can cause anxiety.
Libra Horoscope (Sept. 23 - Oct. 22)
♥ Help a brother out
By pulling financial resources together with your family, you can go after your deepest dreams and build strong bonds of kinship, as well.
☹ Say what?
You have a lot of vague issues that are getting under your skin at the workplace, but you are unable to verbalize your complaints, leading to feelings of frustration, confusion, and resentment.
Scorpio Horoscope (Oct. 23 - Nov. 21)
♥ Anchor baby
You are the glue that binds the social orbit swirling around you. Friends and lovers all come together due to your powerful presence on Friday.
☹ Pulling on your purseheartstrings
Children and romantic partners will be using every emotional trick in the book to part you from your money on Monday, but the Bank of Scorpio will not be open for business.
Sagittarius Horoscope (Nov. 22 - Dec. 21)
♥ Dream scheme
Your ability to think outside the box can lead to career recognition and a raise in income on Friday.
☹ Out the window
You are a true visionary at the workplace, but your loved ones want you to turn your gaze back within the confining walls of your homestead.
Capricorn Horoscope (Dec. 22 - Jan. 19)
♥ Greed is good
Your leadership qualities and magnetic charisma will draw love and money to your side faster than a 1980s corporate raider on Friday.
☹ Can't fake it to yourself
You may feel inner pangs of remorse for all your hustle and sweet talk on Monday and Sunday.
Aquarius Horoscope (Jan. 20 - Feb. 18)
♥ Going back to your roots
You may make a change to your living situation at the New Moon on Friday -- deciding to revert to simpler times that were more nourishing -- by surrounding yourself with trusted family.
☹ Z-listed
Your precarious financial straits could leave lovers disappointed over your failure to impress friends and acquaintances on Sunday.
Pisces Horoscope (Feb. 19 - March 20)
♥ Party central
The New Moon on Friday is one of the most social of the year. It is a great day for a house party or for a night out on the town with your friends and sweetie.
☹ Easily distracted
Following love may be causing you to lose your way in terms of career, leading to melancholic feelings of regret on Monday and Sunday.