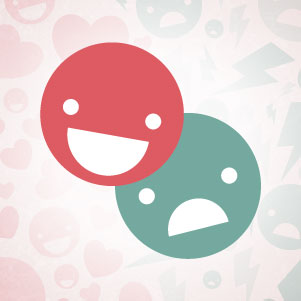 This is an extremely low-key week with nothing major going on other than the New Moon in Gemini on Thursday. On the same day, however, Venus squares Pluto, and domineering control freaks can run roughshod over more sensitive types.
A Lunar T-Square and a Grand Cross in the Cardinal signs on Monday and Sunday also bring a certain emotional volatility to the beginning and end of the week.
Here is a general overview of this week's energy, valid for all. Hearts and Hates for your sign follow below!
♥ Intellectual clean slate
Thursday's New Moon in Gemini urges us all to reset our communications strategy and try thinking outside the box.
☹ Bowled over by bullies
Stay away from authoritarians on Thursday, as they will have no regard for the feelings of others as they go after their own Machiavellian goals.
Your sign's Hearts & Hates Weekly Horoscope:
Aries Horoscope (March 21 - April 19)
♥ Reach out
This is an excellent week to look up old friends for a chat, make peace with siblings, send out your resume, and promote yourself.
☹ Drained of vitality
Your tremendous workload will tap out your inner reserves, making it especially hard to remain patient and understanding with underlings.
Taurus Horoscope (April 20 - May 20)
♥ Mind over money
Put your mind on strategizing how to increase your income, then get out there and pitch your projects or ask for a raise.
☹ Can't stand up
You will find it hard to deal with bullies. Sometimes it is better not to fight but to just hide away and keep a wide berth.
Gemini Horoscope (May 21 - June 20)
♥ Spring makeover
The New Moon in your sign is giving you a sparkling opportunity to revamp your look. Try out a new clothing or hair style, and get back in touch with your extroverted charm.
☹ Drinking it away
You should invest your money in Johnnie Walker stock , because you will be extremely tempted to dip into savings or run up credit to fund drunken nights out on the town.
Cancer Horoscope (June 21 - July 22)
♥ Deep cleanse
It's time to scrub-a-dub-dub the furthest corners of your inner soul and blast away all the muck that has accumulated on your psyche to regain optimism and positivity.
☹ Distracted from the task at hand
Your Svengali-like romantic partner will suck all your attention away from work and career demands, making it hard for you to focus.
Leo Horoscope (July 23 - Aug. 22)
♥ Focus on friends
Make sure to get out and mingle this week, especially on Thursday; you can draw exciting and witty new acquaintances into your circle.
☹ Window gazing
All you want to do is get out and explore the world and its ideas, but you're trapped at a desk in order to get your work finished.
Virgo Horoscope (Aug. 23 - Sept. 22)
♥ Career strategizing
Carve out your master plan for the next year of your professional life, so that you can easily advance to the next level of success.
☹ Easy mark
You will be a financial pushover to high-maintenance romantic partners or adorably spoilt children.
Libra Horoscope (Sept. 23 - Oct. 22)
♥ Take a new look at the world
Make a roadmap for your spiritual and intellectual journey so that you can explore new vistas and transform yourself from the inside out.
☹ Monsters-in-law
Your significant other may be made to feel very insignificant by your meddling, disapproving family members. It is up to you to control your own life.
Scorpio Horoscope (Oct. 23 - Nov. 21)
♥ Financial reform
This is an excellent moment to get your finances in order and plot out a long-term fiscal strategy. Meet with an advisor or accountant on Thursday for optimum benefit.
☹ Barking orders
Colleagues may smile to you to your face and make fun of you behind your back if you insist on being a tyrant around the office.
Sagittarius Horoscope (Nov. 22 - Dec. 21)
♥ Long-lasting love
If you want to pop the question or take a relationship to the next level, Thursday is an excellent day to so. If you are single, visualize where you want to be relationship-wise one year from now, and then plot a game plan to make it happen.
☹ Honey trap
Lovers and children will be so sweet and charming that they could easily manipulate you out of your hard-earned savings.
Capricorn Horoscope (Dec. 22 - Jan. 19)
♥ Taking care of business
You will be able to breeze through all the dull, routine tasks and chores that need to get done in order to advance professionally. Tackle email build-up and other duties.
☹ Daddyofive
Your authoritarianism around the home could go viral faster than a dubious YouTube channel. Beware of creating an atmosphere of domestic tyranny that borders on abuse, especially for the youngest or most sensitive members of your clan.
Aquarius Horoscope (Jan. 20 - Feb. 18)
♥ Romantic planning
Opportunities abound to attract new love; revamp your online profiles with new pictures and text, as well as get yourself on as many dating apps and sites as possible, and actively use them.
☹ Hard time communicating
Your feelings run deep, but your words remain light and superficial, making others not realize the profound weight of your emotions.
Pisces Horoscope (Feb. 19 - March 20)
♥ Spring cleaning
Tidy up your nest so that it is sparkling and fresh. If you want to do any renovations or redecorate, this is an excellent time, as your taste and decisions will be at their peak.
☹ Insecure spending
If you splash out to impress bullying friends, you could end up on shaky ground, both financially and in terms of self-esteem.