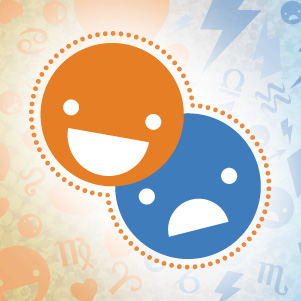 It can't be sunny every day. After several weeks of mostly harmonious energy, things get downright grumpy and aggressive this week, with almost nothing to alleviate the situation.
Venus opposes Mars after moving into Gemini on Tuesday, allowing bullying to trump kindness. One of the harshest days of the year will be when Jupiter makes a rare square to Saturn on Thursday, spurring rebellion against authority. Then Mars retrogrades back into Scorpio on Friday, dredging up issues that were left behind in early March -- this is the best energy of the week, because while it can be unpleasant to face reality, things can now be fixed and sorted once and for all.
Here is a general overview of this week's energy, valid for all. Then keep reading for the Hearts and Hates for YOUR sign this week!
♥ Spring cleaning
Starting Friday, it's time to put right any messy situations that have built up over the winter. It may take a bit of force to finally tackle these issues, but come early August, you will be able to take pride in having set things straight.
☹ Antidisestablishmentarianism
People will be standing up to the establishment, but the establishment will also be pushing back against those that oppose the status quo, leading to a mouthful of longwinded words.
Your sign's Hearts & Hates Weekly Horoscope:
Aries Horoscope (March 21 - April 19)
♥ Debt restructuring
You may have overspent through loans or credit during the first months of the year. By Friday, the bill finally arrives. Use the upcoming weeks to pay up and free yourself from financial obligations.
☹ Freewheeling
It is hard to coast when pedaling uphill. Your innovative ideas are abundant and engaging -- but also threatening to those who control the flow of knowledge and ideas.
Taurus Horoscope (April 20 - May 20)
♥ Time to remove the Band-Aid of passion
You and your sweetie may have been arguing a lot during the first months of the year, but a renewed physical intimacy from early March may have allowed you to quickly forget your squabbles. From Friday, old wounds are reopened. It is time to battle out a lasting ceasefire that ensures long-term healing.
☹ Remove the yoke
There is such a thing as too much closeness in a romantic relationship. It is necessary to give each other space to breathe to avoid clashes, or worse, wandering off to free-range pastures.
Gemini Horoscope (May 21 - June 20)
♥ Clean out the inbox
You know that to-do folder on your computer? You have from Friday to the beginning of August to tackle it once and for all.
☹ No forwarding address
You long for a home filled with joy and spontaneity, but your conservative romantic partner is all about duty and obligation. Is this how you want to live the rest of your life?
Cancer Horoscope (June 21 - July 22)
♥ Feel the burn
If a former flame burned too brightly and quickly extinguished after a massive conflagration, you can get a second chance starting Friday. The passion is still there, but this time it's a slow burn that can last over time.
☹ Shut up or shut out
Your incessant chattiness may be adding to the alienation you feel from your stodgy colleagues. Maybe it is better to be all business at the job for better collegial relations.
Leo Horoscope (July 23 - Aug. 22)
♥ Survey says...
Family feuds from early 2016 re-erupt starting Friday, but at least you can finally work toward long-term solutions and peace by mid-summer.
☹ Full bank account, empty bed
Your focus on working hard to boost profits is squaring off against your need for a stable relationship. Jupiter will be leaving your earnings sector in early September, so put your focus on income for now.
Virgo Horoscope (Aug. 23 - Sept. 22)
♥ Finally letting it out
Your shyness can often keep you from stating your mind. Starting Friday, you'll be able to get off your chest things that have been bothering you from earlier in the year.
☹ Home schooled
Your need for personal freedom jostles against familial duties on Thursday. Take care of those you love, but learn to make time for yourself.
Libra Horoscope (Sept. 23 - Oct. 22)
♥ Comeback kid
Starting Friday, you get a second chance to bring income opportunities to fruition that fell off the radar in early March.
☹ Stumbling for words
You have a lot of built-up judgments, but you are afraid to express them for fear of rocking the boat on Thursday.
Scorpio Horoscope (Oct. 23 - Nov. 21)
♥ Anger, thy name is Scorpio
Your sign is famous for holding a grudge, therefore it shouldn't be a shock to anyone when you start dredging up issues from early 2016. Try to get this stuff out of your system so you can finally move on in late June.
☹ Bah humbug!
Friends may judge you for your stingy ways on Thursday. If you can't afford the outing, better to stay in than bring everyone else down.
Sagittarius Horoscope (Nov. 22 - Dec. 21)
♥ Rest up
You may want to lay low from Friday until late June. You are running on decreased energy and need the downtime to recharge.
☹ Choose one
A non-stop deluge of opportunity at the office is seriously draining your vitality. You can't do it all.
Capricorn Horoscope (Dec. 22 - Jan. 19)
♥ Reconnect with friends
You have been undergoing a period of self-imposed isolation. Starting Friday, make an effort to reach out and cultivate friendships.
☹ Stodgy and stale
Your own conservative attitudes are keeping you from participating in the more carefree sides of life. Dare to be different.
Aquarius Horoscope (Jan. 20 - Feb. 18)
♥ Reaching the summit
You can resume your ascent to the dizzying heights of career success once Mars retrogrades back into your sector of professional accomplishment from Friday to early August.
☹ Party of one
Stingy friends do not deserve your financial largesse. Use your money to invest in ginning up your portfolio, instead of useless attempts at buying social proof.
Pisces Horoscope (Feb. 19 - March 20)
♥ Summer holiday
From Friday through early August, you have many opportunities to gain inspiration and motivation from exploring the world. Travel, study, and art can profoundly affect you, so soak it all in.
☹ Maybe you can't have it all
You have been having a hard time juggling your career desires with your co-dependent romantic needs lately. Things come to a head on Thursday.