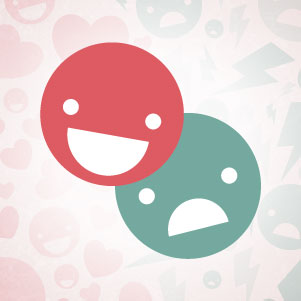 At least things start off on a good note. Pragmatic Mercury in realistic Taurus trines get-it-done Pluto in industrious Capricorn on Monday, making it a day for mental clarity and teamwork. But the week's energy soon nosedives off a cliff into a sea of suspicion, ego, judgment, gossip, and stubbornness...
There is a mutable Grand Cross forming on Wednesday, pulling in Venus, the Sun, Jupiter, and Saturn, which culminates in a mega-paranoid and dystopian New Moon in Gemini on Saturday. Disinformation campaigns run amok, and it may be hard to know whom to trust. Stay skeptical and out of the fray.
Here is a general overview of this week's energy, valid for all. Then keep reading for the Hearts and Hates for YOUR sign this week!
♥ Barn raising
Gather your trusted team together on Monday to set firm foundations for all work projects.
☹ Whose side are you on?
People may not be who they appear to be this week. It's best to put off any major decisions, as instincts may be off.
Your sign's Hearts & Hates Weekly Horoscope:
Aries Horoscope (March 21 - April 19)
♥ Income fit for a king
Leadership and lucre go hand-in-hand. Use your proven authority and expertise to negotiate advantageous rates of pay on Monday.
☹ Best intentions, worst results
Kindhearted communications could be turned against you by hidden manipulative forces. Be careful what you say, and to whom, this week.
Taurus Horoscope (April 20 - May 20)
♥ Book mobile
Taking in culture and knowledge while out and about can inspire you, and even change how you view the world on Monday.
☹ A fool and his money
Your kindly desire to up your social standing by picking up the tab for companions or potential suitors will only attract users and vampires.
Gemini Horoscope (May 21 - June 20)
♥ Long-term profits
Schedule a meeting with a financial advisor on Monday, so you can set up an investment strategy that will secure your future.
☹ Stop putting yourself last
You need to get a grip on your career, and stop allowing lovers and family from sucking up all your attention and life force.
Cancer Horoscope (June 21 - July 22)
♥ Friends and lovers
A certain friend may want to be something much, much more. If you see the signs of flirtation on Monday, follow up.
☹ Viper's pit
Your sensitive nature may be hurt by cold-hearted colleagues who you feel could be conspiring against you. Not everyone can be a friend; keep your mind on your work.
Leo Horoscope (July 23 - Aug. 22)
♥ Put on your thinking cap
Problem solving comes easy on Monday. Innovative solutions can help lighten your obsessive workload.
☹ Where is the love?
Misconstrued assumptions about money could come between you and friends or lovers this week. Your extreme distrust could cause hurt feelings and estrangement.
Virgo Horoscope (Aug. 23 - Sept. 22)
♥ A meeting of hearts and minds
Shared intellectual interests are the best way to cement a romantic bond on Monday. Instead of dinner and drinks, take in an art exhibit or informational talk.
☹ Nearest, not dearest
Your resounding professional success could have you feeling the love at the office, while lovers and family feel shut out and icy.
Libra Horoscope (Sept. 23 - Oct. 22)
♥ Share some bread
Open your oven and slice up your loaf. If you have a family member temporarily in need of some extra cash to follow a goal, invest in their future on Monday.
☹ Not feeling the vibes
There is a glorious world of inspiration out there, but you just can't trust it because you have been caught up in your own silent judgmental prison of obsessive thoughts too long.
Scorpio Horoscope (Oct. 23 - Nov. 21)
♥ Set the ground rules
Monday is a great day to talk things out and create a long-term plan about your overall life direction with a romantic partner.
☹ Suspicious of strings
Friends and lovers may want to pool resources for the greater good, but your lone-wolf financial ways refuse to become part of the pack, leading to bitterness over your economic distrust.
Sagittarius Horoscope (Nov. 22 - Dec. 21)
♥ Plot out your financial future
Open the spreadsheet and crunch the numbers on Monday; you will have an uncanny intuition for knowing just what to do to increase your earnings long-term.
☹ Not up for playing the game
You may feel like you are being manipulated on all sides -- by lovers, family, and co-workers -- and you are having none of it. It can be a drag being the only one telling the truth.
Capricorn Horoscope (Dec. 22 - Jan. 19)
♥ Under your spell
It will be easy to attract lovers to your side due to your enormous magnetism on Monday. You will be oozing power and prestige, so schedule a date night or go on the prowl.
☹ Professional cynic
No matter how much your colleagues cheer you on, your mistrust and sense of alienation will keep you from truly connecting at the workplace.
Aquarius Horoscope (Jan. 20 - Feb. 18)
♥ Speech therapy
Try to confront and talk out long-standing psychological issues with family members on Monday. Your inner demons can morph into a strong basis for understanding and mutual respect.
☹ Failure to protect
Your lover may be deeply hurt by your inability to stand up for them when confronted by your bullying, judgmental friends.
Pisces Horoscope (Feb. 19 - March 20)
♥ Social proof
You have what it takes to convince everyone in your networking circle that you are the real deal. Friends come easy -- both in real life and online -- on Monday, so make sure to send out requests to connect.
☹ Disapproving parents
Your family may be flummoxed as to why you are throwing away career opportunities for the whims of your romantic partner, leaving you feeling confused and torn.