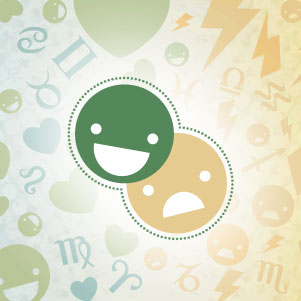 There is an abundance of positive energy this week -- so much that it's all over the dial, and may be a bit confusing to decide where to focus attention and productivity.
The week starts off with the Sun in Taurus sending positive vibes to Pluto in the industrious Capricorn on Monday, making it an excellent day to get things done. When Mercury conjuncts Uranus at the Scorpio Full Moon on Tuesday, brainstorm creatively and get over fears that may be holding you back.
Then Thursday's trine between Mercury and Saturn offers a perfect opportunity to put your glorious ideas into practice and make them a reality through concentration and effort. Finally, Friday offers ample opportunities for socializing when dynamic Mars in extroverted Aries trines ebullient Jupiter in chatty Libra.
The only blip now is the hardcore square between Mars and Neptune, which is in effect for most of the week and culminates on Thursday; it can be hard to focus on one path to follow.
Here is a general overview of this week's energy, valid for all. Hearts and Hates for your sign follow below!
♥ Inspiration, perspiration and determination in equal measure
There is a cornucopia of good vibes this week, offering something for everyone in all aspects of life's rich pageant.
☹ Getting lost in the dream
Life offers so many enticing avenues, that it could be easy to get caught in a utopian daydream and end up accomplishing nothing. Choose your greatest goal, and go for it!
Your sign's Hearts & Hates Weekly Horoscope:
Aries Horoscope (March 21 - April 19)
♥ Spring in full bloom
Your hard work is paying off, alleviating financial worries, as well as making you feel vibrant and energized in a world with endless possibilities. Take a relationship to the next level or pop the question on Friday.
☹ Tongue twisted
You have so many deep ideas and things you want to share with the world that you end up not being able to organize your thoughts and just confuse everyone around you.
Taurus Horoscope (April 20 - May 20)
♥ Out of a rut
Break out of old routines by exploring new neighborhoods or seeking knowledge; a sense of adventure can bring you and your sweetie closer together and fill you with inspiration. This is also a great week to make new pitches in order to raise your income.
☹ Not-so-fun money
You could end up blowing a lot of cash socializing with wasteful, fake, and opportunistic friends. Think before you spend.
Gemini Horoscope (May 21 - June 20)
♥ Happy hour
Sharing fun times out with friends can alleviate the pressure of a claustrophobic love life. Don't be afraid to splurge on a little high life. If single, ask your crush out on Friday, one of the best date nights of the year.
☹ Down the drain
Your desire to get things done quickly and without proper preparation could cause you to expend wasteful energy on things that must be redone. Do the groundwork.
Cancer Horoscope (June 21 - July 22)
♥ Lover loosens the leash
Your lover will be open to hanging out with social acquaintances this week, which will take the edge off a possessive relationship. You will also feel inspired and inventive at work.
☹ Gorilla in the mist
On the inside, you are a powerful, awe-inspiring creature, but your inner-force could quickly dissipate into the clouds when you try to show it off to the outside jungle.
Leo Horoscope (July 23 - Aug. 22)
♥ Inspired and productive
You will be bursting with new ideas that you can implement at the workplace. Enjoy a nice night out on Friday, you've earned it.
☹ Tapped out
Beer will be flowing from the spigot and money from your bank account in equal abundance. Watch out that you do not spend too much on socializing.
Virgo Horoscope (Aug. 23 - Sept. 22)
♥ Blue horizons, green pastures
Get out and explore a cloudless world with your sweetie, and use your money to spruce up the homestead. Friday is an excellent day for salary and contract negotiations.
☹ Blinded ambition
Your desire to succeed at the workplace may make you heedless to the emotional needs of your romantic partner.
Libra Horoscope (Sept. 23 - Oct. 22)
♥ Passion and understanding
You are feeling confident and hopeful this week, which will also be a boon in your romantic life. Work things out with your partner through talk and kisses.
☹ Drowning in work
Your desire to get out and explore the world or study new things could cause a serious backlog in chores and duties.
Scorpio Horoscope (Oct. 23 - Nov. 21)
♥ Love and money
Impressing those at work with your innovative problem-solving solutions could lead to a boost in wages. You and your romantic partner can also grow incredibly close through long, intimate talks.
☹ Squandering soulmates
Your desire to take care of your romantic partner and beloved offspring could lead to a rapidly depleted bank account or the accruement of debt.
Sagittarius Horoscope (Nov. 22 - Dec. 21)
♥ Play date
There will be plenty of opportunities this week to lift your spirits through spending time with children, or, if single, seeking out new romance. A friendship could blossom into something more on Friday.
☹ Ikea couple
For those in a committed relationship, household duties and chores could sap all the passion from your life. If single, don't allow your needy relations to turn your focus from finding true love.
Capricorn Horoscope (Dec. 22 - Jan. 19)
♥ Capricorn Casanova
Tuesday is one of the best days of the year to go on a date or search for love online. Your magnetism will draw smitten suitors to your side.
☹ Not following the leader
The more you dictate your desires to others, the more rebellion you will have on your hands. You may have a hard time expressing your requirements in a way that is not bossy and authoritarian.
Aquarius Horoscope (Jan. 20 - Feb. 18)
♥ Breaking the ice
You could be feeling hemmed in by conservative society recently, but this week offers an opportunity for easy interactions with icy friends, and new horizons in red-hot romance.
☹ High cost of love
You are filled with passion for a new romance, but you may be worried if you have enough income to make it a reality, especially if it is with a long-distance lover.
Pisces Horoscope (Feb. 19 - March 20)
♥ Hard work pays off
Opportunities for new sources of income could spring up this week, so keep your eyes open for work opportunities and actively promote yourself. Use windfall earnings to spruce up your home.
☹ Family demands
Family drama could be taking your focus off work, leaving you feeling drained and confused.