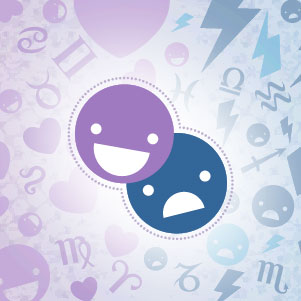 Jupiter has been retrograde since early January, putting the bountiful benefits of the Gas Giant temporarily to sleep. It turns direct on Monday, and will once again be working its magic. There is also a lot of synergizing energy in the Earth signs this week with a Grand Trine in effect between Jupiter, Pluto, Mercury, and Venus: pragmatism, hard work, and overcoming obstacles are all in the cards, so get ready to feel the rewards of a job well done!
Here is a general overview of this week's energy, valid for all. Then keep reading for the Hearts and Hates for YOUR sign this week!
♥ Whistle while you workRoll up your sleeves and get ready to do the heavy lifting; you can move mountains this week if you try.
☹ Too much of a good thingWith so many work-related opportunities up for grabs, it may be easy to burn out in nervous exhaustion. Take a day of rest on Sunday.
Your sign's Hearts & Hates Weekly Horoscope:
Aries Horoscope (March 21 - April 19)
♥ Trump towerYou will be able to play all the cards in your hand to your advantage in order to climb to the top of the ladder and rise above the competition.
☹ Tapped outYour total focus on career is not leaving you much time to recharge your batteries or seek new sources of inspiration, leaving you feeling like an empty vessel on Sunday.
Taurus Horoscope (April 20 - May 20)
♥ Scheme your way to romanceBeguiling Venus will know just what buttons to push to make all suitors swoon at your feet when it sends an enchanting trine to infatuated Jupiter in your zone of amour on Tuesday.
☹ Facebook status: none of your businessJealous friends may surreptitiously try to throw a cog into your romantic bliss on Sunday. What they don't know, they can't use to hurt you.
Gemini Horoscope (May 21 - June 20)
♥ Tapping into the cosmosYou can get a huge inspiration boost on Thursday and Friday by opening your eyes to the world around you, and drinking in its great flow of knowledge and culture.
☹ Putting others firstYour lover and family may be requiring 150% of your attention on Sunday; meanwhile, your professional life is dying on the vine. Refocus your attention to taking care of yourself.
Cancer Horoscope (June 21 - July 22)
♥ Talking points memoYour communications may have been voluminous since January, but babbling on incessantly about your life may have lost you more admirers than it won. When Jupiter turns direct on Monday, your chattiness will once again regain its charm and lead you to popularity.
☹ Stay focusedAs much as you want to enjoy Sunday hanging out and exploring the world, you may need to just buckle down and get some work done.
Leo Horoscope (July 23 - Aug. 22)
♥ Money starts flowingJupiter is supposed to bring bounty, so why have finances been stagnant since January? Once Jupiter turns direct on Monday, opportunities to boost income will be on the rise; Tuesday is an especially auspicious day for negotiations and pitches.
☹ Build a damWhile money may be gushing in, it could also be flooding out to all the wrong places on Sunday. Keep tight control of your finances and don't trust the fine print.
Virgo Horoscope (Aug. 23 - Sept. 22)
♥ Long weekendYou may want to take Friday off work, because Mercury and Venus join up in your travel sector to send loving vibes to soul-mate Pluto in your romance zone, promising many opportunities to find true love or reinvigorate an existing relationship.
☹ Sulky SundayMoping around the house on Sunday will only fuel feelings of melancholy and familial stand-offs. Get out and enjoy.
Libra Horoscope (Sept. 23 - Oct. 22)
♥ Home improvementIf you want to make any changes around the house, or even buy or rent a new home, Thursday and Friday are extremely auspicious days to finance domestic projects.
☹ No mood to talkYou may want to log off your work email account on Sunday, because you will be in no mood to deal with all the incompetence flowing your way from inept colleagues.
Scorpio Horoscope (Oct. 23 - Nov. 21)
♥ Speak easyYou and your love can grow incredibly close just through talking things out on Thursday and Friday. Words of love and intellectual commonalities abound.
☹ Inflated ticket pricesLack of finances may prove a major barrier to hanging out with friends-with-money on Sunday.
Sagittarius Horoscope (Nov. 22 - Dec. 21)
♥ Working togetherCollaborating effectively with others on Thursday and Friday can lead to a boost in your individual take-home pay.
☹ Weekend overtimeHaving to catch up with an unending deluge of work-related tasks could heighten your moodiness on Sunday, but keep plugging away, because your opportunity for fast-track success lasts until September.
Capricorn Horoscope (Dec. 22 - Jan. 19)
♥ Let them come to youWith Pluto in your sign, you are exuding such charisma and magnetism that all you need to do is put yourself out there to increase your discoverability. Many potential suitors will plot to win your favor on Thursday and Friday.
☹ Can't get that feeling anymoreEven though you know the world can be a wondrous place filled with limitless possibility, your own moodiness is keeping you from tapping into the Tao.
Aquarius Horoscope (Jan. 20 - Feb. 18)
♥ Swiss Family RobinsonYou can lead a storybook home life on Thursday and Friday by squirreling away with your closest kin on your own deserted isle providing for each other's survival.
☹ One-way streetYou may grow sad on Sunday because the amount of generosity flowing from you to your friends far exceeds that of them to you. Make it a Dutch treat from now on.
Pisces Horoscope (Feb. 19 - March 20)
♥ Make amendsWith Mercury Retrograde and conciliatory Venus in your communications zone trining friends-for-life Pluto in your social zone on Thursday and Friday, it is time to reach out to estranged amigos and make peace.
☹ Pouty partnerYour lover may embrace only melancholy on Sunday, due to your need to work overtime.