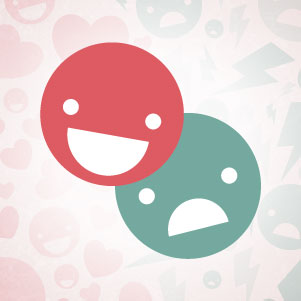 The week starts out on a productive note as Monday's Full Moon in Taurus forms a loose trine with Pluto in fellow Earth sign, Capricorn. This is a great day to gather all your energy and complete any pesky projects that have been lingering on your to-do list.
The only disharmonious energy this week comes at the Lunar Grand Cross on Thursday between the Moon in Cancer, Pluto and Venus in Capricorn, Uranus in Aries, and Jupiter in Libra; guilt trips and manipulations abound, pushing everyone's buttons. Sunday, however, is a gloriously vibrant day due to a Lunar Grand Trine in the energetic, happy-go-lucky Fire signs. A Leo Moon sends out good vibes to spontaneous Uranus, as well as Mercury and Saturn in Sagittarius; clear your schedule so that out-of-the-blue events can occur that will bring inspiration and meaning to your world.
Here is a general overview of this week's energy, valid for all. Hearts and Hates for your sign follow below!
♥ Work and play in equal measure
Monday is one of the best days of the year for work and getting things done. Reward yourself for your intense efforts by enjoying the following Sunday's festive, frolicsome vibes to the full.
☹ There are no safe spaces
Unless you lock yourself away in an ivory tower, you may need to deal with trolls and passive-aggressive bullies on Thursday. Instead of being triggered, try to shake it off.
Your sign's Hearts & Hates Weekly Horoscope:
Aries Horoscope (March 21 - April 19)
♥ Treat yourself, you deserve it
If you want to indulge in a "me present" on Monday, go for it; you have been working very hard. On Sunday, leave chores behind, and run off on a spontaneous road trip with your sweetie.
☹ Mommie Dearest
Your mother could be meddling in your romantic life on Thursday, causing blow-ups between you and your sweetie and misdirected bullying at the workplace.
Taurus Horoscope (April 20 - May 20)
♥ Uplift your spirit
Set up a home-based shrine, and leave yourself a tithe. Investing money in your abode can bring you a sense of inner-peace and well-being.
☹ Can't bargain with the devil
Not everyone shares your lofty views, and the more you try to force your opinions on others, the more they will view you as sanctimonious and to be fought against.
Gemini Horoscope (May 21 - June 20)
♥ Pitch and ditch
If you need a loan or financial support, make your case on Monday, then put monetary issues far from your mind and totally disengage into enjoyment at the weekend.
☹ Buyer's remorse
You may regret the amount of money and generosity you dish out to lovers and friends who never show gratitude, and only ever want more.
Cancer Horoscope (June 21 - July 22)
♥ Friendly fire
Flirting with a friend on Monday could morph them into a long-term soulmate. Follow your instincts and use subtle seductions.
☹ Can't change the channel
You have joined the ranks of Lifetime movie queens Valerie Bertinelli and Shannen Doherty. You are so good at chewing up the scenery that you can't breakout into more nuanced roles in love, at home, or in the office.
Leo Horoscope (July 23 - Aug. 22)
♥ Dare to date
Get over your shyness and start treating the search for love as a combination of romance and logic. If you make a rational choice regarding a proper suitor, Sunday is an excellent day to reach out and let them know how you feel.
☹ Sinking in quicksand
You are oddly stagnant and silent while drowning in a morass of constant change. Instead of battling on your own, don't be afraid to call out for a helping hand on Thursday.
Virgo Horoscope (Aug. 23 - Sept. 22)
♥ Let go and lighten up
Make a vow to end petty romantic squabbles at the Full Moon on Monday. You can restore harmony with your lover and around the home, as well as achieve a sense of inner peace.
☹ Penny arcade
It won't be amusing to your friends to watch you and your lover squabble about who pays what in your relationship on Thursday. Try not to bring everybody down with your budgetary showdowns.
Libra Horoscope (Sept. 23 - Oct. 22)
♥ Move out of the house
If you resolve a long-standing financial issue relating to home and family on Monday, you will be able to step out at the weekend with friends and lovers.
☹ Ratings slump
Unless you work on a reality TV show, there is no need to keep your colleagues up to date with every little drama of your life, especially on Thursday. If you insist on doing so, your reputation may suffer.
Scorpio Horoscope (Oct. 23 - Nov. 21)
♥ Close the chapter
Put into words how much you love your partner on Monday, so you can move on from petty squabbles for good.
☹ Agony aunt
On Thursday, you will have no desire to listen to everyone else's problems, when you have your own stuff to deal with.
Sagittarius Horoscope (Nov. 22 - Dec. 21)
♥ Call into account
Turn Monday into money day: send off invoices, call in payments, and settle negotiations once and for all. You can then spend time on romance and children at the weekend.
☹ Axe to grind
Lovers and friends have grown a little too used to your generous nature. It is time to cut down the giving tree.
Capricorn Horoscope (Dec. 22 - Jan. 19)
♥ Family matters
Spending time with family at the weekend will give you a profound sense of well-being and purpose in life.
☹ November revolution
The peasants may finally revolt against your tsarist nature on Thursday. Get ready to hear a firm nyet! if you demand co-workers, relatives, and your romantic partner to obey your every demand.
Aquarius Horoscope (Jan. 20 - Feb. 18)
♥ Home court advantage
You can win extra brownie points by shooting down long-standing control issues with family members on Monday. You may even earn a time-out to spend some fun times with friends at the weekend.
☹ It's all in your head
You may feel worn out physically on Thursday due to the complex emotional issues you are struggling with in your psyche. Get some rest and don't over-exert yourself.
Pisces Horoscope (Feb. 19 - March 20)
♥ BFF breakthrough
It's time to act like an adult and cast aside petty differences with a certain frenemy on Monday. A good chat can clear the air and put you on the same team.
☹ Social crush
You are feeling the pressure from trying to balance a hectic social schedule with a precarious financial life. You may not have enough money to accept all the invites, especially on Thursday.