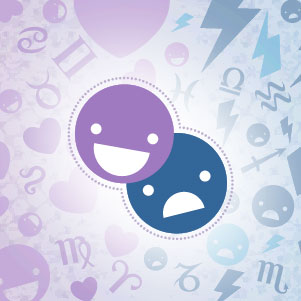 Here are the best and worst days this week! To find out what this week will bring you personally, keep reading for YOUR sign's Heart and Hate Horoscope.
♥ Sunday: Light-hearted weekend
The week starts with the Sun and Mercury in super-intense Scorpio, but both planets will move into jovial Sagittarius by Sunday, allowing for a fun-filled weekend.
☹ Friday: Iron-fisted diplomacy
Everyone wants concord, but no one wants to budge. Keep a low profile on Friday; schedule work appointments and negotiations earlier in the week.
Your sign's Hearts & Hates Weekly Horoscope:
Aries Horoscope (March 21 - April 19)
♥ Free your mind, and the rest will follow
After several weeks pondering about finances, you can turn your attention to nourishing your mind, starting on Friday. Read a new book or sign up for a class to expand your horizons.
☹ Needy lovers
Co-dependent partners may be growing weary of how much time you spend career-building and demand your attention on Friday. Make time for them.
Taurus Horoscope (April 20 - May 20)
♥ Financial whiz kid
Thoughts turn from love to money this week. Starting on Friday, you can start planning your long-term financial future, by setting up a sensible investment strategy that pays off slowly, but surely, over time.
☹ Workplace bully
On Friday, there could be a lot of competition at the office to see who is the greatest visionary, leading to dirty tactics and hurt feelings. Never let them see you sweat.
Gemini Horoscope (May 21 - June 20)
♥ Ship building
Relationships are hard work, and yours has been particularly laborious for the past several months. Luckily, with Mercury and the Sun entering your commitment zone this weekend, you can cultivate mutual understanding.
☹ Games people play
A child or lover may attempt to wrap themselves around your finger on Thursday, in order to pry your hard-earned money straight from your hands. Be suspicious of flattery and flirtation.
Cancer Horoscope (June 21 - July 22)
♥ Stop the stagnation
You may be drowning in an endless sea of monotonous tasks. Luckily, with the Sun and Mercury entering your sector of daily chores this weekend, you will be able to efficiently and joyfully clear out a backlog of work over the next few weeks.
☹ Not where the heart is
Your desire for a cozy, harmonious home is disrupted by your partner's desire to make every small domestic decision into a major competition of will.
Leo Horoscope (July 23 - Aug. 22)
♥ Finally
You have been concerned about romance and creativity the past several weeks, but your attention has been sucked up by work and money. When the Sun and Mercury move into Sagittarius this weekend, you can finally focus on the softer side of life.
☹ Misdiagnosis
Avoid doctor's appointments on Thursday, as your inability to communicate effectively, or stand up for your rights, could lead to improper care.
Virgo Horoscope (Aug. 23 - Sept. 22)
♥ Weekend relax
Work and love have you running ragged, but once Mercury and the Sun enter your domesticity zone this weekend, you can finally relax and recharge your batteries.
☹ Monetary melancholy
Your lover is acting like a complete monster over money. If you use your earnings to buy nice things for yourself, your romantic partner may lash out and make you feel guilty in an effort to gain control.
Libra Horoscope (Sept. 23 - Oct. 22)
♥ Growth economy
After living on meager earnings for the past two years, the market has finally turned around. With the Sun and Mercury in your income zone for the next few weeks, you can dream up new ways to fatten your bank account.
☹ Mommy dearest
Don't be surprised if a family member spins out of control over minor domestic matters on Thursday, when an enraged Pluto squares best-intentioned Venus. Put a lock on your closet so they don't see all those wire hangers.
Scorpio Horoscope (Oct. 23 - Nov. 21)
♥ Currency clean up
Your monetary situation is a bit of a mess, and earnings are barely trickling in. Luckily, with a cheery Sun and Mercury entering your income zone, you will be able to set things in order over the upcoming weeks.
☹ Words hit harder than a fist
Arguments filled with pointed words will lead to emotional injury on all sides on Thursday, including guilt for taking hurtful jabs that you don't really mean.
Sagittarius Horoscope (Nov. 22 - Dec. 21)
♥ Birthday time
You have been besieged with problems lately, but when the Sun and Mercury enter your sign over the weekend, your mood will lighten considerably.
☹ Bling backfire
If friends are giving you shade, it may because of all the flash you are showing off. While you should be proud of economic achievement, don't use your cash to boast or control others.
Capricorn Horoscope (Dec. 22 - Jan. 19)
♥ Emotional uplift
Your broody disposition will lighten up considerably once an upbeat Sun enters your zone of psychological well-being on Sunday.
☹ Workplace bullying
People at the office will be extremely sensitive to your commanding and demanding nature on Thursday. Take feelings into consideration and tone it down a notch.
Aquarius Horoscope (Jan. 20 - Feb. 18)
♥ Break out of your shell
You have been having a hard time connecting with others, largely due to the walls you have been putting up. When the Sun and Mercury enter your socializing zone this weekend, you will be much more approachable and up for meeting new people.
☹ Sulking like Sartre
You will be filled with more existential angst than Jean-Paul Sartre when intense Pluto squares overly sensitive Venus on Thursday, making you OD on nihilistic despair.
Pisces Horoscope (Feb. 19 - March 20)
♥ Inspiration arrives
After feeling like work is nothing but an endless slog of dreary tasks, inspiration arrives on Tuesday, which will fuel your enthusiasm and focus for your career advancement.
☹ Friends with money
You may be overwhelmed with economic envy on Thursday, because you can't keep up with your friends' good fortune. Instead of secretly, and bitterly, hating on the success of others, get out and make your own.