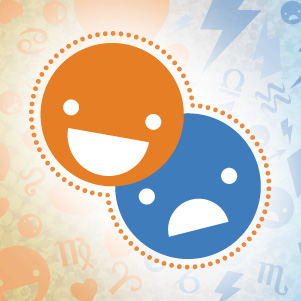 Here are the best and worst days this week! To find out what this week will bring you personally, keep reading for YOUR sign's Heart and Hate Horoscope.
♥ Friday & Saturday: Work hard, dream big, and have fun
There is a lovefest going on up in the stars, with the Sun sextiling Pluto; Mercury trining Neptune; and the Moon conjunct Jupiter, Mars, and Venus. Work can be both productive and enjoyable. Moreover, this is an amazing time to think outside the box and envision your greater goals in life.

☹ Tuesday: Opening old wounds
With OCD Jupiter opposing Chiron, there is a tendency to obsess over past hurts, which could serve as a trigger to self-destructive behavior. Try to take your mind off things by keeping busy or escaping into a good movie.
Your sign's Hearts & Hates Weekly Horoscope:
Aries Horoscope (March 21 - April 19)
♥ Able to leap tall buildings in a single bound
You will be a Superman or Wonder Woman at the office this week. Your drive and determination will make work effortless and emotionally rewarding.

☹ Binge behavior
Suppressed emotional issues could be compensated for physically, rather than dealt with psychologically, through punishing physical workouts or erratic, and harmful, eating. Try to address the root cause.
Taurus Horoscope (April 20 - May 20)
♥ Heaven, you're in heaven
You will be swept off your feet with more élan than Ginger Rogers in a Fred Astaire movie from Hollywood's Golden Age. If you are crushing on a friend, Friday is the time to go full-on seduction to make it real. Couples can also reignite romance, so make time for each other.

☹ Dye that scarlet letter a new shade
You may be seething over the judgment and lack of support from friends and acquaintances over your love life. If you are having fun, who cares what others think?
Gemini Horoscope (May 21 - June 20)
♥ Love & money
Friday is a great time to negotiate benefits relating to your work, such as health care, retirement, or other perks. Spending time with relatives on Friday or Saturday will give you a big boost of energy and affection.

☹ What's really important?
You may not be in love with your career at the moment, as everything seems to be stuck in a never-ending fog of vague confusion. All this professional uncertainty leads to worry over how you can adequately provide money -- and time -- for your family.
Cancer Horoscope (June 21 - July 22)
♥ Let thee count the ways
You will be waxing poetic all week, so get out the quill and inkpot; suitors and sweeties will be swooning at every syllable.

☹ Feeling like a used car salesman
Even though your charm will win over everyone to your side, you still feel relatively phony, as if your sham words can't truly express the depth of your consciousness. Don't worry, you are doing fine.
Leo Horoscope (July 23 - Aug. 22)
♥ Bury it in the garden
Take some of your recent financial gains and invest it in your home or family -- seeds you plant now will create the roots of a dream domestic situation.

☹ Trust-buster
Past encounters with money-wasters could make you even more leery about whom you entrust your money with -- which could cause honest people to take offense, losing you useful alliances. Take caution and create safeguards, but, at some point, you need to delegate financial duties.
Virgo Horoscope (Aug. 23 - Sept. 22)
♥ Charm offensive
You radiate charisma and seduction all week, with Friday being a particularly auspicious day (and night) to woo potential suitors into your web.

☹ Haunted by an ex
Pain suffered during past love affairs can undermine your confidence on Tuesday, which is massively counter-productive, because all anyone else can see is just how groovy you are.
Libra Horoscope (Sept. 23 - Oct. 22)
♥ Feeling groovy
You've got to make the moment last on Friday and Saturday, with an emotionally uplifted Moon joining forces with upbeat Jupiter, enthusiastic Mars, and comfortable-in-my-skin Venus in your sector of psychological wellness.

☹ Pain management
Physical health problems could overtake your subconscious on Tuesday; obsessing will not cure you, but trying a new doctor could. Alternatively, you may be dwelling upon old rivalries with colleagues at work. Try to focus on achievement, instead.
Scorpio Horoscope (Oct. 23 - Nov. 21)
♥ Scorpio says
You will be the leader in a game where you can shout out your craziest demands, and your friends and acquaintances will frantically obey your every wish, especially on Friday.

☹ Baby's singing the co-dependency blues
Your soaring popularity could, once again, ignite the wounded feelings of your romantic partner on Tuesday. Their mopiness may be wearing thin, but those puppy-dog eyes are irresistible.
Sagittarius Horoscope (Nov. 22 - Dec. 21)
♥ Smooth operator
You are the epitome of grace under pressure: effortlessly soaring up the career ladder without even breaking a sweat, due to your underlying confidence and skill, which could bring an earnings boost on Friday.

☹ Family feud
Your significant other may kick up their heels once again due to the time you spend at work. Just because you need to focus on success, doesn't mean you need to be totally absent -- try sending a dozen red roses to show you care.
Capricorn Horoscope (Dec. 22 - Jan. 19)
♥ Test marketing
You are ready for a major change in your life and can garner up the courage to make transformative decisions by following your gut, especially on Monday, Friday and Saturday.

☹ Undecided
Even though you know deep down where your ideologies lie, you are still responding "undecided" in opinion polls, in fear of being judged for your unconventional outlook.
Aquarius Horoscope (Jan. 20 - Feb. 18)
♥ The art of the deal
You will be a savvier wheeler-dealer than the Donald himself. Backroom negotiations can lead to career advancement and increased earnings on Friday.

☹ Cut your losses
You need to stop allowing your own ambivalent and idealistic attitude toward wealth keep you from getting the money you deserve. Tuesday is a good day to start demanding what you're worth.
Pisces Horoscope (Feb. 19 - March 20)
♥ Romantic get away
Break away from all the heavy issues weighing down your romantic life this weekend by taking a short out-of-town trip with your sweetie.

☹ Insignificant other
You may feel like your true needs are not being listened to as your partner goes after their own dreams and desires on Tuesday, without considering how these plans also affect you.