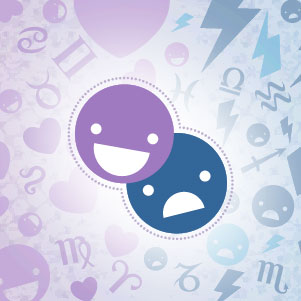 When two outer planets face off against each other, tensions always run high. For some reason, Thanksgiving is the holiday that seems to dredge up suppressed family dysfunctions -- perhaps because there are no gifts to take the edge off, just red wine and tryptophan.
This year is a Turkey Day for the record books. Bad attitudes prevail when ruminating Mercury conjuncts brooding Saturn on Wednesday, followed by tinder-keg Jupiter and an emotional Moon in Libra squaring resentful-and-enraged Pluto and Venus in Capricorn on Thursday and Friday. Hurt feelings, angry eruptions, and catty bullying will be more plentiful than potatoes. Luckily, all is forgiven on Saturday, when logical Mercury trines let-it-go Uranus.
Here is a general overview of this week's energy, valid for all. Hearts and Hates for your sign follow below!
♥ Sky blue Saturday
Reason and logic are the keys to freedom and carefree spontaneity this weekend. Free yourself from drama in order to relax and enjoy life.
☹ Black Friday
Put down the credit card and step away from the computer. Petty arguments can injure self-esteem on Thursday and Friday; trying to assuage hurt feelings through retail therapy will only leave you broke and regretful. Put off shopping until Cyber Monday.
Your sign's Hearts & Hates Weekly Horoscope:
Aries Horoscope (March 21 - April 19)
♥ Hit the road, Jack
While Thanksgiving may be Thursday, your real holiday starts on Saturday. Cut loose and wander far from home to get back that feeling of excitement.
☹ Have you heard of a holiday?
If you can't unplug from work, even on Thanksgiving Day, can you really not understand why your lover is annoyed and demanding more of your attention?
Taurus Horoscope (April 20 - May 20)
♥ Money isn't everything
This weekend, stop obsessing on finances; instead, make an effort to share life's small pleasures with those you love by getting lost in moments of carefree spontaneity.
☹ Volunteer organizer
The downside of being a control freak at the holidays is that you end up doing everything yourself -- causing resentment on all sides. Allow others to make some decisions for the sake of togetherness.
Gemini Horoscope (May 21 - June 20)
♥ Burst the couple bubble
If you have been depressed because your lover has been isolating you from the outside world, make plans with friends on Saturday to breathe some fresh air.
☹ Sharing economy is overrated
If your friends, children and lover have created a free app that shares out your services and generosity, it is time to go old school and put a meter on it.
Cancer Horoscope (June 21 - July 22)
♥ Eureka moment
While going about your free time on Saturday, an innovative business solution may suddenly pop into your brain, so make sure to have a pad and paper to jot down your creative ideas.
☹ Love and rockets
The people you care about most -- your family and lover -- may be setting off fireworks around the house at Thanksgiving, making them all come off as over-stuffed turkeys. Arguments can start over the smallest thing, so try to stay out of it.
Leo Horoscope (July 23 - Aug. 22)
♥ Weekend escape
Do your duty by showing up for Thanksgiving at the family table, but by Saturday, it will be time for you and your lover to cut loose for a romantic trip to unchartered territory. If single, look for love outside your routine haunts.
☹ Save to draft
If you insist on catching up with work emails on Thursday and Friday, you could trigger the rage of colleagues, who think you expect them to work during their time off.
Virgo Horoscope (Aug. 23 - Sept. 22)
♥ Feasting on excess
Schedule a Thanksgiving leftover buffet with family on Saturday, when better spirits prevail and old tiffs can easily be cleared up and forgotten.
☹ Working the poles
The naughty allure of shoving a c-note in the g-string of your lover every time they shake their tail-feather in your direction way may have worn off. If your lover is making you feel manipulated and financially drained, it may be time to move on to a classier locale.
Libra Horoscope (Sept. 23 - Oct. 22)
♥ Loose lips lead to big kisses
Talking things out with a partner on Saturday can lead to a sudden resolution of problems, as well as a major return to passionate romance.
☹ Family pressure cooker
You just want to be you, but your family keeps pigeonholing you into being who they perceive or desire you to be. Conflicts could arise on Thanksgiving, when you stop being a side dish, and serve up your full sassy self.
Scorpio Horoscope (Oct. 23 - Nov. 21)
♥ Working for the weekend
If you feel motivated to tackle a backlog of work on Saturday, follow your instincts, because your overtime could lead to extra cash.
☹ Your pot boileth over
Thanksgiving goodies won't be the only things simmering on Thursday and Friday. Your hair-trigger temper could go off at the smallest provocation, so try to bite your tongue in order to enjoy the turkey.
Sagittarius Horoscope (Nov. 22 - Dec. 21)
♥ Lifted up by love
Romantic partners and children are the secret to lifting your spirits on Saturday. Surround yourself with those you love.
☹ Lost weekend
Overdoing it on binge partying on Friday can lead to a hangover and financial loss. Make a budget before you go out, and stick to it by carrying cash only.
Capricorn Horoscope (Dec. 22 - Jan. 19)
♥ Best of kin
You aren't in much of a mood for superficial socializing this weekend, so why force it? You can have joyous times hanging out at home with relatives.
☹ Work it like a sweatshop
You are putting in extra-long hours at the workplace, with no time to fully disengage, not even at the holidays. You may want to implement more ethical labor practices -- starting with yourself.
Aquarius Horoscope (Jan. 20 - Feb. 18)
♥ Communication breakthrough
You have had a hard time relating to people lately, and may have preferred to cut off deadweight friends rather than go through the motions. Luckily, this weekend you have a chance to reconnect with your social group in a spirit of inspiration and joy.
☹ Existential claustrophobia
You feel trapped in your own head, with your own thoughts and fears suffocating your fundamentally free-spirited nature. Learn to take some risks and get out of your safety zone.
Pisces Horoscope (Feb. 19 - March 20)
♥ Hard work pays off
You have been focused on career for the past year. On Saturday, make a splurge purchase to reward yourself for all you do.
☹ All give, no take
You may feel your friends are taking advantage of your sharing and generous nature, and not giving much in return. Maybe it's time to start keeping a balance sheet.