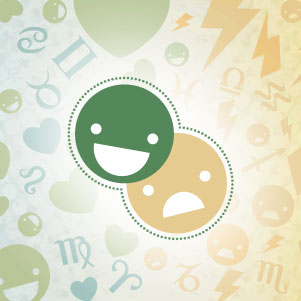 Here are the best and worst days this week! To find out what this week will bring you personally, keep reading for YOUR sign's Heart and Hate Horoscope.
♥ Tuesday: Break out of stagnation
This entire week is a bit of a Hate, but temporary relief is found on Tuesday, when a dynamic Mars sextiles Saturn, and frustration can be turned into constructive action.
☹ Wednesday, Thursday, & Sunday: Confusion and despair
There is a lot to hate this week as Mercury, Saturn, the Sun, and the Full Moon square off against Neptune. There is a lot of deception and manipulation brewing, leading to downbeat feelings of fatalistic pessimism. Knowing that a beautifully harmonious and magical Grand Trine awaits us next Monday can help us get through this period.
Your sign's Hearts & Hates Weekly Horoscope:
Aries Horoscope (March 21 - April 19)
♥ Building better relationships
For long-term passion, they say the sexiest part of the body is the mind. Your love relationship can receive a jolt of ardor by seeking out shared interests and intellectual points of view.
☹ Not what you wanted
Even though your love and work lives are going full-steam ahead, you still feel alienated and unfulfilled. Learn to count your blessings.
Taurus Horoscope (April 20 - May 20)
♥ Clean up your finances
If you are suffering from lingering debt, it is time to formulate an action plan by paying off loans through hard debt, or seeking a job that offers better benefits.
☹ You are not your bank account
It's very difficult to form authentic social relationships, as everyone seems to have an ulterior motive, leading to feelings of melancholy and guardedness.
Gemini Horoscope (May 21 - June 20)
♥ Always forever
Commitment is on your mind, and Tuesday is the perfect day to take your relationship to the next level. Those already in a pairing can reignite romance.
☹ Get real
You've found love, but now your lover is demanding that you stop dreaming and find a serious profession. This could lead to moodiness, as you are not ready to abandon your ideal career path.
Cancer Horoscope (June 21 - July 22)
♥ Dust buster
Tuesday is the perfect day to tackle all those domestic chores that have piled up. You will be a master organizer who can zoom through a mountain of mundane tasks.
☹ Must be more than this
Your life may have settled into a bland routine, which could lead to fleeting feelings of melancholy as you dream of a more nourishing existence.
Leo Horoscope (July 23 - Aug. 22)
♥ Get your flirt on
Don't be shy on Tuesday. If you take a risk and vamp it up, you could attract a new long-term lover to your side.
☹ Fear of intimacy
Past hurts are keeping you from opening up on a deep level. You long for emotional connection, yet are keeping suitors at arm's length. Learn to trust and take a chance.
Virgo Horoscope (Aug. 23 - Sept. 22)
♥ Home investment
You are in a nesting frame of mind, so use your earnings to spruce up your home with little luxury items, as well as practical objects and appliances.
☹ Empty nest
While you are focused on setting up your ideal home situation, there may be one thing lacking: a suitable partner to cozy-and-coo with. It is time to distance yourself from flakes and game players.
Libra Horoscope (Sept. 23 - Oct. 22)
♥ Preach!
You are riled up and ready to get things off your chest. On Tuesday, you can discuss difficult topics in a constructive, drama-free manner.
☹ Silence is golden
You may be dealing with a backstabbing colleague at work. Instead of getting depressed or calling them out, it is better to watch, wait, and gather evidence.
Scorpio Horoscope (Oct. 23 - Nov. 21)
♥ Business plan
Tuesday is an excellent day to sit down and create a long-term budget and earnings strategy. Money has been tight lately, so it is time to tackle things head on.
☹ Tapped out
Children or lovers may be confused by your lack of financial largesse, leading to feelings of inadequacy and melancholy.
Sagittarius Horoscope (Nov. 22 - Dec. 21)
♥ Festive friends
You can break free of your problems by spending invigorating moments with upbeat and inspiring friends on Tuesday.
☹ Heart vs. home
Romantic partners may have their feelings hurt by meddling family members, and all this drama is bringing you down. Why can't everyone play nice?
Capricorn Horoscope (Dec. 22 - Jan. 19)
♥ Put plans into practice
You have been ruminating about new goal and projects for the past few months. Now is the time to work hard and make your career ambitions a reality.
☹ Low energy
Your extended existential crisis, along with your ability to communicate and share your problems with others for fear of being judged and vulnerable, will lead to physical exhaustion this week.
Aquarius Horoscope (Jan. 20 - Feb. 18)
♥ Make new friends and ditch the old
While a lot of your social group seems to be restricting your worldview, if you get out and mingle on Tuesday, you could meet enthusiastic, inspiring new companions.
☹ The opposite of fun
Close-minded, judgmental friends could be looking down on your idealistic ways that eschew the traditional pursuit of money-at-all-costs. Try to stay optimistic.
Pisces Horoscope (Feb. 19 - March 20)
♥ Make it happen
If you want to run your own business, this is a good week to seek investors for a work-related project. You have the ability to draw powerful players to your side, who will prove invaluable as you work toward your goals.
☹ Don't let family get in the way of your dreams
Relatives may undercut your career ambitions, by labeling your dreams as pie-in-the-sky fantasies. While they may just be looking out for your own good, don't allow them to devalue you and your abilities.