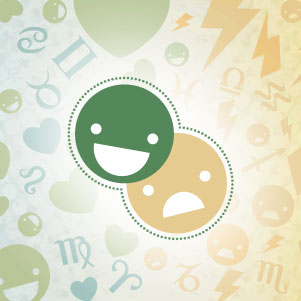 The week starts off with confusion over existential life questions, and ends with thoughts turning to work and constructive change. The Sagittarius New Moon squares Neptune in Pisces on Tuesday, and moodiness may prevail over how hard it is to achieve a life filled with adventure and spontaneity.
A more upbeat outlook returns on Thursday, when vibrant Mars in Aquarius trines up-for-anything Jupiter in decadent Libra; this is a day to take risks and try new, fun things.
Once Mercury enters Capricorn on Friday, make sure to use the upcoming week to figure out how to make lasting, solid changes that ensure a stable and meaningful life.
Here is a general overview of this week's energy, valid for all. Hearts and Hates for your sign follow below!
♥ Dare to play
Confidence and enthusiasm dovetail perfectly on Thursday, urging us to get out of our comfort zones and try new things.
☹ Inspiration vacuum
The tedium and sameness of everyday life could seem like an inescapable cage on Tuesday. Instead of giving in, plot ways to add spice to your life, and then get out on Thursday to do so.
Your sign's Hearts & Hates Weekly Horoscope:
Aries Horoscope (March 21 - April 19)
♥ Network your way to love
If you are looking for true romance, start trawling your friends' social media connections on Thursday -- there is a certain someone out there waiting to be discovered.
☹ ¡No entiendo!
Nothing about life will make any sense on Tuesday. It's as if the cosmos is speaking its own secret language, and you can't find a decent translation software.
Taurus Horoscope (April 20 - May 20)
♥ Team leader
Your ambition and strong work ethic will propel your entire team to tackle on-the-job projects with élan and a spirit of cooperation.
☹ Open-handed vs. empty-handed
You are starting to doubt whether your generosity is being misdirected. If you feel used or taken advantage of, maybe it is time to distance yourself from fly-by-night fakers.
Gemini Horoscope (May 21 - June 20)
♥ New spaces, new faces
If you break out of mechanical routines and explore new horizons, you could also spark romance through the many people you come across in your explorations.
☹ Lose yourself in love, not work
You may feel adrift in your career. A general lack of achievement in your professional goals could be making you feel unworthy of true love -- which is yours for the taking this year, if you go for it. But, of course, you could always stick with the sure thing: someone who undermines you to maintain control.
Cancer Horoscope (June 21 - July 22)
♥ Invest in home and family
Forget the stock market; putting money into your domestic sphere will pay off in a massive sense of well-being and mutual bonds of goodwill. Spruce up your home, or help a brother out.
☹ Where is the route to wellness?
There are so many ways to improve your health that you don't know where to begin, leaving you feeling overwhelmed and defeated. Start your journey to fitness with one small step, such as cutting out a bad food or getting 20 minutes of exercise a day.
Leo Horoscope (July 23 - Aug. 22)
♥ Let's talk about love
It isn't easy to let someone know your true feelings. Luckily, the stars are on your side on Thursday, so if you want to declare the depths of your love, this is one of the best days of the year to do so.
☹ Fear of rejection
You may have been drowning in work in order to forget that your soul is suffocating from a lack of love. On Tuesday, you may feel defeated because past hurts have made you afraid of opening yourself to new opportunities. Luckily, you can change this dynamic on Thursday.
Virgo Horoscope (Aug. 23 - Sept. 22)
♥ Work it up
Hard work can lead to increased wages. Thursday is an excellent day to negotiate contracts, ask for a raise, or beef up your benefits.
☹ Can two become one?
You may feel like your lover will never become a seamless member of your family, making you confused and anxious of your future together.
Libra Horoscope (Sept. 23 - Oct. 22)
♥ You're king of the world!
There is not an iceberg in sight in your sea of love. The pursuit of romance will make you feel super desirable and confident on Thursday -- one of your best date nights of the year.
☹ Confused colleagues
Nothing you say around the office will make sense on Tuesday, so put off training courses or important meetings to another day
Scorpio Horoscope (Oct. 23 - Nov. 21)
♥ Booster bro
Your family will do much to boost your spirits and inner-confidence on Thursday. Put off socializing with friends to another day, and opt, instead, for a cozy dinner or phone call with relatives.
☹ Bringing up baby
On Wednesday, you will have more misunderstandings with your lover or children over money than a 1930s screwball comedy. Who knew those little darlings could take such a big bite out of your paycheck.
Sagittarius Horoscope (Nov. 22 - Dec. 21)
♥ Party line
Your group of friends will be hanging on your every word on Thursday. Make sure to make plans to go out, hang out, or virtually connect.
☹ Cunning clan
Family members who may not have your best interests in mind may be making you paranoid and suspicious, as well as draining you of your confidence and vitality.
Capricorn Horoscope (Dec. 22 - Jan. 19)
♥ Ascent to the top
No one can climb a mountain like a goat. Your continued rise to the pinnacle of success continues at breakneck speed, allowing you to demand a resultant increase in pay.
☹ Off message
You will be feeling rejuvenated on the inside on Tuesday, yet those around you will have a hard time believing your talk of hope and change, as it doesn't jive with your recent demanding nature.
Aquarius Horoscope (Jan. 20 - Feb. 18)
♥ Inspired and invigorated
New knowledge will motivate you to try new things on Thursday, so nourish your mind with nutritive material.
☹ Friends without benefits
New acquaintances made around the New Moon could look down their collective nose at your lack of materialism. Don't let superficial people get you down.
Pisces Horoscope (Feb. 19 - March 20)
♥ Pitch perfect
If you need financial help to go after your goals, such as a grant, loan, scholarship, or investment, Thursday is a one of the best days to seek assistance.
☹ One direction
You have been focused on your career with blinders on, but are now starting to doubt if you made the right choice, in terms of profession. You are making steady progress so don't give up yet.