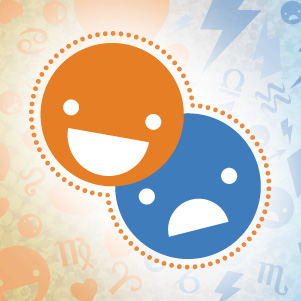 Here are the best and worst days this week! To find out what this week will bring you personally, keep reading for YOUR sign's Heart and Hate Horoscope.
♥ Monday: Revved-up and ready for anything
There's an enthusiastic Lunar Grand Trine in the Fire signs, pushing us all to take some chances, be spontaneous, and embrace our inner eccentricities.
☹ Sunday: Not gonna take it any more
After Mars' strength is zapped by an occultation -- a type of planetary eclipse -- on Saturday, its energy comes raging back on Sunday when it stands up against authoritarian Pluto.
Your sign's Hearts & Hates Weekly Horoscope:
Aries Horoscope (March 21 - April 19)
♥ Get out of a rut
Spontaneity will allow you to build a solid foundation that serves to support your quest for freedom, as opposed to hem you in. Dare to go after your deepest dreams in love on Monday.
☹ Mutiny on the bounty
You have amazing opportunities in both love and work; unfortunately colleagues and lovers won't just blindly follow your lead, but act out in rebellion at your need to dominate. Learn to make others feel involved and valued.
Taurus Horoscope (April 20 - May 20)
♥ Smoothing ruffled feathers
Using monetary resources to fund improvements to your little domestic nest or assist family members will do much to give you a sense of safety, as well as quell the feelings of anxiety you have experienced lately.
☹ Goliath, meet David
Your sense of personal strength and courage may be zapped on Saturday, when bullies gain the upper hand, but you come raging back on Sunday, ready to take on all the giants surrounding you.
Gemini Horoscope (May 21 - June 20)
♥ Loosen up love
Your love life has been a rigid straightjacket of duties and formality. Luckily, on Monday, your power of persuasion will coax even the most uptight partner to cut out for a spontaneous night on the town.
☹ Real housewives of the zodiac
Wow, is there ever a lot of drama around the house. Lovers are suspicious of your family members, and there could be massive arguments over money and control.
Cancer Horoscope (June 21 - July 22)
♥ Bouncing back to the top
Your career has been filled with constant change for several years, but you can solidify your reputation on Monday by negotiating for a raise or other benefits.
☹ Hot and cold
Domestic-related disputes rage on the homefront with a live-in love, while colleagues barely acknowledge your voluminous out-of-box ideas at work. You are not Goldilocks and there is no just right, this week.
Leo Horoscope (July 23 - Aug. 22)
♥ Flirt your way to lasting love
Throw off your inhibitions and express your true emotions on Monday; it could lead to a solid relationship with an equally steady-and-reliable partner.
☹ The work of art
Your mind is on creativity, but it just doesn't pay. All your attention is being drawn towards demanding commercial work projects, which bring in more money than inspiration. Make sure to schedule room for art.
Virgo Horoscope (Aug. 23 - Sept. 22)
♥ Opening up to intimacy
Lower your psychological barriers on Monday, by letting people get close; you will experience a profound feeling of safety and groundedness. This is also a good day to entertain at home with people you truly care about.
☹ Lavish attention, not money
If you spurge too much of your hard-earned cash on lovers or children this weekend, you may grow to regret it.
Libra Horoscope (Sept. 23 - Oct. 22)
♥ Time for a talk
You have been a bit cutoff and less chatty than usual these past few months. The harmonious Lunar Grand Trine on Monday is urging you to catch up with friends and express your true feelings to your partner.
☹ House fire
Drama abounds with family members this weekend, as everyone is jockeying for control, causing you to lash out in anger in order to put an end to all the silliness.
Scorpio Horoscope (Oct. 23 - Nov. 21)
♥ Check in with colleagues
Reach out to work contacts, past and present, on Monday, and you could be greeted with moneymaking opportunities out-of-the-blue by business associates impressed by your work ethic.
☹ Losing it
If you try to play nice by suppressing rage on Saturday, you will only explode on Sunday when an ireful Mars squares bullying Pluto in your communications zone. It would be better to communicate your feelings calmly as they arise.
Sagittarius Horoscope (Nov. 22 - Dec. 21)
♥ Lift you up where you belong
On Monday, don't be surprised if your lover walks into your mundane workplace donned in a spiffy white outfit, sweeps you off your feet and declares their undying love while the crowd cheers.
☹ Drink it away
You could wake up with a hangover and empty bank account on Sunday, brought about by a party-hearty binge on Saturday night.
Capricorn Horoscope (Dec. 22 - Jan. 19)
♥ Forwarding address
If you want to make changes to your residence, you will finally get up the nerve to do so on Monday. You may buy a house, take a new lease, or make much needed renovations.
☹ Low man (or woman) on the totem pole
You long to be your own boss, yet, unfortunately, you have to kowtow to others, which can cause considerable frustration near the end of the week.
Aquarius Horoscope (Jan. 20 - Feb. 18)
♥ Love-struck
You may be really bored by your current social situation, but on Monday, a communication from out-of-the-blue fills your world with new opportunities for romance.
☹ Sturm und drang
You will be on angst overload Sunday when edgy Mars in your existential zone squares a super-intense Pluto in your sector of brooding and moodiness.
Pisces Horoscope (Feb. 19 - March 20)
♥ Holiday miracle
If you are looking for some extra work to help pay for the holidays, you could be in luck on Monday. Make sure to spread the word and knock on doors.
☹ Money envy
Feelings of resentment and competition towards friends and acquaintances could cause you to drastically overspend as you try to keep up and show off. Unfortunately, the only people you will impress are at your credit card company.