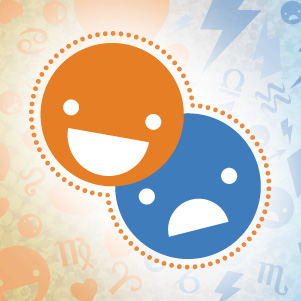 Could the U.S. election finally be over? The stars certainly think so, as three major planets change signs this week, signifying a major shift in energy. It is time to find new things be obsessed with! For the past six weeks, Mars in Capricorn has seen a David-and-Goliath type confrontation, as various forces fought against the Establishment -- be it Wikileaks or the Trumpster himself -- but the powers-that-be definitely appeared to have the upper hand.
When Mars moves into Aquarius on the day after the election, instead of fighting against the ruling class, there will be a push to fight for freedom itself, and everyone will need to choose their group. An angry Lunar T-square on Friday could see people lose their cool and momentary eruptions break out. Peace returns on Saturday, however, when Venus and Mercury change signs, leading to greater cooperation and enthusiasm for all.
Here is a general overview of this week's energy, valid for all. Hearts and Hates for your sign follow below!
♥ Whose side are you on?
Everyone wants freedom, so why do we need to split into little groups to fight for it? Sometimes there is power and safety in numbers. Choose your allies and stand your ground.
☹ There's only room for one in the spotlight
On Friday, everyone may be fighting for center stage, as competitive egos clash at the office and in love.
Your sign's Hearts & Hates Weekly Horoscope:
Aries Horoscope (March 21 - April 19)
♥ Social networking
Starting Wednesday and until mid-December, your ability to make valuable, exciting contacts will be at a 2-year high, so take advantage of the festive season to get out and mingle.
☹ You and you against the world
No one will have your back on Friday, and you may feel like you have to fight all your battles alone, both in love and at the office.
Taurus Horoscope (April 20 - May 20)
♥ Moving on up
If you want to climb the ladder of success, get ready to schmooze your way to the top over the next month.
☹ World weary
You may feel mentally and psychologically exhausted on Friday, especially if you have had to travel a lot recently. Chill out at home over the weekend to recuperate.
Gemini Horoscope (May 21 - June 20)
♥ Lotus position
Use the next six weeks to expand your consciousness through travel, study, or spiritual pursuits.
☹ Putting all your money in the kitty jar
Your friends may feel neglected this weekend because you have no money left for partying, due to the amount of moolah you are showering on your lover.
Cancer Horoscope (June 21 - July 22)
♥ Total recall
Once Venus enters your sector of true love on Saturday, you will remember the softer reasons why you originally fell for your sweetie, before their control-freak side took over.
☹ Leave it at the door
You will have a hard time concentrating on your work duties Friday, due to problems in your domestic life.
Leo Horoscope (July 23 - Aug. 22)
♥ Lifting your nose from the grindstone
The next several weeks offer ample opportunities for new -- or renewed -- love, so take a break from your never-ending workload and embrace passion.
☹ Lust for life, life not responding
You long for spontaneity and new experiences, but are stuck working late hours or tiresome conversations on Friday.
Virgo Horoscope (Aug. 23 - Sept. 22)
♥ Romance redux
Sexy Mars leaves your house of flirtation and amour on Wednesday, but don't despair because besotted Venus enters this zone on Saturday, making sure your heart keeps beating.
☹ Stop being stingy
You may want to hoard all your earnings for yourself on Friday, but part of being in a relationship means sharing -- as your partner makes very clear.
Libra Horoscope (Sept. 23 - Oct. 22)
♥ Passionflower
When spicy Mars moves into your zone of fun and romance on Wednesday, love will blossom before you until late December.
☹ In-law outlaws
This weekend, your lover may be in no mood to deal with members of your family who insist on meddling in your love life.
Scorpio Horoscope (Oct. 23 - Nov. 21)
♥ Mind over money
With savvy Mercury entering your earnings sector this weekend, you will have the next few weeks to think up ways to boost your recently meager income.
☹ System shutdown
You may feel completely overwhelmed by the unending stream of chores being thrown at you, leading to mental and physical exhaustion by Friday.
Sagittarius Horoscope (Nov. 22 - Dec. 21)
♥ Shout to the top
You are a gregarious, extroverted sign by nature, and from Wednesday until late December, you will have many opportunities for festive communications during the holiday party season.
☹ Pay to play
The amount of money you are spending on frolicking nights out on the town with your friends could make your lover feel second-string.
Capricorn Horoscope (Dec. 22 - Jan. 19)
♥ Art of the deal
You will be a master of monetary negotiation from Wednesday through mid-December. Use the upcoming weeks to boost your salary.
☹ Bottom rung
Your family may feel lonely and forgotten as they watch you rapidly climb up the ladder of success. Make time for them this weekend.
Aquarius Horoscope (Jan. 20 - Feb. 18)
♥ Hot tamale
You are known for being laidback and relaxed, but once spicy Mars enters your identity zone on Wednesday, you will be burning with passion and ambition through the end of December.
☹ Shrug and walk away
You have so much on your mind, yet nothing to say on Friday. You may feel communication is futile, as words can't get your point across ... so why bother?
Pisces Horoscope (Feb. 19 - March 20)
♥ Cozy companions
Compassionate, warm-hearted Venus enters your friendship zone on Saturday, promising a month of close, meaningful connections.
☹ Repressed rage
When angry Mars enters your psychology zone on Wednesday, you may feel resentful and covertly competitive with those around you until late December.