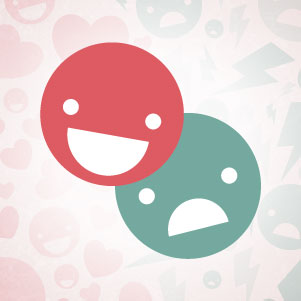 Here are the best and worst days this week! To find out what this week will bring you personally, keep reading for YOUR sign's Heart and Hate Horoscope.
♥ Wednesday: Time for a change
Wednesday's New Moon near Mercury and trining Chiron will be a light-bulb moment urging us to start new endeavors that bring true nourishment and meaning to our lives.
☹ Thursday: Dazed and confused
Brooding over what we don't have can lead to overall feelings of helplessness and despair. Instead of playing the victim, start working toward transformation.
Your sign's Hearts & Hates Weekly Horoscope:
Aries Horoscope (March 21 - April 19)
♥ The art of the deal
Wheeling and dealing will not only bring you major financial opportunities at work this week, but also give you a huge psychological boost to your self-esteem and sense of accomplishment.
☹ All alone in the world
You may feel like you live in a dreary world of ordinary blandness, far from your utopian dreams of a universe of creativity and wonder on Thursday, but this energy dissipates by Friday.
Taurus Horoscope (April 20 - May 20)
♥ Say I do
If you want to propose marriage or take a romance to the next level, Tuesday, Wednesday and Friday are all auspicious dates for serious commitment.
☹ Feeling used
You may feel manipulated by friends and acquaintances who form a false of sense of intimacy to gain money or emotional support, leaving you feeling drained on Thursday.
Gemini Horoscope (May 21 - June 20)
♥ Spin that straw into gold
You will be a veritable Rumpelstiltskin at work this week; all your tireless labor can easily be turned into financial gains that can be used to create a stable home and family life.
☹ The old ball-and-chain
Your romantic partner may be on your back, nagging you to give up your dreams of a creative and fulfilling career for a more practical job on Thursday.
Cancer Horoscope (June 21 - July 22)
♥ Out with it
Honest declarations of undying amour could lead to lasting, intense commitment with someone destined to be your soulmate.
☹ Don't fence you in
On Thursday, you may feel like wandering the open plains like a soulful cowboy, but instead, are stuck in a cubicle tapping away on a keyboard.
Leo Horoscope (July 23 - Aug. 22)
♥ Dig your foundations
Start planting the seeds for your ideal living situation this week. If you work hard, you will gain enough money to finance your domestic goals.
☹ The Prince Frog
Your fairy tale dreams come crashing down when your dashing prince morphs into an ordinary creature of habit, concerned more about the practicalities of existence, instead of romance and roses.
Virgo Horoscope (Aug. 23 - Sept. 22)
♥ You go, girl! (or guy!)
Your newfound confidence is freeing you from the shackles of shyness, giving you the courage to open up your heart to your romantic targets and ride off into the sunset.
☹ Dreams of stability
While being swept into the unknown with your sweetie is quite intoxicating, what you really long for is a secure and routine domestic life.
Libra Horoscope (Sept. 23 - Oct. 22)
♥ Sex you up
While Venus in your sign has been making you incredibly charming and delightful, Mars' entry into Libra on Thursday brings a pinch of spice and irresistible animal magnetism to the mix.
☹ You ... just ... can't
Flakey, incompetent colleagues will leave you speechless on Thursday. Instead of wasting time explaining, it may be easier to stay silent and do the job yourself.
Scorpio Horoscope (Oct. 23 - Nov. 21)
♥ Personal renaissance
Deep conversations with interesting people will leave you invigorated and refreshed. Use your increased inner strength to reach out and mend relations with romantic partners on Wednesday.
☹ Penny pincher
Children and lovers want to be doted on, but your financial situation is not nearly as bountiful as their list of fanciful dreams, bringing out your inner miser.
Sagittarius Horoscope (Nov. 22 - Dec. 21)
♥ Business plan
This is a great week to write out your career goals. You will then be able to plot out an effective action plan and budget to get them off the ground.
☹ Parlor games
Devious family members will be bringing you down on Thursday, as you grow tired of kinfolk who play games in order to subtly increase their positions of influence within the household.
Capricorn Horoscope (Dec. 22 - Jan. 19)
♥ A world of connections
Send out friend requests and get out and network in real life. A plethora of mind-expanding new acquaintances are out there, with whom you can feel a deep bond based on shared interests.
☹ Locked in your own head
You are brooding on your own problems, trying to find solutions in order to have a more purposeful life. Your friends, however, have no idea of your interior quest, and feel confused and abandoned.
Aquarius Horoscope (Jan. 20 - Feb. 18)
♥ Get real about money
You may have been buried by expenses lately, or taken on a lot of debt; it's time to get on a more even financial keel by going after career goals that can actually pay the rent, as opposed to just fueling your idealism.
☹ Burned in the shade
Ouch, all that shade being thrown your way is beginning to hurt. Your quirky ways may threaten the establishment types, so stop trying so hard to fit in with people you don't even like.
Pisces Horoscope (Feb. 19 - March 20)
♥ Bonnie and Clyde
Take a spontaneous road trip with your sweetie to bring adventure and enthusiasm to your relationship. Even a short diversion out of your usual haunts can be energizing. Break out of your couple bubble, and make new friends along the way.
☹ Nobody starts at the top
You are so talented, so visionary, so capable. So why are you mired in all this drudgery? If you pay your dues and build your career foundations now, within two years, you may find yourself surprisingly well established.