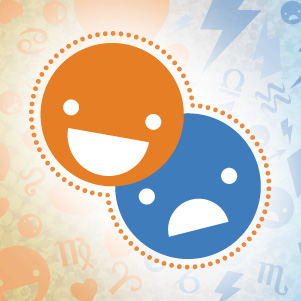 People will think big when Mercury conjuncts Jupiter on Tuesday. To put those grand plans into practice, however, will require shaking up the status quo when Mercury squares Mars and authoritarian Pluto in traditional Capricorn on Thursday and Saturday, and the Sun opposes renegade Uranus at the weekend.
Sunday's Full Moon conjunct Uranus is a bit of a glorious wildcard, when old, outdated ways are brusquely brushed away for more innovative, creative solutions.
Here is a general overview of this week's energy, valid for all. Hearts and Hates for your sign follow below!
♥ Tabula rasa
It's never too late for a fresh start, and Sunday is a great day to wipe the slate clean of people, habits, and influences that are holding you back.
☹ Vesuvius is overdue
Long-dormant rage and resentment could finally blow to the surface from Thursday through Friday. The fallout ash could be just as deadly as the original eruption, so try to lay low until Sunday.
Your sign's Hearts & Hates Weekly Horoscope:
Aries Horoscope (March 21 - April 19)
♥ Love-struck
You may be knocked off your feet this week by overwhelming feelings of amour. Make sure to schedule a date night on Tuesday or Sunday.
☹ Carlos Danger
Your professional ambition could be undermined by your romantic choices. Try to keep your love and work lives separate, or a scandal could bring you down.
Taurus Horoscope (April 20 - May 20)
♥ Helping others, helps yourself
Volunteering to helps those in need, especially on Sunday, can help you lay your own inner anxieties to rest and give you a sense of purpose and meaning.
☹ Task treadmill
Duties and obligations could be making you feel stagnant and hemmed in. While you long to roam the world and explore its wonders, for now, you just need to tend to your chores.
Gemini Horoscope (May 21 - June 20)
♥ Ciao, bella!
Amore is yours for the taking on Tuesday, a 5-star day for a date or to actively seek out someone new. You will know exactly what to say, and there is the possibility for love at first site.
☹ Say hello, wave goodbye
Stirred-up feelings of love could also be stirring up chatter among gossipy frenemies. It is time to choose the support of true love over a cabal of fly-by-night backstabbers.
Cancer Horoscope (June 21 - July 22)
♥ Home/work imbalance
Family time totally blots out your challenging professional life. Having an imbalance feels kind of good when it is your domestic realm that wins out.
☹ Survey says ... XXX
Your family could be feuding with your lover this week, so it is best to keep these two factions separate from Thursday to Saturday.
Leo Horoscope (July 23 - Aug. 22)
♥ Say it loud
If you have anything you want to say, or anyone you have been meaning to contact, but were too timid or shy, Tuesday is the day to let it all out.
☹ Hold your calls
Take a break from your never-ending pile-up of chores and work duties to enjoy interaction with the world outside the office from Thursday to Saturday.
Virgo Horoscope (Aug. 23 - Sept. 22)
♥ Money-making potential
You may realize you have a way to substantially increase your income on Tuesday, making it an excellent moment for negotiations.
☹ Time for a trade-in
Now that your financial life is picking up again after a few anxious years, do you really need to be strapped into that old clunker of a relationship, or is it time to seek out something more reliable?
Libra Horoscope (Sept. 23 - Oct. 22)
♥ Sparkle and shine
There is nothing more intoxicating than a Libra in full form. Tuesday will be one of your best days of the decade -- your charm, wit, and confidence are at their peak, so get out there and knock 'em out.
☹ Whatever happened to Baby Jane?
Resentful family members could be casting you as the unwitting lead in your own personal film noir, filled with schemes and paranoia. Try to stay away from toxic relations from Thursday to Saturday.
Scorpio Horoscope (Oct. 23 - Nov. 21)
♥ Go deep
Tuesday is an excellent day to look deep inside your inner psyche and reach enlightenment and peace. This is also a good day for solitary contemplation or counseling.
☹ Scream therapy
In order to reach inner equilibrium, you may need to blow of some steam, leading to fights and arguments from Thursday to Saturday.
Sagittarius Horoscope (Nov. 22 - Dec. 21)
♥ Linked in
Tuesday is an excellent time to expand your social network -- both on and offline. Break out the likes, make sure to comment, and get out for a drink with friends.
☹ Bros before...
You may want to put your friends first this weekend, especially if they have been trying to warn you about a high-maintenance, slightly unhinged lover who has been gobbling up your time and resources.
Capricorn Horoscope (Dec. 22 - Jan. 19)
♥ The force be with you
Your intellectual and communicative power will give you the uncanny knack to strategize your way to the top on Tuesday.
☹ Patient zero
Your ambition and dreams of power have you champing at the bit, but your inability to slow down and act in a methodical manner could show all your cards on Thursday and Saturday.
Aquarius Horoscope (Jan. 20 - Feb. 18)
♥ New vistas
When you live with your head in the clouds, you can lose sight of your true objectives. There is a clearing in the skies on Tuesday, allowing you to put things in perspective.
☹ Your own worst enemy
You could sabotage new opportunities -- and exit strategies -- that come your way with your stubborn need to push your own overly dramatic projections and suspicions onto others. Embrace change and the unknown.
Pisces Horoscope (Feb. 19 - March 20)
♥ Buffet lunch
You will be savvier than Warren Buffet in terms of drumming up investments on Tuesday. Use this day to plot your financial future and seek funding.
☹ Keep it in your pants
Talking about your wallet. Avoid the temptation to run up debt by charging a night out on the town on Thursday and Friday.