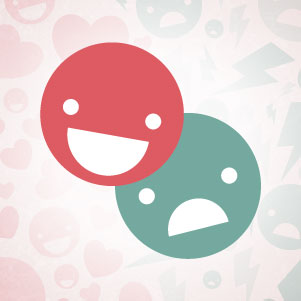 This weekend is a rollercoaster ride! See the best and worst days coming up for everyone this week, then read on for the Heart and Hate days for YOUR horoscope sign...
♥ Saturday: Play with fire
With explosive Mars conjunct tinder-keg Jupiter, things are bound to happen in a big way, so don't be afraid to take risks. Even if things blow up, the fireworks will be breathtaking.
☹ Friday: Murky and misunderstood
When a gullible Venus is opposed by a manipulative and obfuscating Neptune, confusion and hurt feelings reign supreme. Try to be as direct and honest as possible.
Your sign's Hearts & Hates Weekly Horoscope:
Aries Horoscope (March 21 - April 19)
♥ Hustle and flow
You can blag your way to the top in both love and career due to a New Moon in your true love zone, as well as ambitious Mars sending impressive vibes to head-honcho Pluto in your work sectors.
☹ Faker's fatigue
Everyone is buying your set of goods -- except yourself. You may feel anxiety that you are just a fraud who can't hold up the charade for much longer. Relax, you are manifesting your true talent.
Taurus Horoscope (April 20 - May 20)
♥ Sex machine
You will have no problem getting on up when passionate Mars conjuncts stay-on-the-scene Jupiter in your romance zone on Saturday.
☹ Throw out the welcome mat
Friends may overstep their boundaries on Friday, when a manipulative Neptune takes advantage of kind-hearted Venus. Block out the users and go on a date with your sweetie instead.
Gemini Horoscope (May 21 - June 20)
♥ One and only -- and only for you
With the New Moon in your romance sector and understanding Mercury sextiling monogamous Saturn early in the week, you can strengthen the walls of your couple bubble or take an existing flirt to the next level.
☹ Burning down the house
You may want to spend the weekend running errands, because when fiery Mars conjuncts highly-combustible Jupiter in your domesticity sector, arguments could ignite in the home over the smallest things.
Cancer Horoscope (June 21 - July 22)
♥ House cleaning
With a New Moon in your domesticity sector joined by get-it-done Mercury sextiling scrub-a-dub-dub Saturn in your zone of tasks, you will be able to tackle all those chores that have been piling up around the home.
☹ Ground Control to Major Tom
Your words will be floating in a most peculiar way when a tongue-tied Venus in your communications sector opposes nebulous Neptune on Friday. But shouting won't make you any more understood when raging Mars conjuncts up-to-eleven Jupiter on Saturday.
Leo Horoscope (July 23 - Aug. 22)
♥ Franklin Mint
With work-horse Mars conjunct bonanza Jupiter, you will be spitting out Benjamins more quickly than the Federal Bureau of Engraving and Printing.
☹ Sucker punched
Step right up! Your increased income will make you easy prey to hucksters and snake oil salesmen. Suckers may not be born every minute, but this month, they were most certainly born under the sign of Leo.
Virgo Horoscope (Aug. 23 - Sept. 22)
♥ Steady income
Thinking up and going after new revenue sources will help you set the foundations for a stable domestic life.
☹ Ego-maniac
With overly confident Mars conjunct self-possessed Jupiter in your sign on Saturday, it is all about you -- which could confuse partners who are used to your usual masochistic tendencies.
Libra Horoscope (Sept. 23 - Oct. 22)
♥ It's time to talk
The New Moon on Monday will finally give you the courage to stand up to flaky lovers. Have a heart-to-heart on Tuesday for greater understanding and mutual respect.
☹ Crock Pot
You will be simmering with more pent-up heat than a broken-down slow cooker that finally blows its top when fiery Mars conjuncts explosive Jupiter on Saturday.
Scorpio Horoscope (Oct. 23 - Nov. 21)
♥ ¡Tequila!
You will be rowdier than a dirty sax solo in a 1950's party tune when whoop-it-up Mars conjuncts all-nighter Jupiter on Saturday.
☹ Lonely lover
Your social popularity could make romantic partners feel neglected when a heart-is-with-the-crowd Venus in your networking zone opposes needy Neptune in your love sector on Friday.
Sagittarius Horoscope (Nov. 22 - Dec. 21)
♥ End to isolation
For a long time you have felt cut off, perhaps because dramatic lovers demanded 100% of your attention, but this week you can once again start cultivating friendships that bring meaning and nourishment to your life.
☹ Household neglect
Weeds are sprouting in the yard because you are spending so much time at the office. While family members could feel ignored, you are surrounded by career opportunities that are too rare to let slide.
Capricorn Horoscope (Dec. 22 - Jan. 19)
♥ Work it out
There is a lot of upheaval in your home life, and you feel oddly isolated, yet at the same time, like you're being dragged kicking-and-screaming into life's greater adventure. You will be able to hatch a career plan and put it into practice now to forge the life you really want.
☹ What you say?
Your attempts at call-and-response will be more like shout -- and huh? You and your partner are not on the same page when it comes to establishing a home and setting down roots. Their angry pushiness as they try to make you live for their dreams won't help matters.
Aquarius Horoscope (Jan. 20 - Feb. 18)
♥ Illuminati
The New Moon will help you reach conscious enlightenment on Monday, giving you the chance to make many new lasting connections with people who are on the same mental wavelength.
☹ Debt collector
Your credit line could be larger than your earnings potential, allowing you to accrue a massive amount of financial obligations in a very short time. Pay with cash only.
Pisces Horoscope (Feb. 19 - March 20)
♥ Dig!
Sometimes the only way to get yourself out of a financial hole is to keep digging. As much as you think money should be easy, it will only come through hard work.
☹ Manipulation backfire
If you try to use your usual Piscean covert maneuvers, instead of twisting your partner around your little finger, you will see them springing out the door.