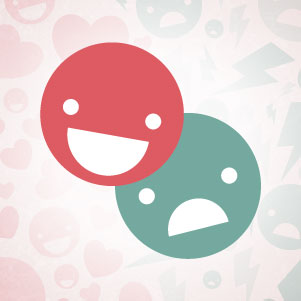 There is not so much going on this week, save for the trainwreck of Mars conjunct Pluto on Wednesday, which is pulled into a Grand Cross of angry energy on Friday and Saturday, including the Moon in Cancer, Mercury and the Sun in Libra, and Uranus in Aries. People are thirsty for power and will do anything to get it. This energy is not for the faint of heart, so you may want to stay far away from the bullies and haters in your life until things start to calm down on Sunday.
There are no major harmonious aspects this week, but Venus moves into cheerful Sagittarius on Tuesday, injecting an ameliorating balm of positivity into the skies.
Here is a general overview of this week's energy, valid for all. Hearts and Hates for your sign follow below!
♥ Choose your friends wisely
If you surround yourself with positive people this week, you can survive the bellicose energies hanging heavy in the skies.
☹ Warmongering
Secrets, manipulations, lies, control, fear: Get ready for full-blown propaganda campaigns as the power-hungry claw their way to the top by dividing and conquering.
Your sign's Hearts & Hates Weekly Horoscope:
Aries Horoscope (March 21 - April 19)
♥ Fall trip
Plan a getaway off the beaten path over the next month; expanding your horizons to new neighborhoods can bring inspiration and even the possibility for romantic encounters.
☹ Blind ambition
Your thirst for career success could keep you from seeing to the needs of family and romantic partners on Friday and Saturday.
Taurus Horoscope (April 20 - May 20)
♥ Sexual healing
'Tis beauty that can soothe your savage beast over the upcoming weeks. While you and your sweetie may have been a bit emotionally and physically distant lately, you can rekindle feelings of sweet passion and tenderness from Tuesday through mid-November.
☹ Bull by the horns
Your sense of existential angst and inner anxiety, along with workplace overload, could cause you to erupt in emotional outbursts this weekend.
Gemini Horoscope (May 21 - June 20)
♥ Back to love
Your brittle love life will get an injection of romance when Venus enters your sector of true love on Tuesday for the next month, allowing you to rekindle closeness with an existing mate or find someone new and nourishing.
☹ Fighting over finances
Dividing assets in a bitter divorce or differences over how to spend money with your current romantic partner could be pushing every button of anger, control, and manipulation in your arsenal this weekend.
Cancer Horoscope (June 21 - July 22)
♥ Community care
If you have wanted to get involved in local volunteer projects, the upcoming weeks are the perfect time to reach out and offer a helping hand.
☹ Sleeping with the enemy
While you enjoy a strong, protective partner, your current flame could be overdoing it in terms of possession and control, which could be distracting you from your work and causing your family much concern.
Leo Horoscope (July 23 - Aug. 22)
♥ Personal Renaissance
After a period of austerity and asceticism, you will rediscover the lusher side of life when Venus enters your sector of art and romance on Tuesday until mid-November.
☹ Drudge report
Your extreme focus on the boring tasks of career building could cause you to lash out others around the office on Friday or Saturday. Think before you email.
Virgo Horoscope (Aug. 23 - Sept. 22)
♥ Happier home
You have been deluged with problems concerning home and family over the past months, but once Venus enters this sector on Tuesday, things will lighten significantly until mid-November.
☹ Dragging everyone else down with you
Your concerns about finances, love, and children could be overwhelming you at the moment. Your friends, however, are not your therapist, and they could grow annoyed this weekend with everything being all about you, all the time.
Libra Horoscope (Sept. 23 - Oct. 22)
♥ Resumption of diplomatic relations
When Venus enters your communications zone on Tuesday for the next month, you will be able to reach out to make amends with estranged siblings or acquaintances.
☹ Colleague contamination
You risk allowing turbulent personal dramas with family and lovers to spill over into the office on Friday. Try to maintain proper boundaries to avoid exasperation from workmates.
Scorpio Horoscope (Oct. 23 - Nov. 21)
♥ Live (and spend) a little
You have been extremely careful with your budget, but it's OK to indulge yourself every once in a while once Venus enters your zone of material possessions on Tuesday.
☹ Put the ire in backfire
You may think you have cooked up the perfect plot to manipulate your colleagues in order to come out ahead, but your anger may get the best of you on Friday and Saturday, foiling your schemes before they hatch.
Sagittarius Horoscope (Nov. 22 - Dec. 21)
♥ Softening up
You have had to deal with your fair share of problems and responsibilities lately, causing you to put up strong protective barriers, but once Venus enters your sign on Tuesday, you will be able to reconnect with your softer side.
☹ Redistribution of wealth
You hold the power over the finances, but with that control, you also have to deal with the unending line of high-maintenance love partners, demanding children, and conniving acquaintances hounding you for a handout.
Capricorn Horoscope (Dec. 22 - Jan. 19)
♥ Halftime hustle
The amount of time you spend off the field is just as important as when you are out moving toward the goalposts of professional glory. Make sure you take sufficient downtime to regroup, rejuvenate, and strategize.
☹ No room for dessert
Your plate is so full with work and family duties that you may have nothing left over for love, leaving your romantic partner feeling left out and ignored.
Aquarius Horoscope (Jan. 20 - Feb. 18)
♥ Friends reunion
While they may not be huge in number, you do have a few friends who will be there for you. Let them know you appreciate them by spending bonding moments together from Tuesday.
☹ Low energy
All that anger and frustration you are carrying around inside is draining your vitality this weekend. Take a break from the outside world to rest.
Pisces Horoscope (Feb. 19 - March 20)
♥ The art of the deal
The upcoming weeks will bring many joyous opportunities to further your career through cooperation and teamwork, especially if you work in the arts.
☹ Theater-in-the-round
The non-stop drama surrounding your friendships could cause your romantic partner to slip out at intermission, as they have lost interest in the overwrought plot.