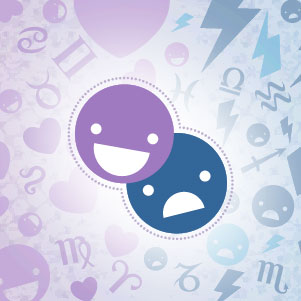 Here are the best and worst days this week! To find out what this week will bring you personally, keep reading for YOUR sign's Heart and Hate Horoscope.
♥ Friday: Job well done
The week ends on a high note with Venus trining Pluto in the industrious signs of Virgo and Capricorn. It's easy to feel a sense of achievement at work.
☹ Thursday: OCD
With mental-overload Mercury squaring super-intense Pluto, it is way too easy for everyone to dwell compulsively on perceived slights.
Your sign's Hearts & Hates Weekly Horoscope:
Aries Horoscope (March 21 - April 19)
♥ Employee of the Month
Head-honcho Pluto gives an encouraging slap on the back to well-loved Venus in your work zones on Friday, which will leave colleagues inspired by and supportive of your success, instead of envious.
☹ Agent provocateur
Your lover, feeling neglected and jealous of your career accomplishments, may try to undermine your achievements and stir up feelings of anxiety on Thursday and Sunday.
Taurus Horoscope (April 20 - May 20)
♥ Meeting of hearts and minds
The Sun enters your monogamy sector on Friday, and with love planet Venus sending cohesive binds to both soul mate Pluto in your intellectual compatibility zone and to big-hearted Jupiter, thoughts turn to long-term commitment.
☹ Cubicle prison
Needing to focus on work will leave you feeling stressed out and hemmed in. You may need to cancel weekend plans to put in extra hours on Sunday.
Gemini Horoscope (May 21 - June 20)
♥ Home entertainment system
You will prefer to be the King (or Queen) of your castle -- instead of the dancefloor -- when a relaxed Venus conjuncts feel-good Jupiter in your domesticity zone, and trines regenerative Pluto.
☹ Date night(mare)
A romantic outing could lead to frayed nerves and social anxiety, especially if you don't have the funds to wine-and-dine in a top-notch manner. A night in with your sweetie will be much cozier, cheaper, and more special.
Cancer Horoscope (June 21 - July 22)
♥ Hello, I love you
You will be more poetically inspired and charismatically alluring than a young Jim Morrison. Don't hesitate to tell your heart's desire your true feelings at the weekend.
☹ Meddling mamma
Family members may be feeling jealous over the amount of time you spend with your current sweetie and plot to sabotage your relationship on Thursday; better to keep romance and relatives separate this week.
Leo Horoscope (July 23 - Aug. 22)
♥ Ka-ching!
All that hard work continues to pay off, as easy-street Venus trines game-changer Pluto on Friday and conjuncts deep-pocketed Jupiter in your earnings zone.
☹ Misunderstood genius
At work, you may be more explosively demanding with your team than Steve Jobs at a design implementation meeting. It's hard to communicate your vision to the ordinary folks this week -- you just think differently.
Virgo Horoscope (Aug. 23 - Sept. 22)
♥ Love don't cost a thing
Stop worrying about wooing your sweetie with wine and roses when you can love bomb them with your magnetic charisma instead. Friday is a 5-star date night, with charming Venus trining one-and-only Pluto in your romance zone.
☹ Risk over rationality
You are normally a pretty pragmatic sign, but if you take a high-cost gamble, especially in order to win over a lover or child, you could be left with nothing but bills and anxiety by Sunday.
Libra Horoscope (Sept. 23 - Oct. 22)
♥ Usurp the throne
Your little kingdom could be filled with more plots and intrigue than the court of Richard III -- but scheming is a wonderful thing when you are crowned King or Queen of your castle at the weekend.
☹ Boudoir battlefield
The homefront erupts in domestic terrorism as Mercury T-squares explosive Pluto in your accommodations sector and rebellious Uranus in your relationship zone later this week.
Scorpio Horoscope (Oct. 23 - Nov. 21)
♥ Party to get your mind off things
You are a social magnet this weekend. If you let your friends set the conversation, you can be lifted out of worrying thoughts and a feeling of isolation.
☹ Broken record
With sulky Mercury in a challenging aspect to bitter Pluto and agitated Uranus, brooding over perceived problems will lead to frayed nerves and angry outbursts as you take your inner inquietude out on others.
Sagittarius Horoscope (Nov. 22 - Dec. 21)
♥ Big Kahuna
You will have an almost shamanistic way of conjuring up money through an effective use of charm and people skills around the office later this week, when intuitive Venus conjuncts big-payoff Jupiter in your career zone and trines transcendent Pluto in your income zone.
☹ Mob boss
You will be surrounded by more conniving, so-called friends asking for favors than Don Corleone at his daughter's wedding when calculating Mercury squares capo dei capi Pluto in your money sector on Thursday.
Capricorn Horoscope (Dec. 22 - Jan. 19)
♥ Lotus flower
The outside world is opening up into a horizon of infinite possibilities this week. Seek knowledge by realigning your energies with those that help your consciousness effortlessly expand.
☹ Career anxiety
You may need to tear down the foundations of your current residence or family structure in order to build the career you want. Your desires for a more meaningful life are calling for many disruptive, but freeing, changes.
Aquarius Horoscope (Jan. 20 - Feb. 18)
♥ Lottery winner
Your financial dreams can come true when Venus trines make-it-big Pluto in your sector of hidden dreams and conjuncts strike-it-rich Jupiter in your zone of work-free revenue. Seek investment funding, scholarships, and grants from Thursday to Sunday.
☹ Alien-ation
You may feel like a visitor from outer space this weekend as a confused Mercury in your zone of existential belonging is in disharmony with quirky Uranus and with Pluto in the sector of the "real you."
Pisces Horoscope (Feb. 19 - March 20)
♥ Hello, Stranger!
You could be totally swept off your feet by someone you meet through a friend or while out socializing -- there is a huge possibility that this could be "The One," so get out there this weekend! Those in a couple can refresh feelings of romance by mingling outside the couple bubble.
☹ Didn't store your nuts for the winter
You have been on an up-and-down income rollercoaster for the past several years, and you may have overspent your bounty, making you feel cut off from social activities and anxious.