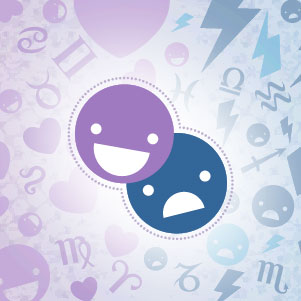 The week starts off with ruminating Mercury moving into never-let-it-go Scorpio; obsessions could flare up when Mercury then conjuncts the Sun on Thursday. Meanwhile, a worn-out Venus near Saturn creates a T-square with dilutive Neptune and a moody Moon on Tuesday, when emotions could be hurt due to confusion and avoidance.
Lastly, tempers could flare at the T-square between the Moon, Mars, and Uranus on Saturday, but calmness and harmony return with Sunday's New Moon trining forgiving, hopeful Neptune.
Here is a general overview of this week's energy, valid for all. Hearts and Hates for your sign follow below!
♥ Forget and move on
The compulsive, intense energy from early in the week can be cast aside at the New Moon on Sunday, leading to a brand-new start with no lingering grudges.
☹ Saying sorry is never bad
Owning up to transgressions can be awkward, but staying silent will only allow projections and bad feelings to muster and gain strength, until they finally explode in anger on Saturday.
Your sign's Hearts & Hates Weekly Horoscope:
Aries Horoscope (March 21 - April 19)
♥ Kitchen table economics
Brew some coffee and spend Sunday at home between the (spread)sheets, plotting out your far-reaching financial plan.
☹ Money matters
Your mind will be obsessing about moolah, which could stir up feelings of anxiety and neediness, leading to tyrannical outbursts toward underlings at work and romantic partners, as you try to reinforce your dominance.
Taurus Horoscope (April 20 - May 20)
♥ Sunday brunch
Instead of sleeping in and suffocating in your couple bubble on Sunday, get out and enjoy the company of friends, which will also reinvigorate your relationship. Singles could meet the perfect partner through existing acquaintances.
☹ Down the drain
Your lover could be upset about the amount of money you spend on socializing on Tuesday, especially in order to impress fake friends and users.
Gemini Horoscope (May 21 - June 20)
♥ New ideas, new opportunities
Brainstorming outside the box could create new possibilities for advancement in your career. Dare to think different.
☹ Revenge doesn't need to cost this much
If your lover is on your back because of your idealistic work ambitions, blowing through your savings out of spite this weekend, on fleeting, superficial partying, may end up hurting you more than them -- at least financially.
Cancer Horoscope (June 21 - July 22)
♥ Second honeymoon
You don't have to be married to enjoy a short trip out of town with your sweetie on Sunday. If you are single, travel could bring you in contact with a fascinating new flame.
☹ Loose lips sink ships
Engaging in idle workplace gossip could lead to negative consequences on Tuesday when the whispers might all turn back on you.
Leo Horoscope (July 23 - Aug. 22)
♥ Trick or treat
Don't wait until Halloween to knock on the doors of your family asking for some candy. Relatives will be able to help you out of a financial bind, if needed.
☹ Can't buy you love
Long-lasting feelings of financial insecurity and romantic austerity could strike a blow to your self-esteem this week. Just remember that a larger paycheck doesn't mean true love would be yours for the taking.
Virgo Horoscope (Aug. 23 - Sept. 22)
♥ Listen to the heart
Sunday is an excellent moment to clear the air with your sweetie. Say what is on your mind and hear them out in order to start anew, without any lingering suspicions.
☹ Mother, mother
You may be wondering what's going on with all the nebulous guilt trips and passive aggression being thrown around the home.
Libra Horoscope (Sept. 23 - Oct. 22)
♥ Fruits of your labor
Even though it is a rest day, it would be a good idea to put in some overtime on Sunday. Working on private entrepreneurial projects -- especially in terms of team building -- could pay off over the upcoming year.
☹ All those words, so little meaning
You may get worn out trying to figure out the hidden meanings in communications with colleagues on Tuesday. It's better to wait until Wednesday for important negotiations.
Scorpio Horoscope (Oct. 23 - Nov. 21)
♥ The dating game
If you put your mind on romance and courtship on Sunday, you can draw swooning caballeros to your side. It will be up to you choose the one most worthy.
☹ Cross fire
Your anger at having to financially take care of lovers, children, and friends may get misdirected toward colleagues this week. Think before you shoot off your mouth, especially if putting in hours on Saturday.
Sagittarius Horoscope (Nov. 22 - Dec. 21)
♥ Lazy boy
While you love activity and adventure, Sunday may be a nice day to lounge around and recharge your batteries.
☹ No work and all play
The quickest route to the poor house is to spend too much money on romance and socializing at the weekend in order to burn off frustration about family and work ennui.
Capricorn Horoscope (Dec. 22 - Jan. 19)
♥ Media maven
Take to social media on Sunday to find new friends or catch up with old acquaintances. If you are into the arts, this is an excellent day to seek out fellow bohemians.
☹ Empty plate
In order to make up for your inability to communicate your inner feelings, you could try to prove your dominance by bullying family members or colleagues who are trapped doing overtime on Sunday.
Aquarius Horoscope (Jan. 20 - Feb. 18)
♥ Rumplestiltskin
You have the intellectual savvy to figure out how to magically spin straw into gold this week. Do not be afraid to propose your innovative solutions at work.
☹ No such thing as a free drink
Beware of friends bearing gifts on Tuesday; while their kindness is apparent, their ulterior motives are much more hidden.
Pisces Horoscope (Feb. 19 - March 20)
♥ Head in the clouds
Open up your mind to the entire myriad of fascinating new ideas swirling around in the zeitgeist. It will inspire self-improvement. Visit a museum or attend a cultural event on Sunday.
☹ Doubting your decisions
You may question why you are working so hard lately, especially if your career choices have overridden your romantic life and alienated your lover.