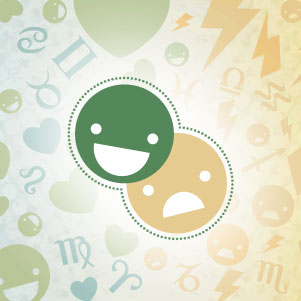 Here are the best and worst days this week! To find out what this week will bring you personally, keep reading for YOUR sign's Heart and Hate Horoscope.
♥ Friday: Head in the sand
Even if the day's energy is kind of intense, it will be easy to escape into a delusional dream world where everything is rainbows and unicorns.
☹ Thursday & Friday: Icy rage and despair
The Moon in Gemini is creating a Grand Cross with stern Saturn, confused Neptune, and a stellium of Jupiter, overly sensitive Venus, and aggressive Mars. Yeah, that's not good -- except for passive-aggressive control freaks who love manipulating others for their own amusement.
Your sign's Hearts & Hates Weekly Horoscope:
Aries Horoscope (March 21 - April 19)
♥ One door closes, but another opens
The Full Moon on Tuesday could bring an end to a certain stream of income or money issue, but that only serves to propel you toward your true career goals. On Wednesday, you can shoot up the ladder of success.
☹ Blue meanie
Fleeting feelings of alienation and pointlessness could lead you to take your melancholia out on kind-hearted colleagues by exploding in rage on Thursday and Friday.
Taurus Horoscope (April 20 - May 20)
♥ Letting go
For once, just once, you can drop the stubborn act at the Full Moon on Tuesday and let your romantic or business partner get their way. You will be rewarded with reciprocal cooperation on Friday.
☹ Nest egg omelet
Nothing makes you more anxious than unsound finances. You may get momentarily worried over the money demanded by children, lovers, and your social life on Thursday and Friday.
Gemini Horoscope (May 21 - June 20)
♥ Brown nosing benefits
You can schmooze your way to the top on Friday by throwing fawning compliments at bosses when an obsequious Sun kisses the ring of god-like Neptune in your career sector.
☹ Where is the love?
Lovers, colleagues, and family may all be ganging up on you, leading to moodiness and temper tantrums on Thursday and Friday.
Cancer Horoscope (June 21 - July 22)
♥ Say yes to love
Socializing can take a backseat at the Full Moon on Tuesday, giving you lots of time to snuggle with your sweetie throughout the week. If you want to take a crush to the next level, Wednesday is a perfect time to do so.
☹ Worn out but motor-mouthed
You could feel completely exhausted this week, but, unfortunately, that won't keep you from chattering non-stop, which is proving tiresome to everyone around you.
Leo Horoscope (July 23 - Aug. 22)
♥ Job well done -- and paid
You can finally finish a work project Tuesday, freeing up time to spend with family. Your 5-star efforts will not go unnoticed by colleagues or bosses, which could increase your value and eventual earnings.
☹ It's not you, it's them
Your self-esteem takes a hit this week, because you just can't seem to find joy in romance or friendship. You never seem to fit in 'cause it's hard to find people as fabulous as you.
Virgo Horoscope (Aug. 23 - Sept. 22)
♥ Clarity through communication
Lovers have been messing with your head for several years now, but you can move away from confusion on Friday through enlightening, heart-felt conversation.
☹ Leave Britney alone!!!
Family duties and romantic co-dependence are sucking up a lot of time, causing you to sulk around the workplace and lash out in anger at colleagues for demanding even more of your attention.
Libra Horoscope (Sept. 23 - Oct. 22)
♥ Work it!
Who needs credit, when you have skill? Put away the charge cards and earn your keep. Your creative approach when collaborating with colleagues will win you praise and prize.
☹ Swallow your pride
Your desire to achieve peace by holding it all in, instead of communicating your true feelings, could lead to passive-aggressive behavior that only makes you feel more alienated on Thursday and Friday.
Scorpio Horoscope (Oct. 23 - Nov. 21)
♥ Snuggle bear
Taking care of your partner's emotional needs will give you a sense of purpose and direction at the Full Moon on Tuesday -- and a whole lot of softness when the Sun trines cuddly Neptune in your romance zone on Friday.
☹ Mad money
You could erupt in anger at friends who expect you to buy a round on Thursday or Friday. Your restricted finances are already being squeezed dry by children and lovers.
Sagittarius Horoscope (Nov. 22 - Dec. 21)
♥ Home and hearth
Cutting back on chores and work duties on Tuesday will give you some added time to spend with family, leading to a much needed boost of psychological wellness on Friday.
☹ Ripple effect
Your stony demeanor could leave lovers, kin, and colleagues confused, angry, and dejected, as they vie for your attention. Your own moodiness affects everyone around you, so try to put on a positive face.
Capricorn Horoscope (Dec. 22 - Jan. 19)
♥ New friends, new inspiration
If you put love on the back burner at the Full Moon on Tuesday, you could make some fascinating new acquaintances that ignite your creativity and lend deeper meaning to your life.
☹ Feeling trapped
You have so many new horizons to explore, what is holding you back? Your inner need for everything to be serious and rational. Trying to justify your inability to change on your duties will only make you feel worse.
Aquarius Horoscope (Jan. 20 - Feb. 18)
♥ Sunshine psychopath
You may need to block out the needs and feelings of your family at the Full Moon on Tuesday to fully concentrate on your own career ambitions; in return, you could get a big boost to your bank account when the Sun trines Neptune on Friday.
☹ Diva dating
Romantic lovers could kick up a fuss on Thursday and Friday, demanding all your attention, time, and money. If you ditch your friends for the whims of your sweetie, don't be surprised if they're not available next time you call.
Pisces Horoscope (Feb. 19 - March 20)
♥ Try something new
Expanding your worldview through travel, study, or even exploring new cultural neighborhoods will fill you with inspiration when the Sun trines Neptune on Friday.
☹ Sulking around the house
A hectic career that seems to be going nowhere fast, combined with love partners that are exploring their own thing, could make you feel even more confused about your own life direction, especially on Thursday and Friday, when you just want to shut the doors and mope in your solitude.