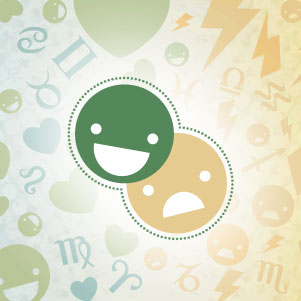 Mercury joins the Sun and Jupiter in effervescent Libra on Friday, putting the focus firmly on socializing and the arts. In order to live life to its hedonistic full, however, it may be necessary to stand up to some authoritarian control freaks and bullies when Jupiter and the Sun square Pluto on Wednesday and Friday.
Here is a general overview of this week's energy, valid for all. Hearts and Hates for your sign follow below!
♥ Fall into decadence
This autumn, learn that it's OK to indulge yourself in life's superficial fancies. Art, fashion, and plain old silly times spent giggling with friends are there for the taking. As a society, it's time we learn to enjoy again.
☹ You gotta fight for your right to party
The world feels like a messed-up place filled with bullies and bigots. Living well is the best revenge, as well as the best way to neutralize tyrants on Wednesday and Friday.
Your sign's Hearts & Hates Weekly Horoscope:
Aries Horoscope (March 21 - April 19)
♥ Haven't felt love like this before
After losing yourself in work and your own deep thoughts and doubts over the past few years, intoxicating feelings of romance sweep you to a more exhilarating place.
☹ Professional wrestling
Your romantic partner may be on your back about the amount of time and energy you spend on your career. Make space for some one-on-one action outside of the ring this weekend.
Taurus Horoscope (April 20 - May 20)
♥ Whiz kid
There is literally nothing you cannot get done at work this week. Team building, problem solving, and plowing through a to-do list of backlogged, thankless chores: brew yourself a cup of coffee and get to it!
☹ Fight for innovation
Your ideas at the office may be exciting and clever, but it may take even more work to convince set-in-their-ways colleagues to try new things. Don't give up.
Gemini Horoscope (May 21 - June 20)
♥ Hello, I love you
With Jupiter in your zone of new-and-true love, you have the chance to meet your soulmate over the next year. When Mercury moves into the same sector on Friday, start strategizing changes to get yourself back in the dating swirl.
☹ Fit to be tied
Shoots of new romance are sprouting from the cold autumn soil. The only thing that is keeping you from harvesting joyful amour is that controlling, obsessive, loveless-yet-stable relationship you are tangled up in.
Cancer Horoscope (June 21 - July 22)
♥ We are family
Hang up the disco ball in the basement and invite your extended kin around on Friday for fun and good times.
☹ Blood and whine
Your romantic partner may want you all to themselves. Do not let a controlling lover isolate you from supportive, caring relatives.
Leo Horoscope (July 23 - Aug. 22)
♥ Reach out
Your charm and extroversion are roaring back. Use the weekend to get in touch with friends and relatives who have dropped off the radar, as well as to promote yourself, look for work, or make new social connections.
☹ Workaholics anonymous
You have been escaping into the endless duties of work as a means of escaping more fundamental issues concerning your love and social life. It is time to end this feeling of malaise and get out from behind the desk to embrace the softer side of life.
Virgo Horoscope (Aug. 23 - Sept. 22)
♥ All about the Benjamins
Use the weekend to plan long-term strategies for increasing earnings; within the year, your kite could strike lightening, resulting in a major income boost.
☹ Plug the tub
Making more money will be of no benefit if you let it all go down the drain indulging the demands of high-maintenance children and romantic partners.
Libra Horoscope (Sept. 23 - Oct. 22)
♥ Bouncing back
Your confidence and charm continue to soar, and by Friday, you are sure to be the center of attention at any weekend social outing.
☹ Burning down the house
Arguments with family members can flare into full-blown conflagrations on Wednesday and Friday. Try to spend as little time at home as possible to avoid the bickering.
Scorpio Horoscope (Oct. 23 - Nov. 21)
♥ Down for scheduled maintenance
Except for the absolute necessities, such as work, you may want to go off the grid, in order to relax alone and clear out your memory cache. Your system will return to operating at peak performance.
☹ Tinder keg
People may be walking on eggshells around you and your temper on Wednesday and Friday. Try to tone it down, as you could come off as bossy and domineering.
Sagittarius Horoscope (Nov. 22 - Dec. 21)
♥ Life of the party
Your social flair is at 12-year high. The weekend is an excellent time to mingle and make new acquaintances.
☹ Put down the tab
You may feel the urge to show your festive generosity by offering drinks to all in your orbit. This in-the-moment kindness could quickly deplete your reserves.
Capricorn Horoscope (Dec. 22 - Jan. 19)
♥ Instant star
You can soar to the heights of acclaim in your career over the next year. Use the weekend to strategize your professional path.
☹ Working grrrl
All that recognition and praise being heaped on you at the office could easily go to your head; try not to turn into a power-mad despot, especially on Wednesday and Friday.
Aquarius Horoscope (Jan. 20 - Feb. 18)
♥ Expanded horizons
While your friends and social network may be packed with close-minded bores, that will not stop you from seeking and finding sources of conscious enlightenment. Use the weekend to read, study, travel, or meditate.
☹ Sturm und Drang
Your angst-ridden soul is clinging to drama, even as your mind is opening up to optimism. Learn to let go and embrace positivity.
Pisces Horoscope (Feb. 19 - March 20)
♥ Sharing economy
It will be uber-easy for you to assemble a team of backers and teammates together who can help your financial dreams taxi and take flight.
☹ Beware the green-eyed monster
Keep the focus on planning your own long-term financial growth instead of seething with resentment at those with more than you. On Wednesday and Friday, do not spend outside your means to impress others.