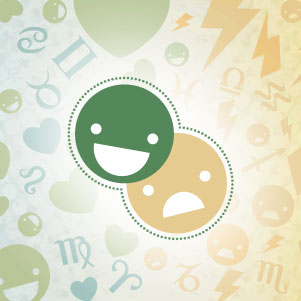 After a couple of intense weeks, the skies are extremely calm this week. There are only three major aspects for the entire week -- all of them harmonious.
On Tuesday, the Sun in Scorpio trines Neptune in Pisces, bringing with it a humanitarian vibe of compassion and empathy. Saturday's trine of Venus and Uranus is more exciting; it's a great day for spontaneity and adventure. Much more difficult is the task of finding any negative energy this week, but, having to choose, it would be the loose T-square between the Moon-Pluto conjunction, Jupiter, and Uranus on Saturday, when fleeting bouts of irritability could rise to the surface.
Here is a general overview of this week's energy, valid for all. Hearts and Hates for your sign follow below!
♥ Caring -- and carefree
Detachment and compassion are not mutually exclusive. Attend to duties and philanthropy early in the week so you can have some mindless fun at the weekend.
☹ Oscar the Grouch
Everyone could be channeling their inner curmudgeon on Saturday. It would be a better idea to keep a lid on talking trash.
Your sign's Hearts & Hates Weekly Horoscope:
Aries Horoscope (March 21 - April 19)
♥ Living the dream
Working out the financials in order to make a long-held goal come true on Tuesday will fill you with excitement and enthusiasm by the weekend.
☹ Baby, it's cold outside
Your partner may feel left out of your life on Saturday due to your workaholic ways. Make time for romance, as well as work.
Taurus Horoscope (April 20 - May 20)
♥ All together now
Warm times spent out mingling with friends as a couple on Tuesday can reignite passion between you and your sweetie for some hot times between the sheets this weekend.
☹ Leave it at the office
Resist the temptation to take home work at the weekend; it will only stir up resentment over differences with colleagues. Deal with it on Monday.
Gemini Horoscope (May 21 - June 20)
♥ Idea factory
Your ability to think on your feet and find creative, innovative solutions to workplace problems can impress those in charge on Tuesday.
☹ Go for broke
On Saturday, you may be torn between squandering excessive amounts of money pampering your sweetie and going out for a bender with friends. Decisions, decisions.
Cancer Horoscope (June 21 - July 22)
♥ Two for the road
Grab your baby and hit the road on Tuesday for some spontaneous adventure outside your well-trodden neighborhood paths.
☹ Please don't go
If you need to go into work on Saturday, you may have to deal with shade from lovers and family members, who want you by their side.
Leo Horoscope (July 23 - Aug. 22)
♥ Homeward bound
This is an auspicious period to make plans to visit distant relatives, perhaps on a spontaneous weekend getaway on Saturday.
☹ Backlog backlash
Spending time at the weekend toiling over work-related tasks could leave you lashing out at others, as a way to release built up stress and tension.
Virgo Horoscope (Aug. 23 - Sept. 22)
♥ Talk is gloriously cheap
You and your true love can grow considerably closer through kind words and compliments on Tuesday. Best yet, all that cooing won't cost a thing.
☹ Whose turn was it to pick up the tab?
You and your romantic partner may squabble over expenses on Saturday, as you may be tiring of always covering costs.
Libra Horoscope (Sept. 23 - Oct. 22)
♥ Charm offensive
At work or in love, there is no one you can't sway to your side through your effervescent, ebullient personality. Tuesday is especially good for work negotiations and sales.
☹ Game of Thrones
Ego clashes and petty power plays could erupt between you, your family, and your romantic partner on Saturday, as you all fight to become king of the castle.
Scorpio Horoscope (Oct. 23 - Nov. 21)
♥ Burning bright with love
When the Sun in Scorpio sends out fiery beams to poetic Neptune in your romance zone, your storybook love life promises a happy ever after -- at least for this week.
☹ Mental and physical exhaustion
Carrying around anger and resentment could cause arguments to flare on Saturday that leave you physically worn out.
Sagittarius Horoscope (Nov. 22 - Dec. 21)
♥ Swept off your feet
If you want to fall instantly in love, Saturday is one of the most auspicious days (and nights) for romance of the year. Be spontaneous and open to chance encounters.
☹ 24-Hour party people
The good times in your social life are never ending -- unfortunately the same can be said for the cost of keeping up with the high life.
Capricorn Horoscope (Dec. 22 - Jan. 19)
♥ Palling around
You haven't felt like being part of social swirl recently, but Tuesday offers an excellent opportunity to catch up and renew the bonds of friendship.
☹ Yes, Master
Your coworkers and family members may tire of being at your non-stop beck and call. Give them Saturday off, or they may revolt.
Aquarius Horoscope (Jan. 20 - Feb. 18)
♥ Turn the world on with your smile
Your sunny disposition at the workplace could also brighten your bank account, as higher-ups will be impressed by your ability to create positivity and profits.
☹ Sure you can talk, but can you listen?
Verbalizing your every fleeting feeling of frustration will not win you any admirers on Saturday. Try to keep your negative attitude in check, or you will be opening up the conversation to everyone else's problems, as well.
Pisces Horoscope (Feb. 19 - March 20)
♥ Easily influenced
Get inspired through new ideas, art, learning, and travel on Tuesday. You can use your insights and enlightenment to create innovative solutions at work that could even lead to increased income.
☹ Indiscretionary spending
Splashing out during social outings on Saturday will only go to further destabilize your already precarious bank balance.