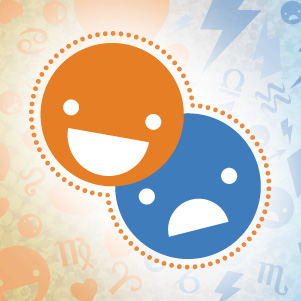 This whole week you'll feel the force as you work toward Sunday's Jupiter-Pluto trine! Read the best and worst days coming up for everyone this week here, then read on to see the Heart and Hate days for YOUR horoscope sign!
♥ Sunday: I think you can, I think you can
When exuberant Jupiter sends a rare trine to ain't-no-mountain-high-enough Pluto, obstacles can easily be overcome. Go for it!
☹ Tuesday: Clash of the Titans
With an explosive Sun squaring intransigent Pluto, and aggressive Mars opposing passive-aggressive Neptune, everyone is up for a fight, but no one is ceding any ground.
Your sign's Hearts & Hates Weekly Horoscope:
Aries Horoscope (March 21 - April 19)
♥ Roll up your sleeves
A little elbow grease will help you shoot to the top. Bring-it-on Jupiter in your sector of tasks-and-toil makes an extremely rare trine to Pluto in your zone of professional advancement. Your hard work this week will impress the higher-ups.
☹ Love quarantine
Being pent-up in your cubicle may help you achieve career success, but you also want to escape with your sweetie. Stay focused, no matter how much of a fuss your partner makes.
Taurus Horoscope (April 20 - May 20)
♥ Love conquers all
While you may have some misunderstandings in romance on Thursday and Saturday, an amorous getaway with your sweetie on Sunday can cement your bonds when Jupiter makes a rare trine to Pluto.
☹ No one gets you
Friends may be pooh-poohing your choices in love, colleagues could be confused by your cutting-edge visions at work, and lovers are chafing at your frugality, but stick to your own logic.
Gemini Horoscope (May 21 - June 20)
♥ Miracle grow
Firm foundations in finance and family will have you flourishing more quickly than a chia pet when Jupiter trines Pluto on Sunday.
☹ Who's zoomin' who?
Manipulation and mind games will only lead to cold shoulders and heated arguments in love. If you both choose to play, neither will win. You can establish rules to balance the playing field, if you call a time-out and engage in honest dialogue.
Cancer Horoscope (June 21 - July 22)
♥ Shout your love from the rooftops
Effusive Jupiter trines soul-mate Pluto on Sunday, so don't be shy when it comes to declaring how you truly feel.
☹ But stop bossing around your co-workers
Aggressive Mars in your communications sector is confusing everyone with your unusually bellicose tone, and when Venus joins the fray on Thursday, your lack of diplomacy could leave you shunned at the office.
Leo Horoscope (July 23 - Aug. 22)
♥ Oil strike
With bonanza Jupiter sending a rare trine to determined Pluto, your well may finally burst with enough black gold to fill your reservoirs for the foreseeable future.
☹ Slim Pickens
Your financial success is making you a bit choosier when it comes to love. If you are looking for someone with a net worth of T. Boone Pickens, you may be left with a full bank account, but an empty date book.
Virgo Horoscope (Aug. 23 - Sept. 22)
♥ Bye-bye to the shy-shy
You can be an introverted sign, but when Venus joins Mars in Virgo on Thursday and nearby Jupiter trines Pluto on Sunday, you suddenly transform into a super-confident sexy minx.
☹ Misguided money
With Mercury Retrograde in your income sector until Friday, you could overspend on entertainment or romance, but not fully feel the effects of your bad decisions until the Sun opposes a shaky Uranus in your credit sector on Sunday.
Libra Horoscope (Sept. 23 - Oct. 22)
♥ Dream home
If you direct your can-do spirit away from work and toward your domestic sphere, you can easily construct a solid fortress that will serve as a protective base as you incubate your happily-ever-after battle plans.
☹ Pressure cooker
With fiery Mars opposing watery Neptune on Tuesday, you will be boiling with enthusiasm and ideas but only manage to manifest a slow slimmer, causing frustration and passive-aggressive communications at the weekend.
Scorpio Horoscope (Oct. 23 - Nov. 21)
♥ Friendster
With charismatic Pluto trining ever-expanding Jupiter in your popularity sector, you can exponentially expand your circle of influence this week, so make sure to network online or in real life.
☹ Social bankruptcy
Being the life of the party could leave your bank account gasping its dying breath when decadent Venus enters your social zone and quickly squares a rapidly depleted Saturn in your money house.
Sagittarius Horoscope (Nov. 22 - Dec. 21)
♥ You're so money
Your career sector is in full swing, crowded with smooth-talking Venus, ambitious Mars, and shoot-to-the-top Jupiter. With Jupiter receiving a rare trine from king-maker Pluto, you will be bigger at the box office than a pre-Fred Claus Vince Vaughn.
☹ Friends with (your) benefits
Your success will be like a magnet to hustlers and hangers-on, especially on Tuesday when a snake-oil-salesman Sun in your socializing zone squares Pluto in your income sector.
Capricorn Horoscope (Dec. 22 - Jan. 19)
♥ Cut free from self-imposed bonds
When Jupiter trines regenerative Pluto in your identity zone on Sunday you can liberate yourself from the gloom you have been wallowing in all week by reaching a consciousness-expanding epiphany.
☹ Being and nothingness
With Saturn in your navel-gazing zone and Jupiter, Mars, and Venus packed into your sector of existential ponderings, you will be more angst-ridden than a black-beret-bearing Jean-Paul Sartre.
Aquarius Horoscope (Jan. 20 - Feb. 18)
♥ Invest in yourself
It's time to finance all those dreams you are carrying around inside when Jupiter in your zone of monetary funding trines Pluto in the sector of your innermost wishes.
☹ Lose the users
Once Venus in your sector of shared resources squares letdown Saturn in your companionship sector on Saturday, you will realize you need to restructure your social life to surround yourself with reliable, supportive friends.
Pisces Horoscope (Feb. 19 - March 20)
♥ Power couple
You and your sweetie could become the Hillary and Bill of your social set, when head-honcho Pluto in your networking zone trines Jupiter in your partnership sector on Sunday. Singles could meet their one-and-only, so get out and mingle!
☹ Best friends for-never
You may finally have enough drama from a certain manipulative control-freak frenemy when it's-all-about-me Pluto is squared by a stick-up-for-yourself Sun on Tuesday.