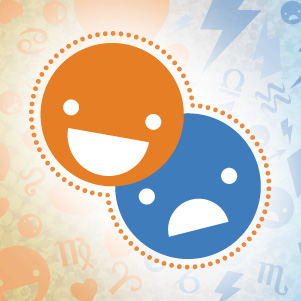 September's hardcore vibes continue with the Sun, Mercury Retrograde, and the Full Moon all squaring off against Mars throughout the week, with this energy culminating on Monday and Friday. Bellicose Mars is in the fanatical sign of Sagittarius, while Mercury Retrograde is opening up old wounds, and everyone is up for a fight. There will be no respite on Sunday, when the Moon conjuncts Uranus and opposes Venus, and things can spiral totally out of control.
The only positive energy is when Mars trines Uranus on Saturday, pushing us to take risks and break out of ruts -- but when combined with the rest of the week's transits, this has a dangerous edge to it, as it adds a dash of maniacal zeal that could inflate confidence and punch-drunk daring do. Try to steer clear of the crazies, as they will not be up for logic or diplomacy.
Here is a general overview of this week's energy, valid for all. Hearts and Hates for your sign follow below!
♥ Home of the brave
People are up for anything on Saturday. Break through your shyness to discover new pathways and people.
☹ Old wounds, new battles
Others are fueled with anger and resentment this week over long-ago slights. Attempts at peace will only make things worse.
Your sign's Hearts & Hates Weekly Horoscope:
Aries Horoscope (March 21 - April 19)
♥ Let's go crazy
Party like it's 1999 on Saturday. Push boundaries by spontaneously seeking out mind-blowing new experiences that will help you maintain your zest for life.
☹ Cubicle condemnee
A pile-up of tasks at the office may see you working overtime with no escape in sight. Don't take your frustrations out on your romantic partner on Sunday.
Taurus Horoscope (April 20 - May 20)
♥ Start-up capital
If you have an innovative idea that you would like to bring to the world, Saturday is an excellent day to write up a business plan or send off proposals seeking grants or funding.
☹ Whose side are you on?
Your lover and your friends are equally suspicious of each other, putting you in the middle of their battle. No matter who you support, the other will be offended.
Gemini Horoscope (May 21 - June 20)
♥ Flirty friendship
Love is super-auspicious for single Geminis this week. Look for love within an existing friendship connection on Saturday. Do not turn down any invites, as you could meet a dashing and intoxicating stranger.
☹ Your main squeeze
For those in a couple, the situation is a bit more fraught. Your significant other may be feeling sandwiched out of your life, due to the time you spend with your family and on your career. This will only increase the intense, angry pressure they put on you so that you won't ignore them.
Cancer Horoscope (June 21 - July 22)
♥ Shooting star
Hard work will pay off this week when bosses are surprised and impressed by your achievements, especially if you offer to clock in some hours on Saturday.
☹ Off message
Don't even try to mess with your coworkers, because you will be called out openly and loudly. The Crab walks sideways, and often is more comfortable getting things through manipulation than being direct. At the office, this can come off as devious, causing major problems.
Leo Horoscope (July 23 - Aug. 22)
♥ Cupid, draw back your bow
If you take a risk in love on Saturday, it could bloom into a whirlwind romance, fueled by passion and spontaneity.
☹ Don't be shy
Lingering feelings of low self-esteem and economic anxiety could keep you from going after your romantic targets. Don't let past hurts hold you back from a happy future.
Virgo Horoscope (Aug. 23 - Sept. 22)
♥ Money grows on the family tree
Relatives will rally around you in a surprise show of financial support, so do not be afraid to ask if you need assistance. Alternatively, you may decide to help out a relative in need.
☹ Family therapy
Confronting defensive family members about old hurts could cause these issues to erupt again in full force, and your lover risks being emotionally wounded by the fallout shrapnel.
Libra Horoscope (Sept. 23 - Oct. 22)
♥ Sugar and spice
Your lover will think you are made of everything nice, due to your racy, flirty dialogue on Saturday. If you are single, search for love online or send an email to your heart's desire.
☹ Off balance
The Libran Scales of diplomacy need to be recalibrated. Playing the peacekeeper while keeping your own hurt locked in your head could cause you to explode in rage this week.
Scorpio Horoscope (Oct. 23 - Nov. 21)
♥ Overtime overachiever
If you put in the extra hours on Saturday, or take a part-time weekend job, you could significantly add to your coffers.
☹ Social welfare
A Scorpio and their money are not soon parted, but that won't stop friends from pressuring you to go out to places you cannot afford or give them a loan.
Sagittarius Horoscope (Nov. 22 - Dec. 21)
♥ Passion flower
Romance will be abloom on Saturday, as you are completely irresistible to everyone in your orbit. Your confidence and magnetism are at a peak, so don't be afraid to approach someone new.
☹ Incompetent colleagues
Bungled work by co-workers will send you into a rage on Monday and Tuesday. Your ambition is at full force, and you could feel resentment for being held back by those around you.
Capricorn Horoscope (Dec. 22 - Jan. 19)
♥ Home free
No matter how out of place you feel in the outside world, you will feel invigorated and refreshed by spending Saturday at home or with family.
☹ Reviewing the situation
You may be reconsidering decisions you made earlier in the year about a long-distance relationship or study plan. Your thirst for meaning could be at odds with your inability to take risks and try new things.
Aquarius Horoscope (Jan. 20 - Feb. 18)
♥ Saturday night fever
Break out your white polyester pantsuit and hit the dance floor. On Saturday, you will be the magnetic life of the party.
☹ Party giver
The high cost of socializing could be causing financial anxiety. While you are up for a good time, you may need to set a budget and stick to it. Do not charge what you don't have, or pick up the drinks for others.
Pisces Horoscope (Feb. 19 - March 20)
♥ Springboard to success
You have been working extremely hard for the past year; a combination of ambition and good luck could lead to new earnings possibilities. Jump on new opportunities on Saturday.
☹ Married to the job
You may have to make sacrifices to get what you want from life -- will that be in career or in love? You may be regretting certain decisions you made concerning a long-term relationship, but your ambition and work ethic will propel you to the heights of success over time, so don't give up.