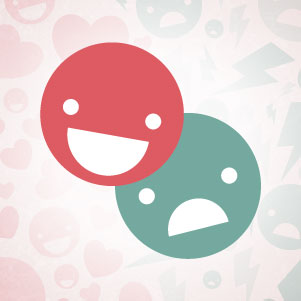 This Thursday is a once in a lifetime day, when two major, rare transits take place within hours of each other. This energy is so powerful that, even though it peaks on Thursday, it's in effect all week -- and Saturn's influence will be in effect for the next two years! See the overall energy of these events here, then keep reading to see how YOUR sign will feel the impact...
♥ Thursday: Time to get real
Sagittarius is a sign that loves the truth and tackling problems in a straight-ahead, no-nonsense way. Saturn enters Sagittarius on Thursday, and for the next two years, it's time to approach problems without fear or obfuscation.
☹ Thursday: Overwhelmed by uncertainty
The shift in energy caused by Saturn's sign change could cause a certain confusion until the new vibe settles in. Get ready for misunderstandings and delays thanks to Jupiter's opposition to Neptune, and the beginning of Mercury Retrograde happening the same day.
Your Sign's Hearts and Hates Horoscope:
Aries Horoscope (March 21 - April 19)
♥ Existential grounding
Philosophical Saturn moves into your sector of conscious enlightenment on Thursday. Over the next two years, you will need to take on a logical, judicious mindset when dealing with the world.
☹ Overwhelmed by chores
You have been having lots of fun and flirty good times recently, causing a pile-up of tasks and duties -- and the accompanying anxiety -- which now need to be dealt with, while love takes a backseat.
Taurus Horoscope (April 20 - May 20)
♥ Clean up your spreadsheet
On Thursday sage Saturn moves into your investment sector for the next two years. This is a time to get your finances in order and build up your nest egg.
☹ Quantity over quality
You have numerous opportunities for divine romantic encounters if you break routine and get out there. Your friends may not approve, so it's a good thing your schedule is filled by lovers instead.
Gemini Horoscope (May 21 - June 20)
♥ Say I do
With stable-and-sensible Saturn moving into your relationship sector Thursday, the next two years are a great time for commitment. Making wise decisions in love will build a functioning partnership, as opposed to a passing, carefree, lusty fling.
☹ Juggling act
You don't work in a circus, although it may feel like it. Your unsettled career really needs your attention, but domestic issues are consuming all your time; learn how to balance.
Cancer Horoscope (June 21 - July 22)
♥ Get in shape
You will be able to implement a healthy eating and exercise regimen you can stick to over the next two years, when Saturn enters your health sector Thursday. If you control your daily routine with a fixed schedule, you will also gain control of your body.
☹ Babble-on
Your effusive verbosity will cause more confusion than the Tower of Babel. You really don't need to comment and post about every little detail in your life; it is draining to others, and also yourself.
Leo Horoscope (July 23 - Aug. 22)
♥ Settle down, but don't settle
When Saturn enters your love sector on Thursday, it's time to pick the proper life companion based on mutual respect, responsibility, and maturity. It's possible to have a deep connection that is infinitely interesting and drama-free.
☹ Open an account at the Bank of Sealy Posturepedic
Your communication skills are blinkered, making it even easier to get taken advantage of financially. Instead of investing, keep your money stowed in a safe place for now.
Virgo Horoscope (Aug. 23 - Sept. 22)
♥ Home body
You love taking care of those closest to you. Domestic and familial issues will require your full attention over the next few years as Saturn moves into your family sector; it may be stressful, but you are up to the task.
☹ Pride (in the name of love)
What more in the name of love? You are crooning like an 80s-era, big-haired, pre-sunglasses Bono. Your self-confidence will no longer let you be duped and manipulated by a shady lover.
Libra Horoscope (Sept. 23 - Oct. 22)
♥ Silence is golden
With Saturn leaving your income sector on Thursday, monetary austerity will recede; now it's time to learn to budget your words, just as you do your bank account.
☹ Your umbilical cord has already been cut
Staring at your navel is not going to nourish your physical body. You are so consumed by introspection that your body may be suffering from neglect. Make sure to eat well and exercise.
Scorpio Horoscope (Oct. 23 - Nov. 21)
♥ Financial foundations
It's time to focus on building sturdy sources of income that will pay off in the future. You may need to sacrifice, but if you start your own business now, it could pay off in time.
☹ Unfriended
Your friends are demanding a lot of attention, and may also be judging your love life. Try to surround yourself with positive people, and don't be afraid to cut strings.
Sagittarius Horoscope (Nov. 22 - Dec. 21)
♥ Get it in gear
You may have to deal with a lot of stress over the next two years, but Saturn's move into your sign on Thursday is forcing you to act like a grown up and face obstacles head on with maturity.
☹ Burning the midnight oil
Too much time at the office will cause an energy crisis at home. You are overwhelmed by a heavy workload, leaving family members feeling neglected and lacking in sympathy.
Capricorn Horoscope (Dec. 22 - Jan. 19)
♥ Personal pruning
Cut off all the dead branches of your life in order to start anew. You need to get off the stage, regroup, and pare down to life's essentials as Saturn enters your privacy sector on Thursday.
☹ Forget about career, focus on illumination
You are one of the most career-oriented and driven signs, but now you must think about what nourishes you spiritually, not just pragmatically.
Aquarius Horoscope (Jan. 20 - Feb. 18)
♥ True friends
You love to surround yourself with a big group of friends in order to stay away from needy co-dependence, but it's time to rid yourself of superficial friendships and focus on people you can rely upon.
☹ Mountain of debt
You may feel like the Edmond Mallory of bad financial choices, climbing an imposing Mount Everest of loans. Money won't appear miraculously at the summit though, you have to work for it.
Pisces Horoscope (Feb. 19 - March 20)
♥ Career high
Saturn is putting you at the peak of a 29-year work cycle when it enters your professional sector on Thursday. Over the next two years, you can achieve your career goals -- if you stop daydreaming and face the realities of hard work.
☹ New meaning for the phrase "No I in team"
You are so totally obsessed with your romantic partner that it's undermining your sense of self. Love is beautiful, but so are you, so don't sacrifice your identity to fuel your partner's life plan.