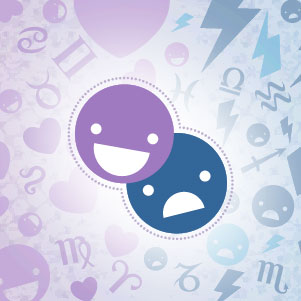 Here are the best and worst days coming up this week! Sunday's Lunar Eclipse is everyone's Hate ... but there's a wonderful Heart waiting for you, too! Read the best day for your sign and see how the Lunar Eclipse will impact YOU by reading your sign's horoscope below...
♥ Wednesday: Let's get along
The autumn season starts off in an incredibly upbeat way. The Sun enters Libra, sextiles Saturn, and trines the Moon in Aquarius, calling for emotional understanding and teamwork.
☹ Sunday: Surprise twist ending
Didn't see that one coming. The Lunar Eclipse in Aries opposes Mercury Retrograde and Juno in Libra, which could cause a game-changing finale, as suppressed knowledge comes to light.
Your Sign's Hearts and Hates Horoscope:
Aries Horoscope (March 21 - April 19)
♥ Safety and excitement
Cuddling in your partner's arms on Tuesday and Wednesday will bring you that rare combination of stimulation and security. Tuesday is one of the best date nights of the year.
☹ Projection booth
You are ready to tackle your work, but your lover may grow resentful and suspicious about the time you spend in the office, starting a downward spiral that goes full tilt on Sunday.
Taurus Horoscope (April 20 - May 20)
♥ Fringe benefits
Take advantage of workplace benefits on Wednesday by scheduling doctor appointments paid for by your medical plans or adding to your pension accounts.
☹ Hemmed in and stressed out
On Thursday, you will grow tired of being chained to your desk when you prefer to be roaming the open road. If you don't learn to balance your stress, you may face mental and physical exhaustion on Sunday.
Gemini Horoscope (May 21 - June 20)
♥ Friendly fire
If you are crushing on a friend, let them know on Tuesday when Venus in your conversation zone trines a bowled-over Uranus in your acquaintance sector. Wednesday's skies are auspicious for new romantic commitments.
☹ Covetous and cray cray
Suspicious lovers could play manipulative mind games that could alienate you from your social circle on Sunday, so be equally wary yourself.
Cancer Horoscope (June 21 - July 22)
♥ Jackpot!
You will hit the lottery at work when strike-gold Uranus in your career sector trines easy-winnings Venus in your income zone on Tuesday. Pounce on all opportunities.
☹ Little House on the Dreary
Relatives will take your enthusiasm about work as a sign of family neglect, causing competitive power struggles with love partners and other kin, leading to a showdown on Sunday.
Leo Horoscope (July 23 - Aug. 22)
♥ Feeling Groovy
Mellow Venus in your sign will be sending out chilled-out vibes to an enthusiastic Uranus in your sector of cosmic enlightenment Tuesday, creating more harmony than a Simon and Garfunkel duet.
☹ Business hive
You could be surrounded by wasps at the workplace. Your honesty and integrity could be played out by a Machiavellian manipulator colleague leading to a sudden burst of existential confusion and despair on Sunday.
Virgo Horoscope (Aug. 23 - Sept. 22)
♥ A family that pays together stays together
Family bonds can be strengthened through economic sharing midweek, either through a behind-the-scenes loan or helping a relative find a job.
☹ Wolves in sheep's clothing
If you do receive financial help from a kinsfolk, be aware that all those financial ties could be nothing but strings, as your suspicions are raised about hidden motives behind loans on Sunday. Discuss all conditions before accepting or giving financial help.
Libra Horoscope (Sept. 23 - Oct. 22)
♥ Flirty friendship
Flirty friendship could lead to something more when coquettish Venus in your social zone trines why-not Uranus in your commitment sector on Tuesday.
☹ Suspicious minds
Growing obsessed over your partner and thinking the worst could lead to fights or even breakups on Sunday. Try to trust and talk things out.
Scorpio Horoscope (Oct. 23 - Nov. 21)
♥ Pass the buck
You will be able to charm your colleagues into doing your work for you when smooth-talking Venus trines an easily enthused Uranus in your work zones on Tuesday.
☹ Company doesn't love your misery
Mercury Retrograde in your psychology zone is making you brood over old baggage. All that negative energy has to be released, somehow, either through arguments, bitter words, or shattered physical energy.
Sagittarius Horoscope (Nov. 22 - Dec. 21)
♥ Lovin' like it's the summer of '68
When free-love Uranus in your romance zone trines don't-think-twice-it's-alright Venus in your zone of cosmic expansion, you will be able to add to the vibrations of world peace through personal amorous exploration.
☹ The silent majority
The silent majority may be killing your free-love vibes at Sunday's Lunar Eclipse with their judgmental attitudes. It may be hard to practice open love when you are met with closed minds.
Capricorn Horoscope (Dec. 22 - Jan. 19)
♥ Home is where the heart is...
When loving Venus in your sector of shared resources trines a galvanized Uranus in your domesticity zone on Tuesday, money spent on family or housing projects will fill you with deep joy.
☹ ...but the office is not
Plotting colleagues could undermine your power and leave you confused and running for cover with cunning Mercury squaring authoritative Pluto in your identity zone and opposing the Lunar Eclipse.
Aquarius Horoscope (Jan. 20 - Feb. 18)
♥ Byronic musings
You could morph into a poetic rock star when swooning Venus in your sector of true love trines silver-tongued Uranus in your communications sector on Tuesday.
☹ Sulkier than Sartre
With brooding Mercury in your zone of existential angst squaring compulsive Pluto in your psychology zone on Tuesday, obsessively focusing on life's bows-and-arrows could cause a communication breakdown at the Lunar Eclipse on Sunday.
Pisces Horoscope (Feb. 19 - March 20)
♥ Work it!
Fluttering your eyelashes could be the secret to increased income on Tuesday, when flirty Venus in your work zone trines bewitched Uranus in your income sector.
☹ Bewildered and bambozooled
Bad decisions involving credit or investments could eat into your savings and your income may not be able to cover the expense at the Lunar Eclipse opposite Mercury Retrograde on Sunday. Leave the credit cards at home.