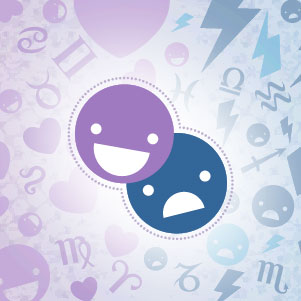 Autumn is ushered in under incredibly harmonious skies! The week starts off with the optimistic Sun conjuncting beneficent Jupiter in the sociable sign of Libra. Extroversion and good cheer abound, with people willing to help each other out and get along. Go-getter Mars enters equally ambitious Capricorn on Tuesday for increased productivity, while the softer side of life is guaranteed by romantic Venus' trine of poetic Neptune in ethereal Pisces on Saturday.
A New Moon close to Jupiter on Friday could make it one of the most buoyant and uplifting New Moons of the year. Wednesday's lackadaisical energy could get in the way, however, when a lazy, pie-in-the-sky Lunar T-square could slow things down.;
Here is a general overview of this week's energy, valid for all. Hearts and Hates for your sign follow below!
♥ Fall-ing up
Autumn gets into full swing, with its significantly brighter skies making the murky end-of-summer energy fade off into the distance.;
☹ Over the hump
No one feels like working on Wednesday, and each minute could feel like an eternity. Try to silently daydream your way to the end of the day.
Your sign's Hearts & Hates Weekly Horoscope:
Aries Horoscope (March 21 - April 19)
♥ Romance restart
Whether in a relationship or looking for love, new opportunities to be totally besotted beckon you. Friday is an excellent time to pop the question.;
☹ Call in sick
Your productivity will be extremely low on Wednesday, so you may want to take a personal day to reinvigorate your body and spirit in the outside world.
Taurus Horoscope (April 20 - May 20)
♥ Chore master;
You have the ability to clear out an enormous backlog of tasks at the office this week -- as well as finally get new projects off the ground -- so stay focused.
☹ War of the roses
Your lover may chafe at your cheapskate ways, especially if you have plenty of money for socializing, but nothing left over for them.
Gemini Horoscope (May 21 - June 20)
♥ Love child
If you have been stuck in a dutiful relationship, a new connection based on generosity and merrymaking awaits you if you look for it. Friday is an auspicious day for conception.
☹ Housebound and down
A nagging partner could make you feel trapped in a dreary domestic situation that is far from your utopian ideals. It is time to make a change.;
Cancer Horoscope (June 21 - July 22)
♥ Happy homemaker
Spending time sprucing up your homestead or surrounded by family will fill you with joy and optimism at the New Moon in your domesticity zone on Friday.
☹ Cicerno
Your oratory skills will be able to sway absolutely no one to your side on Wednesday, which could lead you to act out in pouting and passive aggression due to feelings of rejection.
Leo Horoscope (July 23 - Aug. 22)
♥ Talking point memo
You will be able to charm all those you come in contact with this week due to your effervescent chitter chatter -- especially on Monday and Friday. Send out your resume, promote your own initiatives, or network on social media.
☹ Out of your league
A hoity-toity love prospect may make you nervous about money and status. Just remember, when it comes to charisma and charm, you are a pro.
Virgo Horoscope (Aug. 23 - Sept. 22)
♥ Blossoming bank account
This is an excellent week to make pitches and negotiate contracts and salaries. Financial seeds planted now could bloom into major greenery.
☹ Family feud;
You may feel worn out on Wednesday when your judgmental family and your self-absorbed lover knock heads yet again.
Libra Horoscope (Sept. 23 - Oct. 22)
♥ Ready for your close-up
You are sparkling, shiny, and full of high-octane star power this week, especially on Friday, when you will be bursting with renewed confidence and élan.
☹ Too much effort to talk
You will be in no mood to speak in endless circles with confusing colleagues on Wednesday. You may want to check out of workplace meetings or sit silently doodling until they are over.
Scorpio Horoscope (Oct. 23 - Nov. 21)
♥ Psychic cleansing
Look inward and clear out all the junk that is cluttering your psyche. A personal renaissance free of past emotional baggage is yours if you seek enlightenment.
☹ Double Dutch
Refusing to ever pick up the tab for friends or lovers could cause hurt feelings and lingering resentment on Wednesday. Try to keep a low profile.
Sagittarius Horoscope (Nov. 22 - Dec. 21)
♥ Life of the party
Make sure you get out and socialize on Friday. You can meet fascinating, upbeat new acquaintances who could open you up to new networks.
☹ Nowhere to hide
On Wednesday work will be uninspiring, while your home life will be filled confusion and uncertainty. Luckily, this energy will pass quickly.
Capricorn Horoscope (Dec. 22 - Jan. 19)
♥ Blazing bright
You can set the workplace on fire with your leadership abilities. A plethora of opportunity awaits you, and you will have the confidence to make things happen.
☹ Stuck in place
While your mind is yearning to travel to far-flung places, you may need to stay closer to home, which could elicit feelings of melancholy and regret on Wednesday.
Aquarius Horoscope (Jan. 20 - Feb. 18)
♥ Room with a view;
This week, your mind can drink in knowledge from the outside world, garnered through study or travel, which will renew your inspiration and belief in life's unlimited possibilities.
☹ Close, but no cigar;
While your friendship circle may be firmly established, you may not feel any deep connection to them, leading to a sensation of suspicion and mistrust on Wednesday.
Pisces Horoscope (Feb. 19 - March 20)
♥ Part of something bigger
Shared experiences will fill you with confidence and hope. Combine your resources with others to make things happen. This is also an excellent week to seek a loan, grant, or mortgage.;
☹ Jilted lover
Your romantic partner may feel emotionally abandoned due to the amount of time you are spending at work. Make time for them on Wednesday or get ready to deal with their pouting.