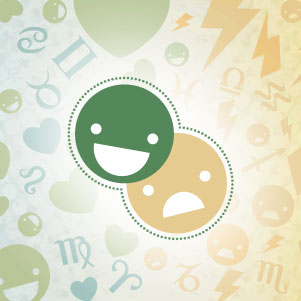 Here are the best and worst days coming up for everyone this week! Then read on to see the Heart and Hate days for YOUR horoscope sign...
♥ Wednesday: Making peace
Thanks to a Lunar Grand Earth Trine and the Sun's conjunction with Mercury, this is a great day to reach out and get along with honesty and frankness -- especially to clear up old slights.
☹ Thursday & Friday: Deluded and digging in
When the Lunar Grand Cross strikes, no one will give an inch -- but will be quick to judge everyone else while remaining blind to their own misguided notions.
Your sign's Hearts & Hates Weekly Horoscope:
Aries Horoscope (March 21 - April 19)
♥ Teamwork isn't just a buzzword
You can bring clarity through conversation with a love or business partner on Wednesday, and getting along with colleagues and bosses will give you a boost for a job well done.
☹ Pouty diva
You feel physically stressed out and psychologically insecure, making you especially sensitive to judgmental comments on Thursday and Friday.
Taurus Horoscope (April 20 - May 20)
♥ Love keeps lifting you higher
Romantic activities on Wednesday will lead to an almost spiritual renewal of your entire outlook on life. This goes for singles, too; this is an excellent date night.
☹ No money, no fun
Your economic austerity plan is keeping you from dating and enjoying times with friends at the Lunar Grand Cross on Thursday and Friday. It may be better to get caught up on that backlog at work.
Gemini Horoscope (May 21 - June 20)
♥ Sexual healing
Reach out to an ex or talk through issues with your current love on Wednesday, and then stay at home for a battery-charging cuddle.
☹ Domino effect
Uncertainty at the workplace will lead to stress at home, the neglect of your partner, and moodiness on your part on Thursday and Friday. Try to block it all out to spend quality time with your lover or kids, or go on a date.
Cancer Horoscope (June 21 - July 22)
♥ Prom King and Queen
You may be voted Couple Most Likely to Succeed by your supportive friendship group on Wednesday. Behind the scenes, you can regain domestic harmony by organizing and fairly dividing household tasks.
☹ What's the point?
Excessive routine and drudgery at the workplace could lead to verbal arguments and a fleeting feeling of existential malaise on Thursday and Friday. If you spend time with family, you will feel a renewed sense of purpose.
Leo Horoscope (July 23 - Aug. 22)
♥ Motivational speaker
You charismatic speaking skills will make a major comeback on Tuesday, inspiring colleagues, clients, and higher-ups, who may be so impressed with your oratory you may gain a fleeting boost in pay.
☹ Get balanced
With so many major planets in your money houses, you may be more interested in QuickBooks than Facebook, causing a life imbalance. Spend some time this weekend catching up with old friends to lift your spirits.
Virgo Horoscope (Aug. 23 - Sept. 22)
♥ Self-esteem boost
When a cheerful Sun conjuncts Mercury Retrograde in your sector of self-worth, you can get back in touch with what has true value. Taking a break from routine with a lover will give an additional boost to your ego.
☹ Make room for money
Family, lovers, and your own fight for personal breathing room are sucking up a lot of your time, but if you work a bit of overtime this weekend and finish up an old project, you may get a financial boon.
Libra Horoscope (Sept. 23 - Oct. 22)
♥ There you are!
With tight-lipped Saturn's recent move into your communications zone, you have been more taciturn than usual. That temporarily changes on Wednesday, when an ebullient Sun conjuncts chatty Mercury, retrograde in your sign.
☹ Keep it classy
Try to take the high road and not get drawn into battles of bad words on Thursday and Friday, because dredging up old issues will only and wear you down. Stay philosophical.
Scorpio Horoscope (Oct. 23 - Nov. 21)
♥ Boosted spirits, smooth communication
Getting in touch with yourself will help you get in touch with friends and lovers on Wednesday. Taking a positive attitude to life's problems will bring potential for regenerative conversation with others.
☹ Free to play
You may realize those love games you have been playing are not quite as free as advertised; you can't progress to the next level because of the high cost of romancing and socializing on Thursday and Friday.
Sagittarius Horoscope (Nov. 22 - Dec. 21)
♥ Pick up the tab
Career success has money coming in, so it's your turn to pay back old kindnesses with true-and-blue friends on Wednesday, when a thankful Sun conjuncts Mercury Retrograde in your social sector.
☹ All business
You are locked into logic mode, concerned about money and work, but your relatives and romantic partner are in a more intuitive mood, causing your sensibilities to clash on Thursday and Friday.
Capricorn Horoscope (Dec. 22 - Jan. 19)
♥ Reviewing the situation
You may want to reconsider your career goals on Wednesday, especially if they affect a love relationship through geographical distance or extensive travel. For singles, you may meet someone out on the road, so frequent the hotel bar.
☹ Feeling trapped
You want to expand your horizons intellectually and geographically, but are being blocked by your negative mindset on Thursday and Friday. Try to stop brooding and just dive into the unknown.
Aquarius Horoscope (Jan. 20 - Feb. 18)
♥ Time machine
Take your spirit back to a time when you were truly motivated by re-reading or re-watching a life-changing book or movie on Wednesday. This will help reinvigorate your worldview and allow you to rekindle passion with a lover.
☹ Lost in the crowd
You may feel like your social set are a waste of time and money on Thursday and Friday. Boredom should not be so expensive; perhaps you would be better off on a one-on-one date.
Pisces Horoscope (Feb. 19 - March 20)
♥ Party planning
Throw a mid-week bash on Wednesday, and surround yourself with friends and your significant other for joyous conversation. If you have some small savings socked away, a small social gathering is a good investment for cultivating your most cherished relationships.
☹ Time out
Your goals for work and love are pulling you in different directions on Thursday and Friday, and you no longer know who you are or what you want. Take some time at home alone to process your thoughts.