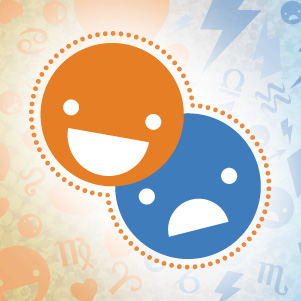 This week is light on Astrology, but the week's Heart and Hate are both very powerful! See the best and worst days for everyone this week here, then keep reading to see how these events will impact YOUR sign...
♥ Tuesday: Enthusiasm and spontaneity
As Mars in bold Leo trines Uranus in fiery Aries, this is a great day to break free, take risks, and express your true self!
☹ Sunday: Old wounds, new pain
The Solar Eclipse in Virgo opposes wounded Chiron, and could drag up bygone issues out of nowhere. Be conscientious when talking to others, so that you don't inadvertently resurrect past slights.
Your Sign's Hearts and Hates Horoscope:
Aries (March 21 - April 19)
♥ You sexy thang
You'll believe in miracles when passionate Mars in your romance zone trines electrified Uranus on Tuesday. The seasons are changing so break out some hot chocolate to keep warm.
☹ Keep sight of the big picture
Obsessing over every small detail at work could make you become mired in trivialities, causing you to make unnecessary blunders that equally wound your ego.
Taurus (April 20 - May 20)
♥ From chrysalis to butterfly
Cocooning at home will be the key to unlocking your inner sense of wonder and motivation when Mars in your domesticity zone trines awe-struck Uranus in your psychology sector.
☹ Love doesn't conquer all
...especially your friends. Old slights and rivalries get reopened due to developments in your romantic life. Fight to protect your relationship, not your social reputation.
Gemini (May 21 - June 20)
♥ All the Geminis in the house I wanna hear you say...
You will shout out the loudest call and response at the block party of life on Tuesday, burning down the roof with your wit and charisma.
☹ Shaky ground
Your career has been in a state of suspended animation for several years, and at the Solar Eclipse on Sunday, attention-sucking events in your domestic life could cause even greater problems at work, as your focus is diverted.
Cancer (June 21 - July 22)
♥ Playing hardball scores a home run
Taking a tough, aggressive stance when it comes to negotiations affecting income can lead to career advancement. In this realm, the meek don't inherit anything.
☹ Words hurt more than a fist
You may want to keep quiet at the Solar Eclipse on Sunday, as droning on about every existential wound you ever endured will only lead to a greater sense of alienation by drudging up old hurts.
Leo (July 23 - Aug. 22)
♥ No fear
Get out and seek new adventures on Tuesday when courageous Mars in your identity sector trines an inspired and intrepid Uranus in your zone of adventure and exploration.
☹ Don't count your chickens before they hatch
Streams of income are shaky as the Solar Eclipse in your money zone opposes a wounded Chiron on Sunday.
Virgo (Aug. 23 - Sept. 22)
♥ Behind the scenes wheeling and dealing
Creative thinking can lead to a major influx of cash to help you go after your dreams. The money may be needed to help you break from a domineering lover.
☹ Round 2
You have been dealing with a lot of vague mistreatment and subterfuge by a lover, sweeping it all under the rug in hopes that these problems will sort themselves out, but now it's time to right old wrongs.
Libra (Sept. 23 - Oct. 22)
♥ The more the merrier
Going out with a big group of friends on Tuesday will help reinvigorate your relationship, while singles may meet a prospect with long-term potential out of the blue.
☹ Home "ick"
You may be pondering how to get out from under the grip of a domineering family member, which could dig up old issues that you project onto your current love partner on Sunday, causing fights and drama.
Scorpio (Oct. 23 - Nov. 21)
♥ Take the lead
Go after your career goals without fear, and you can rally the office troops to serve you when lionhearted Mars trines inspired Uranus in your work zones on Tuesday.
☹ Wildcard friendships
You have been meeting, and allowing, a lot of new people into your life recently. Unfortunately some of these may prove to be false friends at the Solar Eclipse on Sunday.
Sagittarius (Nov. 22 - Dec. 21)
♥ Weekday rendezvous
Don't wait for the weekend to run away with your sweetie for a spontaneous out-of-the-ordinary experience. Tuesday evening promises much impromptu passion if you break from routine; singles could meet someone new while exploring new horizons.
☹ Business before pleasure
Don't schedule a family outing on Sunday, because unforeseen work duties could conflict with domestic obligations, stirring up old feelings of resentment with relatives.
Capricorn (Dec. 22 - Jan. 19)
♥ Feather your nest
Invest in home improvement projects, or take on a mortgage or lease on Tuesday, when can-do Mars in your financing zone trines dream-come-true Uranus in your domesticity sector.
☹ Preaching is for church
Your new-found enlightenment could cause you to pontificate to those around you, but instead of reaching a new understanding, you could just dredge up old issues for the less philosophical.
Aquarius (Jan. 20 - Feb. 18)
♥ Say Anything
Be it with a boombox or an iPod, if you want to win the girl/boy of your dreams, you need to declare your love. Spontaneous declarations lead to passion and closeness on Tuesday.
☹ Repo Man
You could rack up astounding amounts of debt in a super-short period during the days before the Solar Eclipse on Sunday. Try not to use a credit card to buy what you can't afford, or the debt collector may come knocking.
Pisces (Feb. 19 - March 20)
♥ Show your stuff
If you show you are willing to work hard and sacrifice your time for career advancement, surprising new sources of income may come your way on Tuesday.
☹ Off script
Your partner is adlibbing his or her role in your relationship -- transforming a carefully crafted romantic drama into an evening at the improv around the Solar Eclipse on Sunday. Maybe you are not as comfily in the director's chair as you thought.