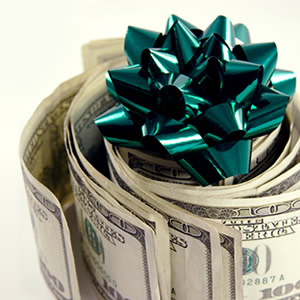 The holiday season is many things -- joyous, busy and indulgent, just to name a few. But most importantly, it's expensive. With everyone pinching pennies a little more than usual this year, it's more important than ever to budget wisely.
Finding out where your horoscope sign might need to spend a little more cash than expected will help keep your bank account on track and your mood festive.
Aries (March 21 - April 19)
High-energy  Rams need to stay active, especially during the stressful holiday period. Family obligations might get in the way of trips to the gym, though. Stashing some cash for group activities -- ice skating, cross-country skiing and even bowling will give you a chance to spend some quality time with the relatives and still keep moving.
Taurus (April 20 - May 20)
Chances are, the family congregates at the Bull's house each and every holiday. That's because you folks are the natural hosts of the zodiac, and always offer the best food, drink and company. Make sure you set aside enough dough to feed extra people -- you know you tend to extend last-minute invites to folks with nowhere to go.
Gemini (May 21 - June 20)
The holiday season means one thing to the social butterfly of the zodiac -- parties. You chatty Geminis love a shindig, and because you know just about everyone, you're on all the invite lists. So be sure to save some bucks for bottles of wine and cupcakes -- you wouldn't want to show up at someone's house empty-handed!
Cancer (June 21 - July 22)
As the nurturing mothers of the zodiac, you Crabs love feeding people. You always offer to bring dessert, which gives you an excuse to bake and indulge your sweet tooth. So remember to squirrel away some extra money for holiday cookies, Yule logs and fruitcakes -- with some pretty packaging, these items can even be given in lieu of gifts.
Leo (July 23 - August 22)
The most generous sign of the zodiac, you Lions need to make sure you have enough cash stashed not just for everyone on your shopping list, but also for everyone you're going to decide to buy gifts for at the last minute -- the entire office, that old friend you just found on Facebook, the ex you still feel bad about dumping...
Virgo (August 23 - September 22)
The greenest sign of the zodiac, Virgos often complain about the wasteful nature of the holiday season -- cutting down trees, using all that energy on Christmas lights, wrapping paper that's just going to get thrown away. Lead by example and do your part by setting aside some extra dough for homemade gifts and reusable containers.
Libra (September 23 - October 22)
Upholding beauty in everything you do, the sign of the Scales is the interior decorator of the zodiac. And your eye for style, design and detail especially come in handy when it's time to decorate for the holidays! You'd do best putting your extra holiday cash into elaborate adornments for the home, or try cutting gift expenses by making ornaments and wreaths to give instead.
Scorpio (October 23 - November 21)
If there's one sign that hates the hustle and bustle of the holidays, it's you, Scorpio. Loners by nature, Scorpions get stressed when their social calendar starts filling up with family obligations, work parties and cookie exchanges. Make it through this hectic season by putting your dough into a massage or a meditation class when you really need an escape.
Sagittarius (November 22 - December 21)
To Sagittarius, the holiday season as an excuse to travel and explore, so set aside some cash for site-seeing wherever you plan on celebrating! Even if the destination is the home where you grew up, you'll want to get out and see if the neighborhood has anything new to offer a wanderer.
Capricorn (December 22 - January 19)
Frugal by nature, Goats don't see why everyone should get a gift when a card will do just fine. You are one of the few signs responsible enough to buy cards, fill them out and actually get them mailed on time. This year, budget in some extra money for cards and postage, though -- those holiday card lists tend to take on a life of their own.
Aquarius (January 20 - February 18)
During this season of giving, humanitarian Aquarians can't help but think of those less fortunate this time of year. When it comes to charity you'll have a hard time saying "no," so make sure you have enough money on hand to drop a little for every collection box and charity bell ringer.
Pisces (February 19 - March 20)
During periods of high-stress, the Fish looks for an escape. The holiday season is also the party season, and with pre-holiday work deadlines and gift lists looming, your watery soul tends to seek solace in food and drink. To counteract overindulgences, set aside some cash for healthy nibbles and non-alcoholic beverages to keep your body going strong into the new year.
Get more peaceful insight with a Peace & Harmony Celtic Cross Tarot Reading from Tarot.com.