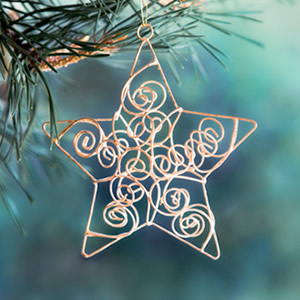 Decorating your home for the holidays isn't just about decking the halls with bright lights and shiny objects. It's about creating a happy, peaceful atmosphere that will brighten every day of the festive season for you, your family and friends. What makes your horoscope sign happy could be an all-out Las Vegas style Christmas tree with flashing, colored lights, or a more minimalist approach with simple, serene touches here and there.
We've rounded up these holiday decorating ideas to please every sign, whether you're an ambitious Capricorn, a design-oriented Libra or a sentimental Cancer. Even a last-minute Sagittarian or a bah-humbug Scorpio can choose one idea for creating a festive abode and run with it. Let's get started!
Aries (March 21 - April 19)
Let your childlike spirit come out to play. Indoors, hang angels with feathery wings and halos from the ceiling, and drape the walls and/or windows with tiny white lights. Surround yourself with soul-warming red and gold candles, or tie red ribbons and festive cookies to your Christmas tree. Outside, spray bushes and trees with fake snow if you live in a warm climate, or build a snowman if you've got the real stuff.
Taurus (April 20 - May 20)
As a confirmed sensualist, you love luscious decorations like luminous fruits and colorful flowers. So, make a striking centerpiece to add sparkle to your table this season. Start with a rich, satiny table covering. Then, arrange elegant, jewel-toned beaded and sugared fruit pieces and matching silk flowers in an elegant bowl. As a final touch, add fragrant candles that emanate delicious aromas like cinnamon, clove and pine.
Gemini (May 21 - June 20)
Because you're good at tying up loose ends, why not decorate your home with festive bows this holiday season? You don't have to stick with red and green. Choose ribbons and bows in colorful plaids, stripes, florals and metallics to coordinate with your decorating scheme. Then tie them to chair backs, candlesticks, picks in plants, wreaths, garlands, basket handles, drapery tie-backs, stair railings -- even doorknobs.
Cancer (June 21 - July 22)
You're a die-hard romantic. Turn off the lights this season and arrange lots of candles on the dining table so you can dine by candlelight -- even leftovers will feel special. Burn a fire in the fireplace at night and encourage family members to gather around. Bring back happy memories from holidays past by adding bubble lights, silver tinsel or candy canes to your tree. Or, make a centerpiece of a family holiday heirloom.
Leo (July 23 - Aug. 22)
You can be a real jokester. Amuse the neighborhood this season by spray painting a set of reindeer with glow-in-the-dark green and stringing them across your garage, trailed by colorful lights. Or, put a blinking light bulb in Santa's nose and hang him from your gate to provoke giggles from visitors. Delight a child by placing a miniature tree in his or her bedroom decorated with small toys, dolls or sports items and twinkling lights.
Virgo (Aug. 23 - Sept. 22)
It's all about the tree for you, Virgo. Whether you're going fresh-cut or live, buy from smaller, local farms to reduce transportation miles and support sustainable practices. Decorate with natural items like holly, strung popcorn or holiday cookies rather than tinsel or fake snow spray, which make the tree ineligible for recycling. You could also decorate an ornamental tree or a rosemary bush that can be planted later on.
Libra (Sept. 23 - Oct. 22)
Since you love to decorate, the holiday season is a great opportunity to strut your stuff. Why not use holiday tableware at each meal throughout December? Look through your cupboards for festive dishes, or buy some fun holiday designs that mix well with your china. Arrange candles on the table and dine by candlelight. Or, break with tradition by hosting a holiday "love" luncheon, and decorate with red and white hearts.
Scorpio (Oct. 23 - Nov. 21)
Despite your warrior nature, you prize peace above all else. Why not use doves as your theme this season? Hang white doves from your ceiling with strings of beads in their mouths, as though they were flying in to decorate the tree. Or, perch them on the tree itself. You could also place doves on your mantle, over an elegant banner that says "Peace on Earth." To carry it further, send holiday cards that reflect the same theme.
Sagittarius (Nov. 22 - Dec. 21)
A holiday wreath is a perfect symbol of your welcoming nature. You can amplify this festive theme by displaying a wreath not just on the front door, but throughout the house. Make fragrant wreaths out of eucalyptus, fresh evergreens, holly, fruit and pinecones. Then, hang them in unexpected places, like the inside door to the bathroom. Or, put a personalized wreath over a child's bed to stimulate happy dreams.
Capricorn (December 22 - January 19)
You like having an elegant home during the holidays. And, because you have an old-fashioned streak, you love decorating with antique or heirloom pieces. Start with a beautiful piece of fabric for your dining table, then add a centerpiece featuring a favorite childhood holiday item that brings back happy memories. Or, fill a vintage soup tureen with fresh poinsettias and greenery. And, use special antique ornaments on your tree.
Aquarius (January 20 - February 18)
You're a visual person and have a good eye for design. Decorating with holiday cards is an easy and enticing way to dress up your home this season. Use cards you've saved from holidays past or current ones. Choose cards that look good together, and hang them on strings to frame a doorway or mantel, taping them closed. For a dressier look, place a greenery swag or large bow at each corner of the doorframe.
Pisces (February 19 - March 20)
Your dreamy, romantic nature would love the dazzling effect of decorating your home in white this season. Start by lightly spraying your tree with snow, then add clear lights, white and silver ornaments, snowflakes and glass icicles. Use sprays of red berries as a counterpoint. Place white candles throughout the house, and position a pale, satiny cloth on your dining table. Red and pink poinsettias will add a stunning contrast.
Get more peaceful insight with a Peace & Harmony Celtic Cross Tarot Reading from Tarot.com.