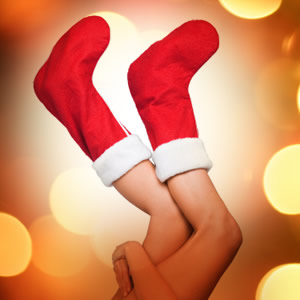 It goes without saying that the sweetest holiday gifts are the ones that come in the smallest packages. Sweeter still are the sexy little stocking stuffers you can slip into your lover's stocking as a naughty surprise that will make 'em light up like a Christmas tree -- talk about positive energy! We've rounded up these sexy gift ideas for every horoscope sign to help you start heating things up all the way in to the new year!
Aries (March 21 - April 19)
Aries is a sign that wants to be in control, but sometimes secretly yearns to be controlled, too. Aries wants their lover to see through their ploys, take a no-nonsense position and ravage them. What better stocking stuffer could there be for your dominant/closet submissive Aries than some fur lined handcuffs? The sign of the Ram is just waiting for you to handcuff them and do what you will -- all in the name of playful good fun, of course.
Taurus (April 20 - May 20)
When it comes to stocking stuffers for your favorite Taurus, indulgence is the word of the day. Taurus doesn't need accessories as much as fuel for fantasy, and the more potent and refined, the better. If you have the right fuel, you won't need any extra toys to make this holiday memorable. Dark chocolate, French champagne, beluga caviar and crème freche with truffles should do the trick.
Gemini (May 21 - June 20)
Nothing lights the Fire like erotic poetry, and Gemini more than any other sign loves the written word. So take a favorite treat, wrap it in an intoxicating erotic poem and add it to their stocking. If you can convey your fantasies and desires in written prose, Gemini will melt like a candle, eager to be satisfied. Make sure this stocking stuffer is the last one they open, right before you say goodnight.
Cancer (June 21 - July 22)
Cancer loves food, especially familiar treats from the past, so why not sex up this idea with a can of whipped cream in their stocking? If the mood is right, some well-placed whipped cream can make a tasty and exciting night. Both putting it on and licking it off are fun, so it provides a perfect two-person bedroom sport. The sweet and fluffy taste of whipped cream makes all love making taste better when you're a Cancer.
Leo (July 23 - August 22)
Leo is just another way to spell "lingerie," but it has to be exactly the right piece. When you chose this silk or satin stocking stuffer, make sure you've taken the time to really know what will make your Leo lover roar. The right lingerie is the perfect wrapping for the ultimate gift for your lover, and for you! When it is visually and sensually arousing, it excites all the senses. Remember Leo loves luxury like no other sign...
Virgo (August 23 - September 22)
A simple feather will make an ultimate erotic stocking stuffer for your Virgo lover. In the right hand, this is nature's oldest sex toy and still one of the best. For the natural Virgo, synthetics won't do, yet used properly there is nothing quite as subtle as the gentle touch of a feather and nothing as soft as its caress. Take the time to explore and the feather will do the rest.
Libra (September 23 - October 22)
Libra loves to dress up, so for their holiday treat, you may want to think of accessories. Master and servant? French maid and butler? A leash, a whip or paddle might also be interesting. Having the right props defines the game, where unleashing desire is the ultimate goal -- whether your Libra lover chooses to be the master, or the servant.
Scorpio (October 23 - November 21)
When you think about an erotic stocking stuffer for a Scorpio, you must cross the line into the realm of kinky. Scorpio does not do any kind of sexual activity half way. If they're involved, the situation is going to be explosive, so the proper sex toys that take it to the next level will always be enjoyed. If it vibrates, hums or makes you want to scream for more you've chosen the right one.
Sagittarius (November 22 - December 21)
You'll need to drop some adventure into your Sagittarius stocking if you want to get their attention this season, and the easiest way to do that is role playing. So, put a naughty costume in their Christmas stocking and let the games begin. If it's a sexy nurse's costume you better be ready to be a good patient, and if it's a cowboy's outfit you better be ready to saddle up and ride all night.
Capricorn (December 22 - January 19)
Some silk rope and leather restraints in the Christmas stocking will get your sometimes-austere and restricted Capricorn past their inhibitions. When you take a proper, rigid Capricorn and tie them up, all the rules that they control their life go out the window, and they can't help but explode with a sexual fury of unleashed passion. It's the quiet ones that are always the hottest.
Aquarius (January 20 - February 18)
A dirty dice stocking stuffer can give hours of fun if you pick the right game to play with your out-there Aquarius lover. Strip dice and Truth or Dare will get your sometimes-absentminded Aquarius' attention. The dirty dice and games are just props, but played correctly they will get your Aquarius' mental gears kicking. You'll activate their libido in a way that keeps the mistletoe exploding all the way into the New Year.
Pisces (February 19 - March 20)
Pisces is always looking for new heights to reach, so a potent aphrodisiac could be the stocking stuffer that takes them there. Nowadays there are legal, natural and synthetic aphrodisiacs that work by heightening both arousal and pleasure. Find the one that is right for your Pisces, allowing them to swim in a sea of sensual sensitivity that will keep them dreamy all year long.
Get holiday love advice with a Love Celtic Cross Tarot Reading from Tarot.com.