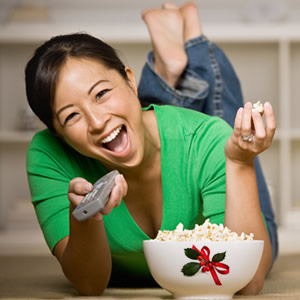 Holiday traditions have changed over the years, but the spirit that brings us together hasn't. So while modern families don't usually gather around the piano in their finest garb to sing Christmas carols, they do still get together in the living room to snuggle up in front of the TV and watch holiday movies.
Depending on your horoscope sign, you may have a movie that brings those happy, sentimental tears to your eyes faster than any other.
Aries (March 21 - April 19)
Meet Me in St. Louis
The thing that makes this movie most appropriate for your fiery, "not-prone-to-sniffling-under-any-circumstances" sign is that Meet Me in St. Louis is not a typical Christmas film. In fact, you'll probably only have to roll your eyes once, when Judy Garland begins belting out "Have Yourself a Merry Little Christmas." The thing you may enjoy about it is the fact that it's about a parent (the father, in this case) who accepts a job that entails a move his family is less than tickled with. In other words, an authority figure you'll identify with because he does what has to be done, simply because it has to be done. You know how you Rams get when it comes to taking charge...
Taurus (April 20 - May 20)
The Lemon Drop Kid
You, Taurus, are a veritable money magnet -- so any movie that involves making it, dealing with it, or just plain old concentrating on it will raise your interest. This film has something else your sign notoriously enjoys: old-time, traditional laughter with old-time, traditional star Bob Hope. (Of course, the fact that you love "traditional" humor is our secret!) At any rate, with tradition and money as key elements of this film, you'll enjoy it to the max -- and the hidden sentimental side of you won't be disappointed, either.
Gemini (May 21 - June 20)
White Christmas
If anyone loves musicals, it's you. Even if you don't particularly care for the music itself, you can't help but admire the cast -- after all, you've got to be able to do a whole heckuva lot of multi-tasking to sing, dance and act at the same time, and that's your specialty. In this case, you've also got another element you adore: a partnership. The film is full of twos, which just so happens to be your favorite number. The music is all duets -- Bing Crosby and Danny Kaye, Rosemary Clooney and her sister Vera-Ellen. Two pairs, all of them multi-tasking in a most entertaining style from start to finish -- what's not to love?
Cancer (June 21 - July 22)
How the Grinch Stole Christmas
Okay, so it's primarily for kids, but let's be honest ... if you're a Cancer Sun, you really are secretly grateful for a good reason to watch kids' movies, and this is the absolute epitome of those movies during the holiday season. Don't try to deny that you love this film because the bad guy suddenly turns 'good' at the end, proving that you were right all along about people being able to change. The Grinch's transition (even if you've seen it happen as many times as you've seen Toto escape the clutches of the Wicked Witch) still brings tears to your eyes. Just grab yourself a pack of little ones with jammies and slippers and hope they're asleep before you start sniffling.
Leo (July 23 - Aug. 22)
Miracle on 34th Street
This movie has been remade several times, but as every website you'll ever refer to insists, Edmund Gwynne's stellar performance made the 1947 version the best one. Most of us have see this so often we're able to recite the dialogue along with the actors, but you, Leo, will adore it for a couple of different reasons. First off, it's about a man who's pretending to be someone he's not. You Leos can relate to that because of your acting ability -- you absolutely believe and become the part you're playing. Secondly, it's about love and romance, and your sign does rule the heart after all...
Virgo (Aug. 23 - Sept. 22)
The Bishop's Wife
Hard work, devotion to a sacred cause and celibacy for a higher purpose? That describes your sign, Virgo! That said, what movie could you possibly enjoy and identify with more than the tale of a man of God (played by Cary Grant), especially when a real, live angel enters the picture? Top it off with the fact that it happens right around holiday time, and that there's a true cerebral epiphany involved, and, well … it was made for you.
Libra (Sept. 23 - Oct. 22)
Holiday Inn
Music, dancing, relationships and happy endings -- what more could a Libra ask for in a holiday movie? Well, there is one more thing: a classic twosome played by Bing Crosby and Fred Astaire. If you haven't seen this movie, you're cheating yourself. If you have, it's time to see it again. Duets alone will make it worth your while, but the choreography (created with those most characteristic of Libran skills: balance, poise and elegance) will bring tears to your already sentimental eyes.
Scorpio (Oct. 23 - Nov. 21)
It's A Wonderful Life
We've all experienced both the highest of highs and the lowest of lows, but there's no time either feeling hits harder than around the holidays. And since you, Scorpio, are prone to feeling nothing if it's not to the nth degree anyway … this is definitely the movie for you, especially because it ends happily. You'll be able to share George's (Jimmy Stewart's) feelings, from despair to renewal, and probably end up sharing your feelings of renewed hope with others if your intense antennae tell you they're feeling the same. Don't you dare miss it, especially if you're feeling bluesy.
Sagittarius (Nov. 22 - Dec. 21)
Scrooged
When it comes to famous Sagittarian qualities, humor is at the top of the list. Always has been, always will be -- and holiday gatherings are the best time for you to demonstrate those talents. Of course, philosophy, education and mingling with just about anyone from just about anywhere are on that list, too -- all adding up to understanding the bigger picture. This film, then, while not old enough to be called a traditional classic, will be soon, and with the equally classic talents of Bill Murray on board, there's no film any Sag will enjoy more. Go get it!
Capricorn (December 22 - January 19)
Christmas in Connecticut
If anyone understands what it's like to go from rags to riches -- and/or riches to rags -- it's your sign. You know the value of hard work, as did the star of this film, Barbara Stanwyck, who was one of the first super-mothers who somehow managed to work, raise her children and keep the kitchen home fires burning. There, of course, lies the rub: and the typically sarcastic Capricorn humor. Add a touch of patriotism, via a military boarder she takes on, and there's not one single Capricorn keyword that's not on the list of qualities you'll love about this film.
Aquarius (January 20 - February 18)
A Christmas Carol
The story of Ebenezer Scrooge has been done time and again. A fairly decent version (An American Christmas Carol) was even done recently, starring Henry Winkler. Still, most connoisseurs will agree that the version starring Alastair Sim was the one and only classic of classic holiday films -- if anyone recognizes perfection objectively, it's you. The part of this movie that most appeals to you is the drastic change Scrooge undergoes, as your patron planet Uranus rules sudden occurrences. Pass on the other versions, pick up a copy of this one, and allow yourself a tear or two when Scrooge encounters his cleaning woman on the stairs the morning after his visits.
Pisces (February 19 - March 20)
A Tree Grows in Brooklyn
The inscription at the base of the Statue of Liberty about the poor, and everyone with no other hope but coming here to find their fortunes ... this applies perfectly to the hopes your sign holds for every soul here on Earth. Once you see the struggles of the Nolans -- the family who has not just poverty to deal with, but also alcoholism -- you'll understand how deeply the immigrants who came here held hope in their hearts that things might change for them. Bring a double supply of tissues, and wait until the kids have gone to bed.
Get peaceful holiday insight from a Peace & Harmony Tarot reading now!