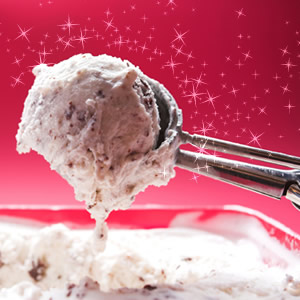 Get ready for a brain freeze! It's ice cream season, so you've got free license to dive into a pint of your favorite flavor. Here's the ice cream scoop on our favorite flavors for every horoscope sign.
Whether you stick with traditional vanilla and chocolate or flock toward the craziest combinations imaginable, one thing's for sure: There's truly something out there for everyone. Look up your horoscope sign below for flavors that might satisfy your ice-creamy cravings!
Aries (March 21 - April 19)
Forget about non-fat frozen yogurt -- a luscious scoop of Chocolate Mousse Royale from Baskin-Robbins is more your style. A child at heart, you enjoy the sheer fun of chocolate-dipped cones and banana splits. You helped make Chocolate Chip Cookie Dough one of the most popular Ben & Jerry's flavors. In your youth, your quick metabolism and love of exercise easily burns off those calories. But take care as you get older -- your impulsive nature could get you into trouble.
Taurus (April 20 - May 20)
You have a sweet tooth, Taurus, and you're also quite social. Because you like the finer things in life, you can be found at a local bistro sharing a dish of rich, creamy gelato with a friend. Or, you may opt for the sinful Founder's Favorite at Cold Stone Creamery … sweet cream ice cream, pecans, brownies, fudge and caramel. A Taurus friend once said that eating a bowl of chocolate ice cream topped with raspberries, almonds and Amaretto is "comparable to having good sex ... you can enjoy it slowly, to the very last drop."
Gemini (May 21 - June 20)
You can never settle on just one thing, Gemini, so you'll agonize forever at Baskin-Robbins before making a decision. You may end up with a triple-decker cone you'll never finish, but at least it satisfies your need for variety. Chocolate Chip is a good choice for you, as it matches your charming, competent nature -- layer it with Pistachio and Strawberry Cheesecake for a delectable combination. You might even go for Ben & Jerry's Half-Baked, Chunky Monkey or Clusterfluff flavors for their clever names alone.
Cancer (June 21 - July 22)
Dairy products are your favorite indulgence, Cancer, and you like your ice cream rich and gooey, and a no-frills, quality vanilla is probably your favorite flavor. Haagen-Dazs Dulce de Leche or Vanilla Swiss Almond are right up your alley, too. You might even try making your own ice cream, as you're handy in the kitchen. But it's also wise to keep some lo-cal frozen yogurt on hand to avoid those compulsive trips to Dairy Queen for Reese's Peanut Butter Cup Blizzards.
Leo (July 23 - Aug. 22)
You enjoy the high life, Leo. Haagen-Dazs may have invented their exotic Baileys Irish Cream and Creme Brulee just for you. Chocolate, however, is your true passion, as it complements your zesty, dramatic nature. Ben & Jerry's New York Super Fudge Chunk or a vanilla Dove bar dipped in the finest dark chocolate rings your chimes. You easily get bored with routine; try something new like Cold Stone Creamery's For Coffee Lovers Only ... coffee ice cream, Heath Bar bits, roasted almonds and caramel. Yum!
Virgo (Aug. 23 - Sept. 22)
When you do indulge, Virgo, you tend to make healthy choices like raspberry frozen yogurt or green tea soy ice cream. But you walk the straight and narrow in so many areas of your life, sometimes you just have to let loose. On those rare occasions, nothing but a hot fudge sundae will suffice. A study made by Dreyer's ice cream discovered that orderly, perfectionistic types like yourself buddy-up best to Butter Pecan. Perhaps it reminds you of the carefree days of youth?
Libra (Sept. 23 - Oct. 22)
You're so good about watching your weight, Libra, that we're unlikely to find you chowing down on chocolate fudge brownie ice cream. More likely, you'll savor a small dish of lemon sorbet or nonfat vanilla frozen yogurt ... perhaps adorned with a few sprinkles of toasted almonds or chocolate chips. If a social situation demands it, you might indulge in a single cone of English Toffee or dish of Haagen-Dazs Black Raspberry Chip. But you'll insist your partner take the lion's share.
Scorpio (Oct. 23 - Nov. 21)
You're an all-or-nothing person, Scorpio. Either you eschew sweet treats altogether or you'll pig out on a banana split with extra hot fudge, whipped cream and maraschino cherries. Rich, sexy flavors like Kahlua get your engine firing. Fantasizing about a pint of Mocha Almond Fudge may seem like a better option than calling that love interest who's nothing but trouble -- but indulging in too much of either could prove dangerous.
Sagittarius (Nov. 22 - Dec. 21)
You're always in a time crunch, Sagittarius. Dove and Haagen-Dazs bars are perfect for you ... that way you can get your chocolate fix on the run. You're always the life of the party, so you burn chocolate like fuel ... not that you really need the caffeine fix with your high energy. In fact, a midnight binge on your favorite Ben & Jerry's New York Super Fudge Chunk or coffee ice cream with chocolate syrup can keep you up all night. Try getting a thrill from vanilla instead -- you'll end up sleeping like a baby.
Capricorn (Dec. 22 - Jan. 19)
Your iron-clad discipline doesn't let you surrender to ice cream too often, Capricorn. When you do, it's likely to be a small dish of a time-tested favorite like Strawberries and Cream or English Toffee. Anything weird like Ginger Soy Dream or Ben & Jerry's Phish Food is apt to leave you cold. On the other hand, your quest for the best and your natural sense of elegance may incline you toward Haagen Dazs' Creme Brulee or Almond Hazelnut Swirl ... especially if the whole family is indulging.
Aquarius (Jan. 20 - Feb. 18)
You'll try anything once, Aquarius, from fried green tea ice cream at the local sushi bar to the corner ice cream parlor's pineapple-walnut-butterscotch sundae to, yes, Ben & Jerry's Late Night Snack, graced with the flavor of chocolatey potato chips. Offbeat combos strike your fancy. You helped push Cherry Garcia -- cherry ice cream, chocolate flakes and cherries -- to the top of the charts at Ben & Jerry's. As a child, you were thrilled by the "forbidden fruit" of Daquiri Ice sherbet at Baskin-Robbins. And you won't turn down something exotic like Haagen-Dazs' Bailey's Irish Cream or White Chocolate Raspberry Truffle, either.
Pisces (Feb. 19 - March 20)
You're a sensualist at heart, Pisces. You swoon for the luxurious mix of chocolate ice cream swirled with peanut butter, or a vanilla sundae with caramel topping, whipped cream and toasted nuts. Jamocha Almond Fudge is one of your favorites ... the combination of creamy and nutty textures turns you on. You find Mint Chocolate Chip refreshing, and you adore the sensation of those thin chocolate strips melting on your tongue. And Java Chip keeps you going when you're burning the candle at both ends.