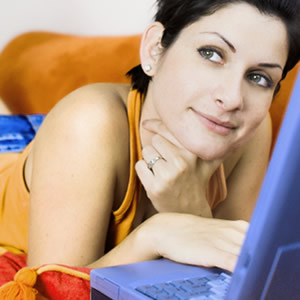 "Thou Shalt Not Tweet What You Eat" It's kind of a funny little inside joke we have here at DH, but it really is one of our top Karmic Laws. Does everyone really need to know you just ate a whole package of Oreos? Not that there's anything wrong with that.
But there is something wrong with abusing the luxury of living in a digital world of constant communication and information overload. Cutting such cosmic clutter, along with helping make all of your digital endeavors more positive, is one of our biggest goals here at DH.
To that end, we've dreamed up a few Digital Do's and Don'ts to get you started.
Do use complete sentences when writing e-mail
We shoot off so many e-mails a day that it's easy to start getting sloppy. Mind your spelling, your punctuation and your manners – say "please" if you're asking for something, and "thank you" if you get it.
Don't take revenge via Facebook or Twitter
Revenge is bad for your Karma no matter how you execute it, but let's focus for a minute on social media. Let us assure you none of your Facebook friends or Twitter followers want to know that you're mad at such and such, or that you've got a bad romance with so-and-so. Your negative comments will only make you look petty and your friends uncomfortable. Stay classy!
Do stop torturing yourself already
You got dumped -- by a friend, a lover or a job. Do you really need to keep visiting their social media pages or their websites to check up on them? Your ex will probably start dating someone new, and your boss will probably fill your position. You might feel like you need to know the details about these matters, but trust us, you'll feel better faster if you don't. If you can't practice self restraint on your own, try using an app like Avoidr or the Ex Blocker.
Don't use electronic devices in the hour before bedtime
Studies by the National Sleep Foundation say using laptops, cell phones, computers or games in the hour before bed can prevent you from getting enough sleep! And if you don't function properly the next day, it'll be even harder to make smart digital choices. Get off the phone and catch some zzzzzz's!
Don't make passive aggressive status updates
If you've got a network of friends who check each other's profile pages frequently, it's tempting to make inside jokes or mysterious comments for one friend that only serve to upset another. Save the intrigue for a more private setting.
Do make your communications valuable
When posting things on a social media sites, blogs or websites, sending group e-mails or mass text messages, make sure you're not wasting people's time. Ask yourself, what is your point? Are you sending an important address for an event, or are you shouting out an inane rant against the injustice of losing an hour to Daylight Saving Time? Think before you hit send, and don't send smack.
Don't drink and drive home the wrong message
Drunk dialing dangers from eras past have now evolved into the dangers of drunk texting, drunk e-mailing and drunk social media posting. "Nothing good happens online after 1 a.m.," as they say over at the website for the Social Media Sobriety Test. (Yeah, that's a real thing if you need help with this). Late night drunken missives may sometimes result in hilarity, but more often you'll awake embarrassed by misspellings and typos at best, or huge social faux pas at best. Check yourself before you wreck yourself.
Do live your life, and share it with us later
Another of our top DH Karmic Laws is "Post in the Past Tense." If you're posting in the present tense, you're obviously not living in the present. So please live your life first, then share it later. In other words, don't post what you ARE doing right now, post what you DID afterward. Get it?
Want to improve your good Karma even more? Get a Karmic Lesson Tarot Reading from Tarot.com.