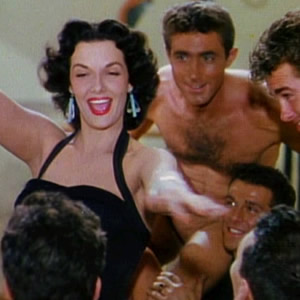 The blinding glare of Hollywood dims a bit today in response to yesterday's loss of one of its long-time talents, Jane Russell. A successful actress and musician, wife and mother, Gemini Russell was well-known for her talents -- and her figure.
This quintessential '40s Hollywood sex symbol first hit it big in Howard Hughes' film The Outlaw, in which Hughes made a strong point of showing off all of Russell's noticeable "assets." Making it big isn't easy in an era when sex appeal trumps talent, when the competition is as fierce as Marilyn Monroe (whom Russell starred opposite of in 1953's Gentlemen Prefer Blondes), yet Russell was most certainly able to hold her own.
Russell was born on June 21, the day of the Summer Solstice in 1921, at 6:15 am -- which means the Sun was still lighting up the last degree of Gemini at the time of Russell's birth. Geminis are social creatures with an emphasis on intellect, thanks to Gemini's ruling planet, mental and communicative Mercury. This Gemini grace combined with Russell's Moon in determined, business-oriented Capricorn explains her ability to stand strong as an actress whose value goes far beyond her physical appearance.
Nonetheless, we can't deny that Jane Russell was very much recognized for her sexuality (this duality is a perfect example of the Gemini "Twins"). Enter, Venus in Taurus. Venus is the planet of beauty and attraction, very comfortable in its home sign of sensual, luxurious Taurus. Those born with Venus in Taurus tend to have a highly developed view of sensuality, well beyond that of others. Russell's natal Venus in Taurus allowed her to naturally enjoy her physicality, enabling her to capitalize on her appearance rather than shy away from it. And beyond the physical world, those born with Venus in Taurus also tend to have an affinity toward music and the arts, which Russell very much expressed throughout her entire lifetime.
To no surprise, the sign of Cancer is strong in Russell's chart, with three planets and her rising sign in this home- and family-oriented sign. Family, tradition and legacy are of utmost importance to the Crab, and Russell's pile-up of planets here (including "take action" Mars) absolutely resonated in her personal life. Russell was unable to have children naturally, but she didn't let this stop her from building her own family structure. Along with her first husband, Bob Waterfield, Russell adopted three children throughout the 1950s, and even founded the World Adoption International Fund in 1955 to help place other adoptive children with loving families.
And so, today, we raise our glasses to Jane Russell: Screen siren, lasting legacy and proof that women can have the body and the brains. We wish nothing but peace and comfort at this time to Russell's family and the countless lives she touched.
If you like what you see on dailyhoroscope.com, please consider following us on Facebook and Twitter.