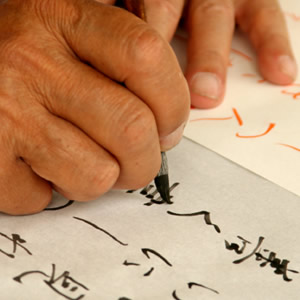 Since email, cell phones and the Internet hit the masses in the 1990s, most of us have never been truly forced to live without them. Sure, we can remember the carefree days before their existence, but ever since we've become so accustomed to running to the Internet for anything and everything we could possibly need, we haven't felt completely at a loss, left with ... nothing.
But that's exactly the issue Japan faced as a result of the devastating earthquake and tsunami that completely wiped out electricity to countless households -- no television, no email, no Internet, no telephones, no Skype, no radio...
So when food, shelter, money and medical help are scarce, where do the people then turn for information? The newspapers?! Nope. Some printing presses also lost electricity and were unable to print newspapers, leaving Japanese citizens utterly helpless, void of any possible way to access information, until...
Enter: the ancient, forgotten art of handwriting. That's right, when Mother Nature ravaged their country, leaving millions of citizens confused and helpless, the newspaper in Ishinomaki stepped in and began hand-writing newspapers to keep the town's residents in the know. After the newspaper staff completed an article, a team of writers would then copy the article multiple times, armed with black pens and large sheets of paper. These large papers would then be distributed to emergency relief centers all over town.
By now, electricity has been restored to Ishinomaki's printing press and newspapers are back in print, yet the Internet and all forms of electronic communication remain down. How fascinating it is that the age-old pen and paper are once again king, if only temporarily, in a country that's downright based on technology.
The complete overflow of pointless tweets, status updates and chain emails that flood the far reaches of the Internet each and every ordinary day is exhausting to say the least ... and 99% of it is just useless information, distracting us from what really matters. But in times of disaster, information becomes an absolute necessity -- fear of the unknown runs rampant. And so, we hold our glasses high to the staff at the Ishinomaki Hibi Shimbun, for realizing the necessity of pure information in a time of loss and struggle, for resurrecting the simple tools of days gone by, and for putting forth the innovative thought, time and energy to use them for good.
If you like what you see on dailyhoroscope.com, please consider following us on Facebook and Twitter.