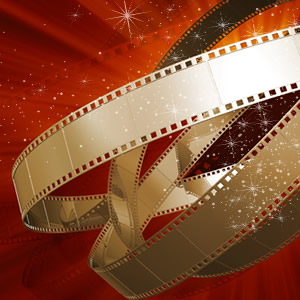 Don't expect lots of surprises on Oscar night, in spite of the unusual twist of having two hosts. Anne Hathaway and James Franco will bring plenty of youthful charm to the show, but the mood-setting Moon in conservative Capricorn indicates that tradition is likely to be favored over innovation.
Here's how it breaks down for the Best Actor and Best Actress awards.
In general, Capricorn is better for older, more established actors. Natalie Portman is relatively young, but she has been in movies since she was a child, making her an exception to this rule. She's a Gemini, which isn't ideal on a Moon in Capricorn evening, but Natalie's Moon in earthy Virgo, a sign harmonious with Capricorn, works to her advantage.
Annette Bening has a long track record in Hollywood and seems like an ideal candidate, but she is also a Gemini and doesn't have the benefit of an earthy Moon like Natalie.
Nicole Kidman is also a Gemini and has a remarkable resume as an actress. However, her Moon in fiery Sagittarius doesn't appear to be an asset on Oscar night.
Jennifer Lawrence is a Leo with her Moon in Gemini, signs that make for a great personality but are not matched by the Moon and rewarding Venus in Capricorn on Sunday.
Michelle Williams, though only 30, has the Sun and Moon in Virgo to give her chances a boost.
The results for Best Actress: Among the women, my first choice is Natalie Portman with Michelle Williams and Annette Bening as the next best bets.
Colin Firth is in a good position to win an Oscar because he's a Virgo with his Moon in earthy Taurus. These represent the kind of solidity that could be rewarded with a win.
Neither Jeff Bridges' Sagittarius Sun nor Gemini Moon appears favorable this year, but he has alluring Venus in Capricorn, which should give him some hope for his second Best Actor win in a row.
Javier Bardem certainly has earned the respect of his peers, but he's a Pisces with the Moon in Leo. This is a brilliantly creative combination reflective of his extraordinary work yet might not do the trick for him on Sunday night.
James Franco's Aries Sun isn't an astrological asset this year, but his Moon in Virgo and Venus in Taurus give him a better chance than some of the older guys.
Jesse Eisenberg's great performance in The Social Network earned him a nomination, yet his Sun and Moon in Libra and lack of experience do not work in his favor.
The results for Best Actor: Colin Firth seems like the clear lead, with James Franco as the second choice and Jeff Bridges third.
Please note this astrological analysis has been done without the benefit of knowing the actors' times of birth. This information provides significantly more detail in assessing a birth chart than one without the time. Still, it's fun to get some insights into the personalities of these great artists, all of whom are worthy of the prize.
Tell us: Who do you think will win Best Actor and Best Actress on Oscar night?