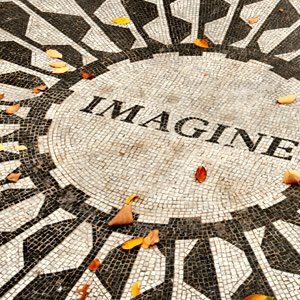 We're celebrating Libra John Lennon on the anniversary of his death because he's one of the coolest Karma cats we can dream of. This passive rebel and the powerful message of peace he gifted the world continues to be as prevalent as his music, which makes him the perfect example of the "good Karma" we promote on DailyHoroscope.com.
Lennon's Sun and action planet Mars is in Libra, which signifies balance, fairness and equality above all else -- these are traits we've come to immediately associate with John Lennon at the very sound of his name. If a Libran fights for or about anything, it's often something he or she feels is unfair and unbalanced … and in his case, it's war, civil rights and racism, among others. Having and promoting balance was important to Lennon and he believed in moderation, and avoiding fanaticism and extremism of any sort. By using his artistic platform, John Lennon called for change with his suggestion to "give peace a chance."
His Sun aspects both expansive Jupiter and limiting Saturn, which displays Lennon's dream of a peaceful world represented by his iconic song "Imagine." These planetary aspects reveal a heavier side which keeps optimism from losing touch of reality. "Imagine" tells the story of what could be while knowing there's a long way to go. The ironic sadness in the lyrics surfaces once the listener realizes that the world John Lennon imagines does not actually exist, and it hits the moment Lennon's realism meets fantasy.
"Part of me would like to be accepted by all facets of society and not be this loudmouthed lunatic musician. But I cannot be what I am not." John Lennon's acceptance of himself within the world around him is inspirational, considering his political and musical presence and the pressures of fame. His famous lyric, "Instant Karma's gonna get you" speaks of the kind of Karma we encourage here … Karma that is not self-serving, but serves others.
Get more good Karma with a Peace and Harmony Celtic Cross Tarot Reading from Tarot.com.