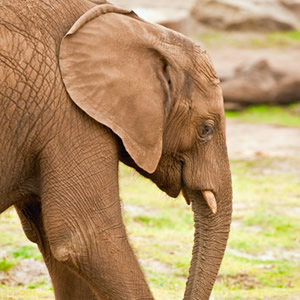 Elephants take center ring in this week's roundup of the most karmic animal stories in the news, along with some mad marine life and a million creepy crawly spiders. Here are the week's most heartwarming and heartbreaking animal and pet highlights:
Pink and PETA Ask Obama: Protect Circus Animals
Pop star Pink is teaming up with PETA this week to ask President Barack Obama to take a closer look at what goes on beneath the Ringling Bros. and Barnum & Bailey circus tents. Politico.com reports Pink and PETA are focused on three cases, in which animals in the custody of the circus company died or were injured, including a lion "killed when he was left to bake to death in a boxcar as the circus traveled through the Mojave Desert on a scorching July day," a baby elephant who "was killed during a violent training session in which workers used ropes and bullhooks to force him to stand on a circus pedestal," and an elephant "beaten with a bullhook while she was chained by two legs." Give karmic praise to Pink for fighting to stop this abuse, and read more at Politico.com.
Elephant Hunting = Not Cool: GoDaddy CEO's Vexing Video
Internet-hosting firm GoDaddy's CEO Bob Parson recently posted a vexing video of himself shooting an elephant while hunting on vacation in Zimbabwe. So many people are voicing outrage that the video went viral this week, and Parsons is defending his actions by saying it was a "problem elephant." There are two sides to every story, of course, so we want to know if you think Parson was wrong to shoot the elephant or if he was wrong to post the video online, or both. Read the full story in Time magazine's ecocentric blog and let us know what you think.
Millions of Spiders Encase Trees in Pakistan
Spiders, yeeeeeeeeee! Is it fair to say spiders come by bad Karma naturally for the way they give us the creepy crawly heebie-jeebies? No, it's probably not -- to be fair spiders engage in a lot of good Karma behavior, too. But check this out: When the flooding in Pakistan last year left more than a fifth of the country submerged, millions of displaced spiders moved up into the trees and have now encased entire trees in cocoons of spider webs. Arachnophobia much? Check out the amazing photos and read the complete spider story at Wired.com.
Giant Shark and Stingray Jump on Fishing Boats
All we can say is... think twice about going fishing in Freeport, Texas. CBSNews.com just posted a video and news report about a fishing crew that was stunned this week when an 8-foot long, 375-pound mako shark jumped onboard their boat. And this, just days after a stingray jumped onto a chartered pontoon boat in the Florida Keys, knocking an Illinois woman to the deck. We wonder, what's making the marine life so mad? Maybe the fishes can feel Neptune stirring things up as he preps to move into Pisces?!
Slippery Snake escapes Bronx Zoo and takes Manhattan
As we reported earlier this week, a deadly Egyptian Cobra escaped from the Bronx Zoo, and the sassy snake's alter ego then turned up on Twitter. In one week, almost 230,000 people signed up to follow @BroxZoosCobra, a parody account set up to Tweet the slippery snake's supposed adventures in Manhattan. The real snake was finally found in the reptile house at the zoo, but in the meantime #snakeonthetown gave hundreds of thousands of folks some good Karma smiles. Read the full story of the snake who took Manhattan via Twitter on DailyHoroscope.com.
If you like what you see on dailyhoroscope.com, please consider following us on Facebook and Twitter.