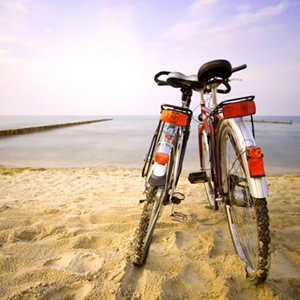 Well, well, well...when it comes to generating holiday cheer for employees, it appears IKEA knows a thing or two Walmart has yet to grasp.
Those stylin' Swedes have given all 12,400 of their U.S. employees new bicycles for Christmas! The custom-made silver all-terrain bikes have a yellow, white and blue stripe to represent the IKEA company colors, and this gesture of good Karma extends beyond making employees smile during the holidays. The bikes also are meant to encourage a healthy lifestyle (yay!), and to promote sustainable transportation practices (yay, again!).
IKEA's Karma only takes a slight hit because some assembly is required, and the directions are probably in Swedish. (But c'mon, it is IKEA after all, what do we expect?)
Walmart, on the other hand, has chosen to announce in the midst of the busy holiday shopping season that they are cutting employee perks. The largest private employer in the U.S. will no longer pay staff an extra $1 an hour for working on Sundays.
The move will only affect employees hired before Jan. 1, 2011, but it's still dimming the holiday glow for current employees. As one Walmart employee told Bloomberg, "It's sad -- people who work on Sunday need that extra dollar."
To be fair, Walmart has been underperforming financially while IKEA had a great year. But we want to know what you think.
When it comes to creating a positive environment for its employees during the holidays, who wins this Karma confrontation? IKEA or Walmart?
If you like what you see on dailyhoroscope.com, please consider following us on Facebook and Twitter.