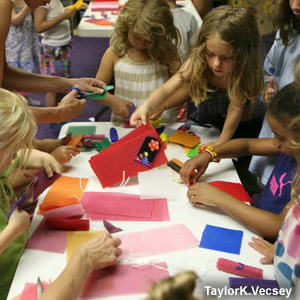 Kids. Creating art. For disaster relief ... how could you not love this?!
The New York-based non-profit organization Karma Kids (we're diggin' the name!) is hosting a series of free children's art workshops in an effort to send relief money to disaster-stricken Japan. Through these workshops, kids will band together to create traditional forms of Japanese art like scarves and calligraphy note cards, then put them up for sale.
Their efforts have actually proven quite effective in the past. After the 2010 earthquake struck Haiti, Karma Kids did their part to help the children affected in Haiti by creating and selling holiday cards. The cards sold out, and through their sale and matching donations, Karma Kids raised over $3,500 to aid in Haitian relief efforts.
It's about people helping people, but more importantly, it's about kids helping kids. When Mother Nature wreaks havoc, we cannot control it. We adults flock to our television sets and our precious Internet to soak up the information, but unless we are talking with our children about what's happening in the world, they are left confused and in the dark. In times of tragedy, we're given the opportunity to teach values, to be a role model and to discuss our responsibilities as humans -- responsibilities of love, generosity and compassion.
What's more, it's not just in times of trouble that these Karma Kids step up. This group of young kids, ages 5 - 9, actually meet each week to create artwork that helps raise money for kids in need worldwide. We have to give it to the organizers of this feel-good organization, for not only emphasizing the importance of giving and awareness, but also for nurturing the true power of art, creativity and expression in these young minds.
Check out the Karma Kids' website, or like them on Facebook to support their efforts!
Have you discussed the disaster in Japan with your children? What was your experience?
If you like what you see on dailyhoroscope.com, please consider following us on Facebook and Twitter.