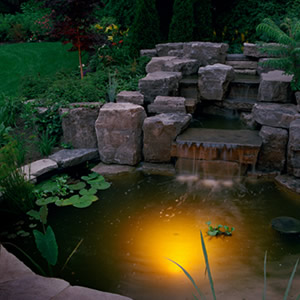 The area around your home -- no matter how large or small -- has a big influence on the energy that flows into your life. Follow these 10 tips to maximize the positive influence of what surrounds you in the garden.
1. Create a welcoming feeling at the entrance to your home
Placing flowerbeds or flower arrangements in ceramic pots around your front door gives everyone who walks in a feeling of welcome, especially if they are beautiful and well-tended. De-clutter your front door area, making sure all dead plants are removed and that garbage cans are not placed in this area. If animals appeal to you, place images of two lions or dogs lying down -- the most traditional are Chinese fu dogs -- on the left and right of your front door. The resting gesture of the animals reflects that you are both open to visitors and also protected. This is a fun and safe symbol for the front of your home.
2. Don't block your entrance
Make sure that the passage in and out of your house is clear. Avoid having a tree or a bush within the first 10 steps as you walk out the door, as this will block your energy towards the outside world. If this is unavoidable, make sure the tree or bush is not overwhelming. Sometimes one lonely tree blocks more energy than a whole forest. Make the lone tree into a little garden -- add some lower flower beds and a nice statue in front of it, so that this overpowering energy is softened.
Don't place trees in a direct line with any entrances, especially the main one. Also, it's best to remove any tree near your doorway that completely blocks the light, as it's important to always let as much daylight as possible shine on your main entrance. If this is not possible, make sure the porch light is always on when the light is low in this area.
3. Create beauty in your outdoor environment
If you feel you have a beautiful house but you don't feel great about your garden, there will be something out of balance. Don't deny your feelings. Your garden is your view to the outside world. If you don't feel happy about your garden, you won't feel happy about your connection with the world, society, work and friends. A beautiful garden will support your inner feelings. Having flowers blooming and birds coming to visit will enliven your soul. Focus on beauty in your garden, no matter how small it is.
4. Meandering pathways are better than straight ones
The pathways or walkways toward your home or in your garden should always be like meandering streams, not straight roads. This is especially important if you have a road or driveway leading straight to your front door. If you have a straight path and cannot change it, place solar lights left and right along it in such a way that the lights create a meandering feeling. Place the lights so they are staggered, not directly opposite each other -- one on the left and the next one some steps ahead on the right, and so forth. You can do the same thing with pots of flowers or plants placed along a straight road or walkway. Plants or trees that are placed left and right opposite each other will make the road or pathway straighter. What you want is the softer energy of curves, which alternating plants can suggest.
5. Place water elements carefully
Water can be a great enhancement in your garden, but if the water element is not placed correctly, or if the water flows in the wrong direction for you personally, it also can create problems like drained cash flow, conflict or weight problems. Therefore, if you want to place a pond or pool in your garden, do so under the guidance of a trained Feng Shui expert. Generally, until the year 2024, having a smaller water element like a fountain in the east or southwest of your garden will be beneficial in attracting money and fame.