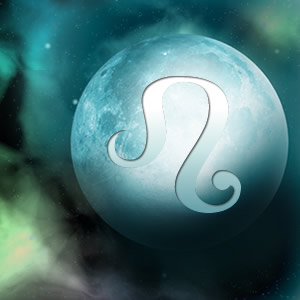 The Full Moon in Leo is usually a time of exuberant self-expression. Yet this February 18 lunation joins mystical Neptune and healer Chiron -- bringing an otherworldly element into the mix, and muting Leo's dynamism.
With the Sun still in visionary Aquarius at the time of the Full Moon, we feel the world's pain and are able to imagine solutions. Yet we must also avoid taking things personally at this time. People are feeling especially vulnerable and reactive. A kind word goes a long way now. How might this Full Moon show up for you?
Aries (March 21 - April 19)
You may be torn between feeling sad for yourself and angry with someone else at this Full Moon, Aries. It's likely a time of mourning -- let yourself grieve, and express what's in your heart. The wounds you're feeling now run deep, but you're surrounded by helpful people here and in the Other Realm who can help you heal the past and forgive.
Taurus (April 20 - May 20)
A friendship or team effort may be suffering at this Full Moon, Taurus. You need to seek the truth behind appearances to get things back on track. If others are spacing out or unreliable, find out what's going on with them rather than jumping to conclusions. Your concern for your community and attempts to help others will not go unrewarded.
Gemini (May 21 - June 20)
Your inner child is rebelling at this Full Moon, Gemini, perhaps against an unfair or confusing career situation. If you're being asked to do too much (or are putting too much on yourself), take a step back and have a little fun. Pour your energy into home improvements or entertaining others chez toi. This will help put things in perspective.
Cancer (June 21 - July 22)
Last-minute news could startle you at this Full Moon, Cancer. Don't let your emotions run away with you. Avoid despairing about the future, even if it looks bleak. This too, shall pass. There is a deep healing taking place, and even if you can't yet see the purpose behind your pain, you have to trust that higher forces are guiding the situation.
Leo (July 23 - Aug. 22)
You may feel like the other shoe is about to drop at this Full Moon, Leo. This especially applies to a financial situation you've been worried about. Rather than over-dramatizing the situation, give it over to Spirit and trust that matters will be resolved. Release and forgiveness are necessary now, as you shed the past and prepare to move on.
Virgo (Aug. 23 - Sept. 22)
You may be called upon to be an advocate for someone close at this Full Moon, Virgo. Yet his person likely needs more than you can give. Respect your limits rather than pushing yourself to do too much. Call on healers and spiritual guides to assist you in the process of letting this person go, or transitioning to a healthier form of relationship.