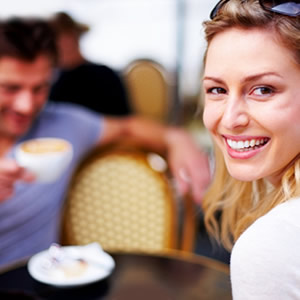 Figuring out where to go to meet a true-love connection can be tough. Whether you are looking to hook up or to meet "The One," your search for love could be less frustrating if you heed some basic Astrology advice. Don't work against your natural horoscope sign inclinations ... use them to get what you want!
Aries (March 21 - April 19)
You Rams are notoriously impatient, especially when it comes to romance. Cut to the chase by venturing out of familiar territory. Concert halls, theaters and museums are all good places for you to find love. If you're befuddled by what you see or hear, don't hesitate to ask an attractive bystander for guidance. Before you know it, the two of you could become an item. You could also meet someone special at an art class or dance club. A little dose of culture will definitely go a long way! If you're the athletic type, try jogging on a popular beach or trail or taking a hot-box yoga class.
If you are trying to woo an Aries, a great pick-up line would be... "The person of your dreams was coming over, but I cut (him/her) off at the pass so I could get here first."
Taurus (April 20 - May 20)
As a Bull, you probably have a few favorite places that you like to frequent. The best way to find love in your preferred hangout is to show off your Taurus style. Use your velvet voice to chat up the cashier at the plant store. Enlist the aid of a cute salesperson while sampling colognes at the department store. Offer to share your dessert with a sexy diner at your favorite restaurant. Compliment a vendor's apples on your next trip to the farmer's market. The longer you keep somebody talking, the more heavily they'll fall under your spell.
If you are trying to woo a Taurus, a great pick-up line would be... "I'll cook you dinner if you'll cook me breakfast."
Gemini (May 21 - June 20)
Twins like you have no problem making friends, but it's a different story when it comes to making a serious love connection. Fortunately, finding romance can be as simple as getting a dog. You'll be amazed at how many exciting encounters you will have simply walking your pooch. Taking a long-distance trip can also bring you luck in the romance department. That's probably because it's much easier for you to get personal when you're away from familiar surroundings.
If you are trying to woo a Gemini, a great pick-up line would be... "You look like my third spouse. Of course, I've only been married twice!"
Cancer (June 21 - July 22)
You have to admit, Cancer, that your chances for meeting someone special are considerably hindered if you spend most of your time at home! How about inviting friends over for dinner, with the stipulation that every guest brings a cute single friend? You could also meet a tasty-looking dish at a gourmet cooking class. And since you're always in the market for someone with a great sense of humor, it might make sense to scope out a comedy club. If all else fails, head for the water. Being a Moon Child, you are strongly influenced by the tides, making your chances for meeting someone at a lakeside resort or ocean retreat very strong indeed.
If you are trying to woo a Cancer, a great pick-up line would be... "Remember this moment, so we can tell our kids how we met."
Leo (July 23 - Aug 22)
There's no denying that you draw admiring glances wherever you go, Leo. The problem is that most people are awestruck by your fabulousness. A good way to become more approachable is by joining a volunteer organization. You'll seem less intimidating when you work for a worthy cause. Becoming a member of an athletic team could also prove lucky for you, as your competitive streak is incredibly sexy. And there's always the local theater group. If you're looking for a more intellectual partner, seek out a book club or political discussion group.
If you are trying to woo a Leo, a great pick-up line would be... "Is it hot in here... or is it just you?"
Virgo (Aug 23 - Sept 22)
Beneath that no-nonsense persona of yours beats the heart of a true romantic. Don't be afraid to show your true sexy colors, Virgo, especially if it means making a love connection. Attend a poetry slam, visit a photography exhibit or head out to a dance party. Just drinking in the atmosphere will soften your reserve, making you much more approachable in the lobby or during intermission. Spiritually-oriented gatherings could also prove lucky for you. If your house of worship or yoga studio hosts weekend retreats, it might be worth your while to go.
If you are trying to woo a Virgo, a great pick-up line would be... "Do you mind if I end this sentence with a proposition?"
Libra (Sept 23 - Oct 22)
You've always got romance on the brain, Libra. The problem is you have a hard time choosing among your many suitors. You'd be wise to seek out somebody who shares your appreciation for the finer things in life. Wine tastings, art galleries and vacation resorts are sure to put you in contact with folks who share your excellent taste. If you're looking for someone to counterbalance your refined ways, you could find such a love interest at a sporting event, on a white-water rafting trip or at a business meeting for entrepreneurs. You should also make it a point to check out the newest clubs and restaurants, since such spots are magnets for motivated singles.
If you are trying to woo a Libra, a great pick-up line would be... "Apart from being so cute, what else do you do?"
Scorpio (Oct 23 - Nov 21)
You Scorpions are rather secretive about your likes and dislikes. Unfortunately, your desire for privacy can hinder your romantic prospects. It's hard to make a love connection when people can't figure out what makes you tick. Advertise your love of sensual pleasure by hanging out at all the expected places -- fancy wine bars, swanky hotels and luxury spas. This is a great way to meet a suitor who will be ready, willing and able to satisfy your sensual needs.
If you are trying to woo a Scorpio, a great pick-up line would be... "Hi, are you here to meet someone nice or will I do?"
Sagittarius (Nov 22 - Dec 21)
No wonder it's so difficult for you to find a mate, Sagittarius. You can't stand still! Your best bet for finding love is to join an Internet dating site. Posting a funny profile is sure to net some exciting responses. You might also ask one of your numerous friends to set you up on a blind date. Or sign up for a group adventure -- like a ski vacation or rafting trip -- where you don't know anyone. Your hidden gift for storytelling could be unearthed in a writing class or weekend writing retreat. Don't be surprised if you meet someone special there.
If you are trying to woo a Sagittarius, a great pick-up line would be... "Didn't I bump into you once on a ski slope in Switzerland?"
Capricorn (Dec 22 - Jan 19)
It can be hard for you to let down your guard, Capricorn. You're most relaxed when applying yourself to some engrossing task. Taking a cooking class could put you in the path of romance. If you're not adept at household tasks, take a "do-it-yourself" course at your local hardware store. In the event you are good with your hands, you may want to teach such a class at a community center. Keep your eyes peeled for cute students!
If you are trying to woo a Capricorn, a great pick-up line would be... "Can I buy you a drink?... Or do you just want the money?"
Aquarius (Jan 20 - Feb 18)
Although you have no problem making friends from all walks of life, it can be something of a challenge for you to find romance. Perhaps that's because you're not really the hearts-and-flowers type. You may not realize this, but you are at your sexiest when expressing your creative side. Taking up painting, dancing or singing will draw many admiring glances your way. Joining an amateur theater group could also result in some hot dates.
If you are trying to woo an Aquarius, a great pick-up line would be... "Be original and say 'yes'."
Pisces (Feb 19 - March 20)
As a general rule, you have no trouble attracting romance, Pisces. It's just a matter of putting up your psychic antennae. You're sure to get a few hits at an animal rescue shelter -- go ahead and volunteer just a few hours of your time. You're one of the few people who could have luck embarking on an office romance. It's amazing how easy it is to get to work on time when there's someone special to meet you there. You could also meet someone interesting at yoga class -- don't hesitate to ask a cute-looking instructor for help while executing the Fish pose!
If you are trying to woo a Pisces, a great pick-up line would be... "If I follow you home, will you keep me?"
See what's in store for your love life with a personal Big Picture Love Forecast from Tarot.com!